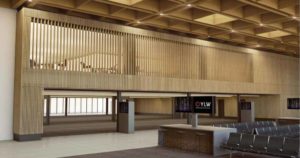 In a bid to reduce construction time, traffic, and carbon impact, Kelowna International Airport (YLW) will rely on prefabricated mass-timber panels for its nearly 8,000-m2 (86,000 sf) expansion.
The airport will receive $500,000 from British Columbia's Mass Timber Demonstration Program to fund the procurement of mass timber, and the creation of a digital construction twin for advanced fire modelling and life-cycle assessment of building materials. This program is available through the Forestry Innovation Investment on behalf of the province.
"This project showcases what is possible when we promote innovation in the construction sector and support the development of mass timber in large infrastructure projects in B.C.," said Ravi Kahlon, minister of Jobs, Economic Recovery, and Innovation. "This initiative will help the airport and region grow, while also aligning with a key goal of the StrongerBC Economic Plan to grow a clean economy that works for all British Columbians."
The StrongerBC Economic Plan moves British Columbia forward by tackling the challenges of today while growing an economy that works for everyone. The plan builds on B.C.'s strong economic recovery and works to address two long-standing challenges—inequality and climate change—by closing the skills gap, building resilient communities, and helping businesses and people transition to clean-energy solutions. The plan sets two main goals for the province – inclusive growth and clean growth—and puts forward six missions to keep B.C. on track.
Building off the expansion project at YLW, and the success of the first two intakes of the Mass Timber Demonstration Program, the Province is also announcing an additional $2 million to open a third intake, which begins immediately.
Individual projects can receive as much as $500,000 for incremental or one-time costs associated with design development, permitting and construction activities in mass-timber building construction. Expressions of interest will be accepted between July 11, 2022, and Oct. 7, 2022. Successful applicants will be notified by early 2023.
"I'm thrilled to see that the terminal expansion will use mass timber, showcasing the versatility and design capabilities of B.C. lumber, while also contributing to the local economy," said Sam Samaddar, YLW airport director "As YLW is the gateway to the Okanagan, the choice to use mass timber is an important decision to highlight the characteristics reflective of the region."
YLW's expansion project will start in 2023.