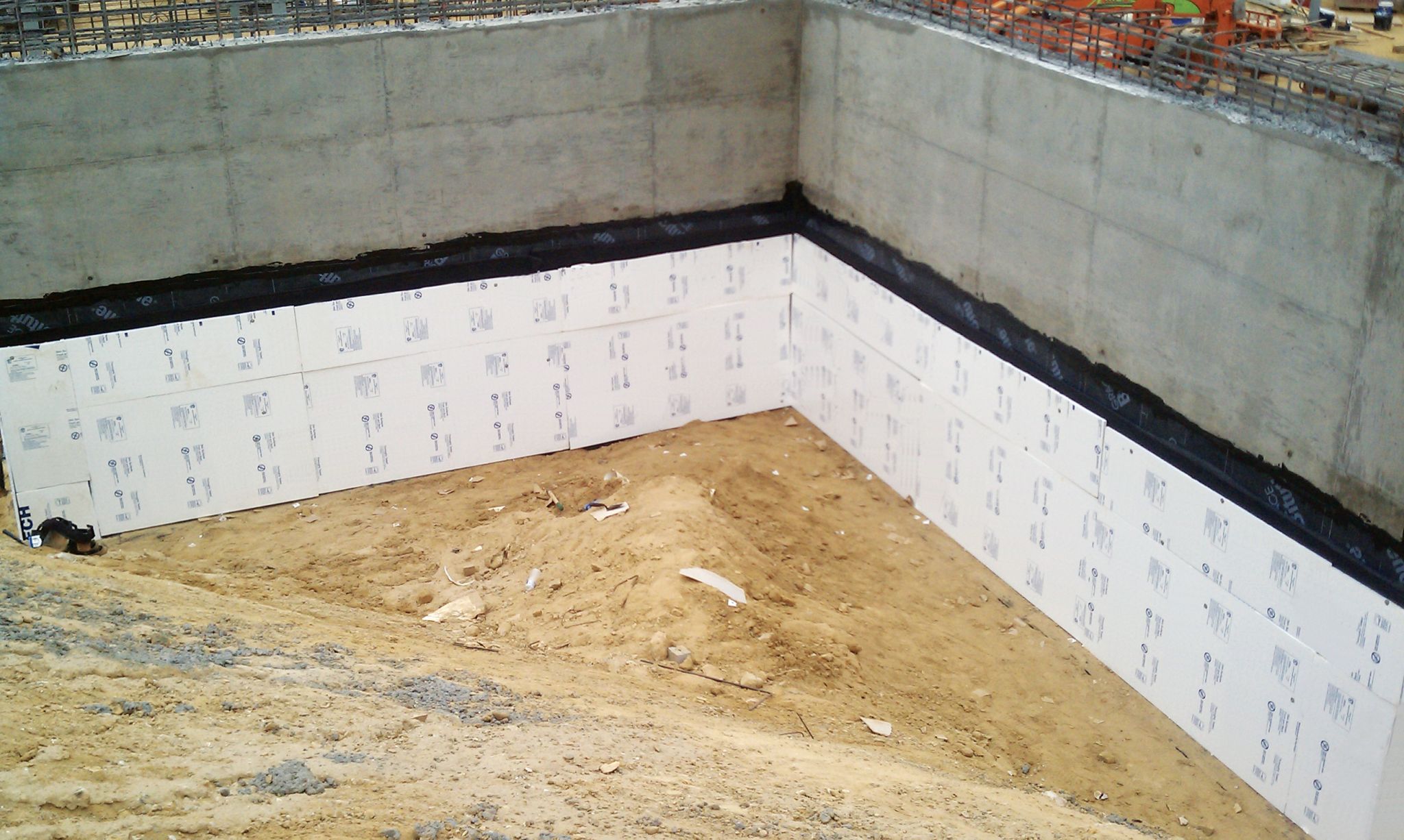 By Ram Mayilvahanan
If the concept of building science could be distilled to one essential sentence, it would be the now-famous aphorism of Joseph Lstiburek, PhD, P. Eng., building science expert and adjunct professor of civil engineering at the University of Toronto.
"The perfect wall is an environmental separator—it has to keep the outside out and the inside in," he wrote.1
Lstiburek's "perfect wall" (or roof or slab) includes four primary layers:
rain control;
air control;
vapour control; and
thermal control.
For the last category, specifiers can select from numerous insulation types: fibreglass batts to spray foam and rigid foam boards, as well as integrated systems such as structural insulated panels (SIPs). This article examines the performance attributes and product options for expanded polystyrene (EPS) insulation in high-performance building envelopes.

EPS specification criteria
EPS is a closed-cell insulation used throughout Canada in commercial, institutional, and residential buildings. It is well-suited for all facets of the building envelope, including wall, roof, below-grade, and under-slab applications.
The white foam is manufactured from small (approximately 1-mm [0.04-in.]) polystyrene plastic pellets expanded up to 40 times their original size using steam. The expanded beads are then put into a large vacuum moulding machine and fused together using steam and pressure into monolithic blocks of various densities and sizes.
Commonly available in sizes up to 4880 x 1220 x 1020 mm (16 x 4 x 3 1/3 ft), EPS insulation blocks can be factory- or field-cut into rectangular or complex shapes to meet many job specifications. As is the case for other rigid foam insulations, EPS is lightweight and easy to handle.
Thermal performance
EPS provides thermal control via its densely packed polystyrene matrix, which contain small air spaces. These spaces trap air within the matrix, minimizing air movement and reducing heat flow. The material provides the highest thermal performance per dollar of any rigid foam. Its insulating values range from approximately 0.25 to 0.29 RSI per cm (3.6 to 4.2 R per in.).
The EPS Industry Alliance notes EPS "is the only rigid foam insulation that offers stable thermal resistance from the point of manufacture." This means the published insulating values remain stable over time. In contrast, other rigid insulation products typically lose up to 20 per cent of their insulating capacity during time in service. The reason for this reduction in thermal resistance is other rigid insulations use blowing agents (specialized gases) other than air in the manufacturing process. These agents diffuse over time and are replaced with air, reducing their thermal values. As a result, in 2011, several North American building associations lowered their insulation value recommendations for competing rigid insulations.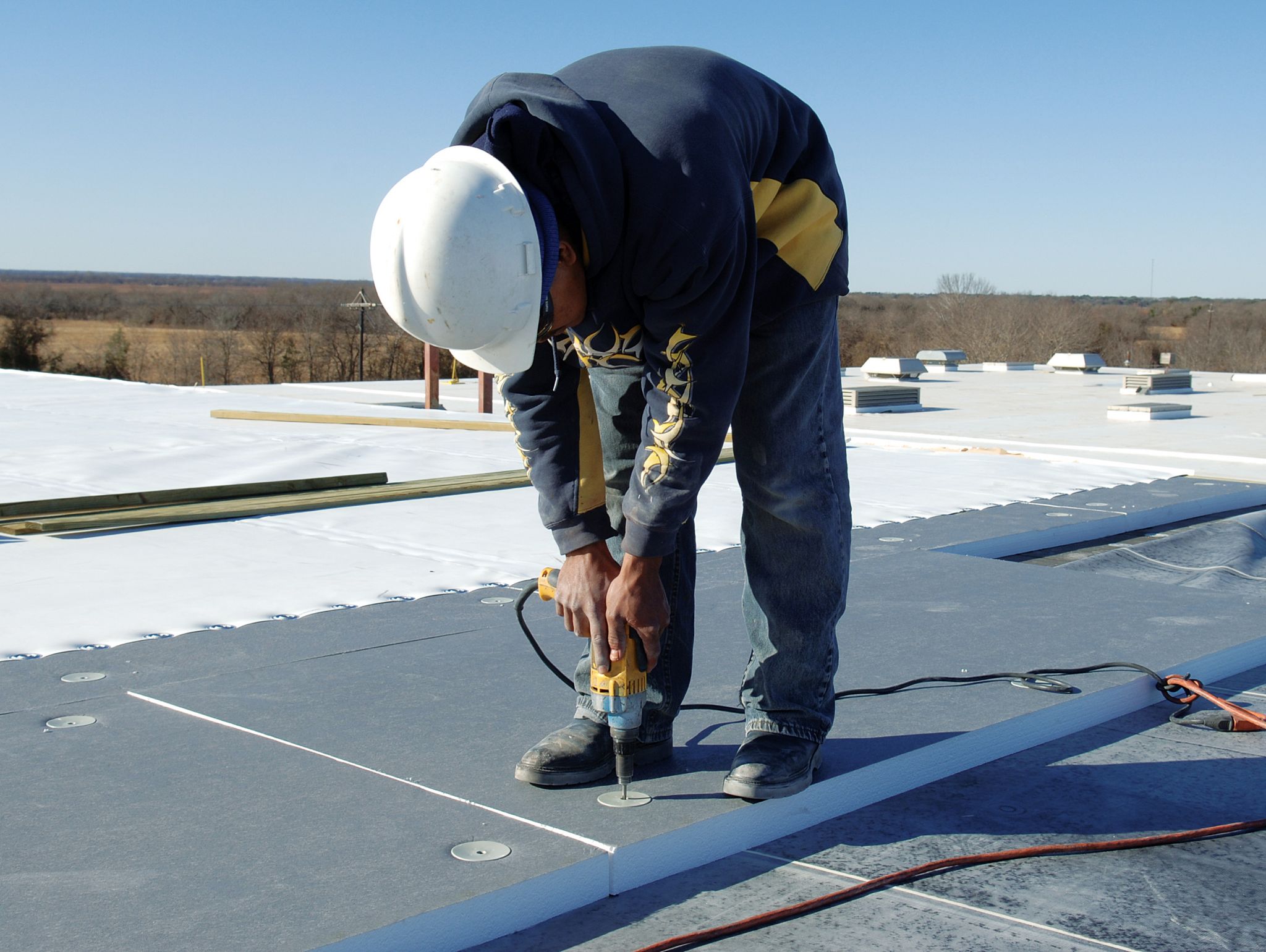 Compressive resistance
EPS insulation comes in a range of compressive strengths from about 69 to 414 kPa (10 to 60 psi) at 10 per cent deformation. These compressive strengths make EPS suitable for nearly all required loads encountered on roofs, walls, below-grade, and under-slab applications.
The material's strength is demonstrated by its use as engineered geofoam in demanding civil engineering applications, such as under pavement sections that support the weight of jumbo jet aircraft and locomotives.
While many roofers continue to use extruded polystyrene (XPS) insulation, EPS costs less per inch and is now being used throughout the building envelope. Whichever rigid foam is specified, it is important to check the selected product conforms with ASTM C578, Standard Specification for Rigid, Cellular Polystyrene Thermal Insulation.
Moisture absorption
When selecting any insulation applied to the exterior building envelope, it is crucial to consider the rate at which the product both absorbs and releases moisture. The reason is wet insulation has significantly lower thermal performance.
A side-by-side in situ test of EPS and XPS as below-grade insulation demonstrated the former performs more favourably with lower moisture absorption in real-life applications (Figure 1). Both materials were installed on the foundation of a testing lab in St. Paul, Minn.—a locale with comparable climate conditions to much of southern Canada—and buried under soil for 15 years.
When the materials were removed at the end of this period, the EPS was about 75 per cent drier (with 4.8 per cent moisture content by volume, compared to 18.9 per cent for the XPS). The EPS also had a higher RSI/R-value. After 30 days of drying time, the lab tested the samples and found the EPS moisture had dropped to 0.7 per cent, while the XPS continued to hold substantial moisture (i.e. 15.7 per cent).
Additional industry tests confirm the low moisture absorption rate of EPS insulation. For example, the U.S. Army Cold Regions Research and Engineering Laboratory (CRREL) found EPS buried in wetted soil for 1000 days absorbed only 1.7 per cent moisture by volume.
Environmental attributes
EPS insulation has several positive environmental attributes, and the product can be used to help contribute toward points in green building rating programs. Unlike many other insulation products, the material is also fully recyclable—brands are available with pre- and post-consumer recycled content. EPS insulation is also free of dyes and formaldehyde, and does not leach toxic chemicals or heavy metals.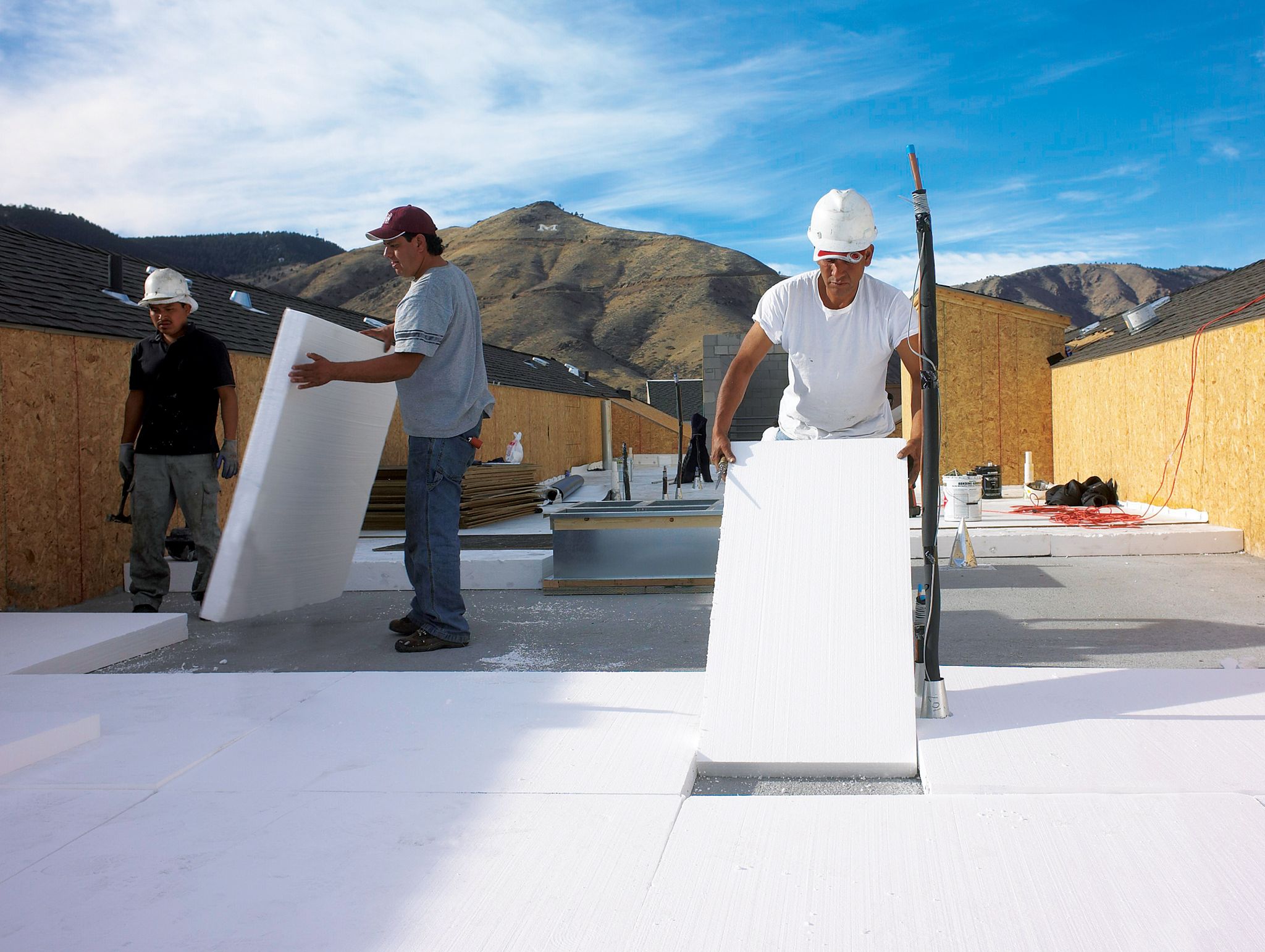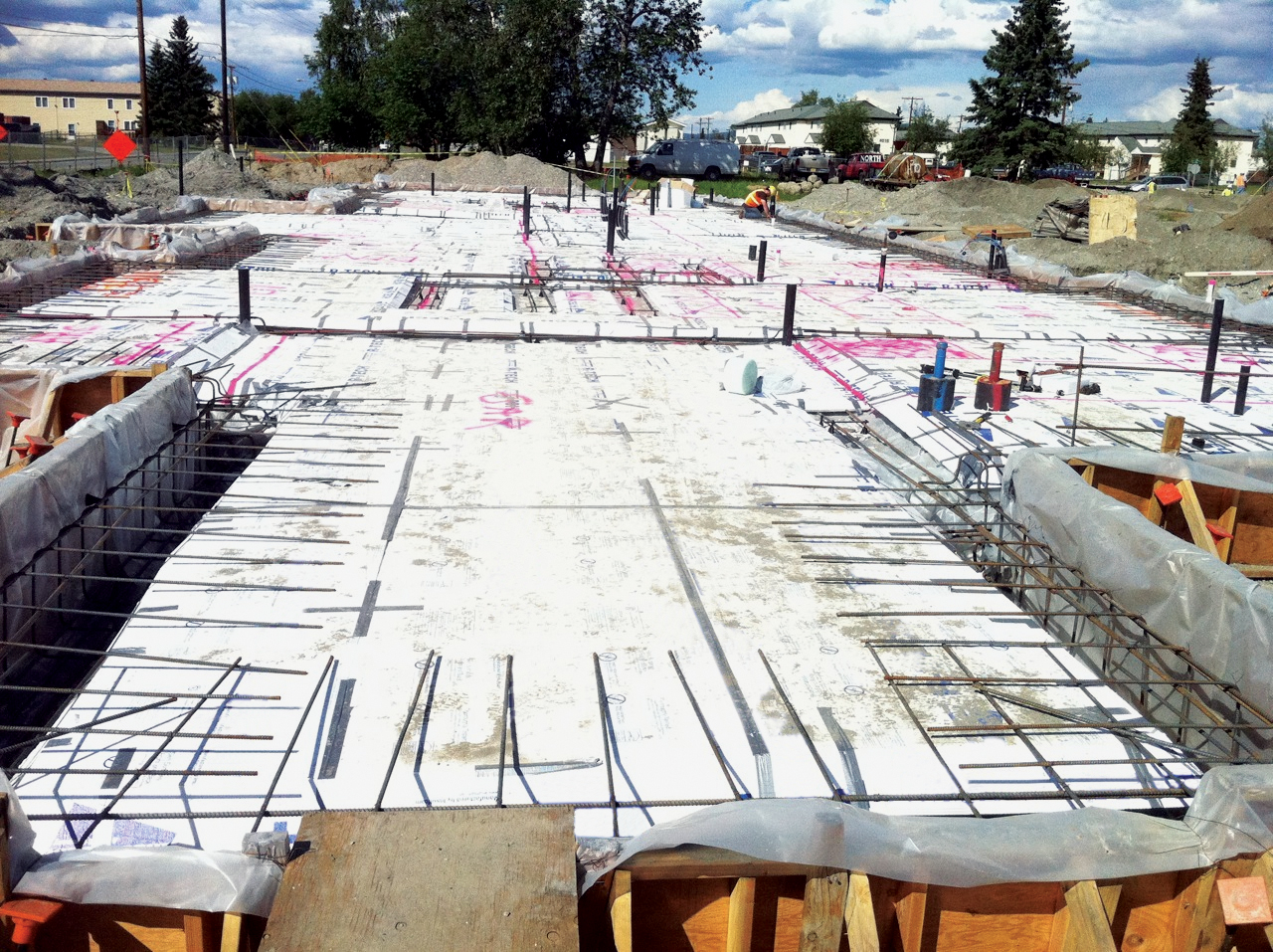 Product options
A key feature of EPS insulation is its versatility. It is available in standard blocks and panels, as well as many specialty product configurations.
Flat stock insulation
Standard EPS insulation is available in thicknesses from 6 mm to 1 m (1/4 to 40 in.), which is much thicker than other rigid foams. Thicker blocks provide greater flexibility for customization on roof jobs, where they help reduce labour from building up multiple insulation layers. Building teams can order EPS custom-cut in the factory to fit around rooftop protrusions, including skylights and drains. EPS is also easily trimmed in the field. In addition to roofing applications, EPS flat stock can be installed in walls, foundations, and under slabs.
Fan-fold panel bundles
Rigid foam insulation panels joined together in accordion fashion enable fast and simple installation in all areas of the building envelope. Such 'fan-fold' bundles using EPS are available with polymeric facers laminated on both sides, and are popular on roof jobs where they are easy to carry and unfold to cover up to 18.6 m2 (200 sf). A bundle comprising 25 attached 0.6 x 1.2-m (2 x 4-ft) panels weighs only about 5 kg (11 lb). Fan-fold bundles require about 60 per cent fewer labour-hours to install than individual pieces, which substantially reduces costs and streamlines project schedules.
Fibreglass facers
EPS insulation with fire-resistant, factory-laminated fibreglass facers eliminates the need for slip sheets on low-slope commercial roofing jobs, saving on labour and material costs. Such panels are compatible with various single-ply roof coverings, including polyvinyl chloride (PVC), thermoplastic olefin (TPO), and ethylene propylene diene monomer (EPDM) membranes. Roof designers can combine the panels with standard EPS to achieve high R-values at about a 25 per cent lower cost than other high-thermal resistance insulation systems.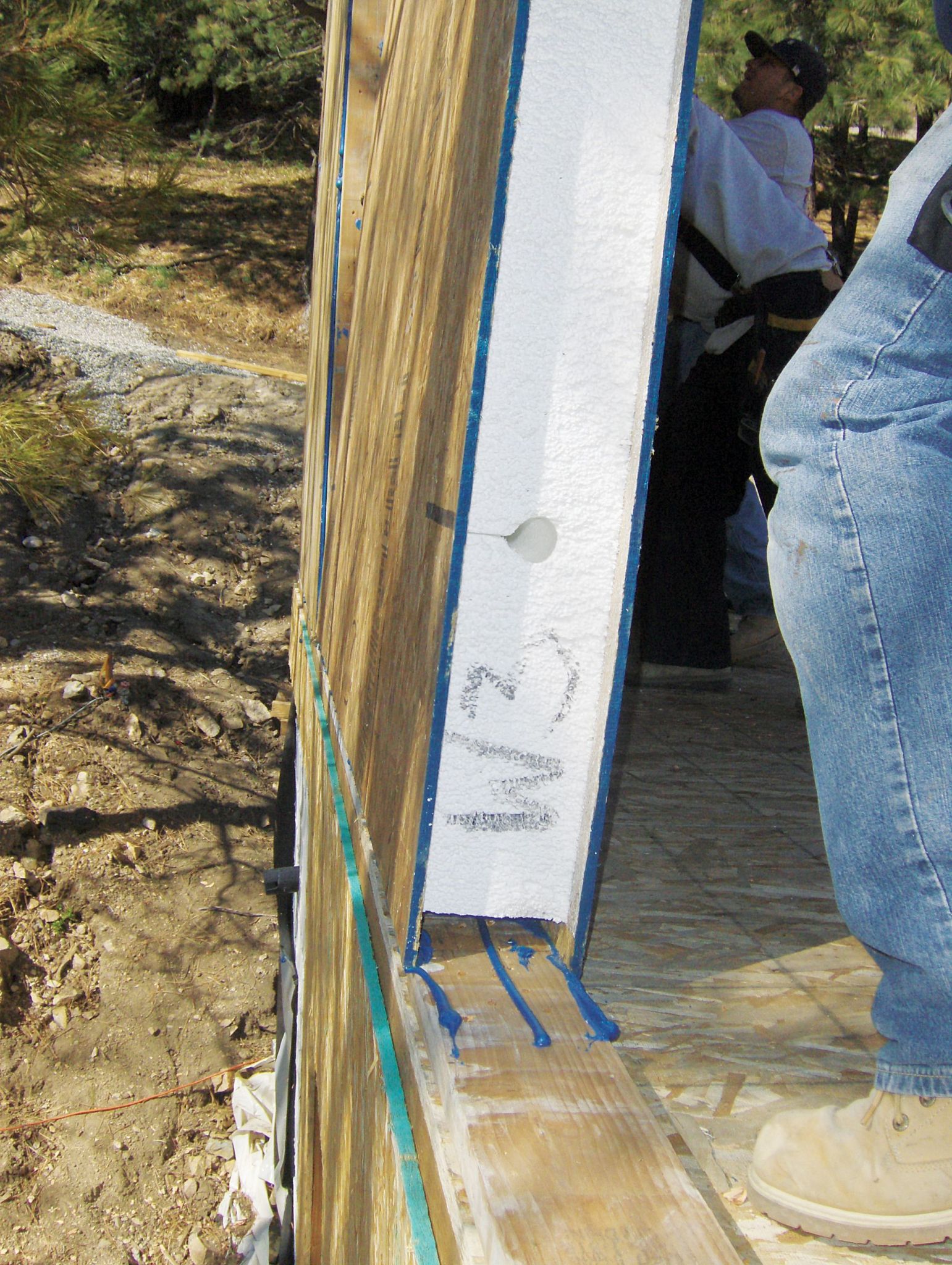 Tapered roof insulation
A simple way to create positive slopes on low-slope roofs is with pre-cut tapered EPS insulation blocks. The thick blocks can be factory-cut into single-layer tapered pieces that eliminate the labour of stacking multiple insulation panels. Tapered EPS can be adapted to accommodate any roof drainage system and roof configuration, including one-way (shed roof), two-way, three-way, and four-way slopes.
Composite panels
Composite insulation panels comprise EPS bonded to high-density polyisocyanurate (polyiso) cover boards. Such composites provide high-thermal efficiency and durability and are well-suited for roofs needing to resist abuse and severe weather. EPS-polyiso compositions weigh much less than composite insulations using gypsum and oriented strandboard (OSB). As such, the products install more quickly and result in less fatigue for installers. Additionally, they are lower priced than similar polyiso composite products. Some types of EPS-polyiso composite insulation can be used to achieve Underwriters Laboratories (UL) Class A fire ratings on combustible roof decks without the use of gypsum or other cover boards.
Structural insulated panels
EPS is the rigid foam insulation typically used in SIPs. The combination of a high-thermal performance EPS core and OSB skins provides an engineered system with high durability and load-bearing capacity.
SIPs provide continuous insulation and have fewer gaps to seal than other construction methods, reducing heating and cooling energy consumption up to 60 per cent. The large panels (available up to 2.4 x 7.3 m [8 x 24 ft]) quickly install, and they eliminate the extra time and co-ordination required with separate installation of structural and insulation systems. SIPs can also be ordered with pre-cut electrical chases, allowing for significantly faster stringing of wires than is needed when crews must drill through numerous wall studs.
Conclusion
Rigid foam insulation is regularly used throughout Canada, from schools and commercial buildings in places like Vancouver, Toronto, and Montreal to homes and institutional buildings in Yukon and Northwest Territories. Among rigid foams, EPS insulation is growing in popularity throughout North America for its high thermal performance and cost-effective adaptability to a wide range of uses.
Lstiburek's "perfect wall" mentioned in this article's introduction calls for the principal control layers (rain, air, vapour, and thermal) to be outside the structure. With its moisture resistance, long-term stable insulating values, and range of compressive strengths, EPS performs well on all envelope faces.
Notes
1 See the article, "Insight: The Perfect Wall," by Joseph W. Lstiburek, PhD, P. Eng., Fellow ASHRAE, at www.buildingscience.com. (back to top)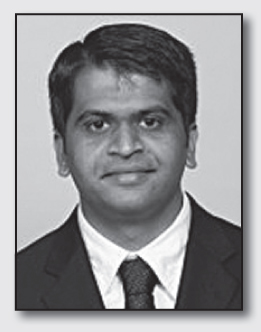 Ram Mayilvahanan is the product marketing manager for Insulfoam. The company is a division of Carlisle Construction Materials, and is one of the largest manufacturers of engineered expanded polystyrene (EPS) insulation products in North America. He can be contacted at ram.mayilvahanan@insulfoam.com.

Control the content you see on ConstructionCanada.net!
Learn More.