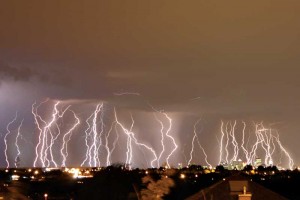 by Jennifer A. Morgan, CSI, and Michael Chusid, RA, FCSI, CCS
In the March 2016 issue of Construction Canada, these authors explore lightning protection and the five concepts one needs to understand when installing this type of system. 
Metal
Copper and aluminum are the most commonly used metals in a lightning protection system (LPS). Metals must be high grade to minimize electrical resistance to powerful lightning surges.
Copper weathers to blend into dark-coloured surfaces and can be treated to accelerate patina. It can be used in contact with earth but should not be used where runoff contacts steel or aluminum. Bronze castings should be used for compatible fittings.
Aluminum may be more economical and blends well with light-coloured surfaces. It should be used with aluminum roofing but should not be embedded in concrete or used within 460 mm (18 in.) of grade.
Tin-plated copper provides a dull grey metal appearance and is recommended for increased corrosion resistance in coastal areas. Stainless steel can be considered in highly corrosive environments.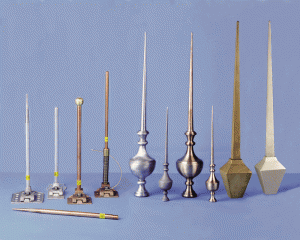 Air terminals
Air terminals, formerly known as 'lightning rods,' are located at the highest points on a structure and at spacings necessary to provide protection for the entire building. For example, the National Fire Protection Association (NFPA) 780, Standard for the Installation of Lightning Protection Systems requires air terminals at regular intervals of no more than 6 m (20 ft) on centre (o.c.) along a roof ridge and around the roof perimeter, and within 0.6 m (2 ft) of outside corners. However, an architect may want closer spacings to align with architectural features or the modular spacing of elements on the exterior wall.
To minimize visibility from the ground, the air terminals can be mounted on the backside of parapets. While of less concern from a visual standpoint, air terminals are also required within the fieldof a large roof and on top of rooftop equipment. Their location will be determined by using 'rolling sphere' calculations.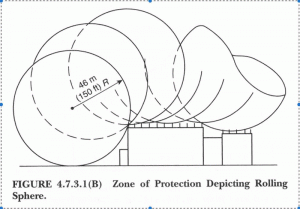 The simplest air terminals are metal rods. An air terminal can be as narrow as 9.5 mm (3/8 in.) in diameter and extend as little as 255 mm (10 in.) above the element on which it is mounted. However, project conditions may dictate larger and longer rods to provide sufficient conductivity and coverage.*
While tapered rods may be preferred to match historic styles, blunt-tip rods offer better performance and greater safety for personnel. Additional safety can be achieved by mounting air terminals on springs, which can also reduce the potential for damage due to movement of roof-mounted window-washing equipment.
These authors caution against the use of so-called 'early streamer emissions,' 'dissipation array,' and 'charge transfer' air terminal devices. Claims these devices 'attract' or 'repel' lightning to reduce the quantity of air terminals to protect a building have been debunked by NFPA, court rulings, and international studies.
Conductors
These are next on the path from air terminal to ground. They are typically made from multi-strand metal cables, although metal rods and straps can be used for special conditions. Conductors must be attached to the building at intervals prescribed by NFPA 780.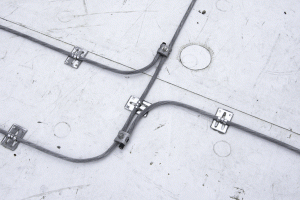 Conductors can be concealed within a building. They are sized to carry the momentary surge of power without generating enough heat to cause fire. This means uninsulated conductors can run alongside wood, be located beneath roof decks, in attics and wall cavities, cast into concrete, and installed in grooves routed into other material. Further, structural steel members can be used in lieu of conductors if they provide electrical continuity. Covering conductors should be considered if they run on the building exterior—especially copper, to deter theft or damage.

Control the content you see on ConstructionCanada.net!
Learn More.