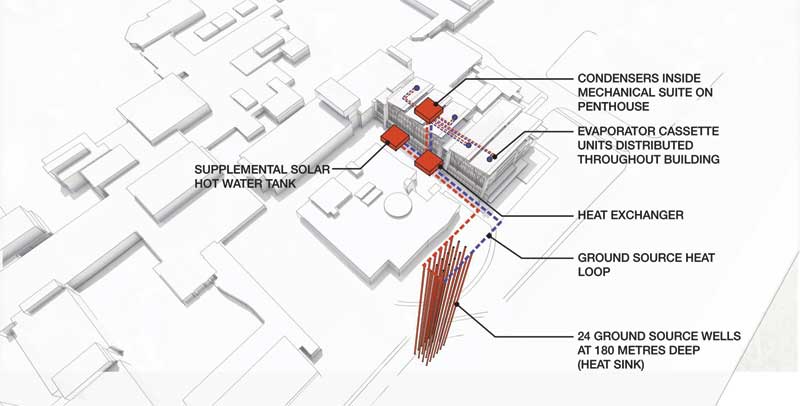 Energy modelling sensitivity studies
To further clarify the energy performance design goals, a detailed hourly energy model of the building was created. This was used to perform sensitivity studies on occupancy- and demand-responsive systems, as well as receptacle loads and infiltration. It demonstrated the occupant load significantly impacted the building's total energy consumption with respect to ventilation and receptacle loads. Sensitivity studies on receptacle load and infiltration also demonstrated significant impact on building energy consumption and focused the design team's attention on these aspects of the building design and operation.
With the energy budget in place, a clear roadmap was established to inform each component of design, from the building's orientation and material palette to the mechanical needs and photovoltaic (PV) targets. The latter of these informs what is intended to be the most iconic part of the Joyce Centre's design—an onsite 545-kW photovoltaic array.
Net-zero performance and design strategies
By powering the building completely with electricity and generating the yearly total energy usage through its PV array, the Joyce Centre will generate onsite all the energy required to power its functioning throughout the course of the year.
The facility's projected annual energy intensity is 70.5 kWh/m2 (approximated to within 2.5 per cent), which equates to an estimated annual consumption of 700,000 kWh (accounting for contingencies such as lab equipment, a targeted use of mechanical systems, and an allowance for unregulated plug loads). During the longer summer daylight hours, the solar system will provide more energy than the building requires with the sun high in the sky. During the shorter winter months, energy production will generally be less than the building needs.
The solar system will be optimized so on an annual basis, actual energy production will slightly exceed predicted energy consumption. Since the mechanical design of the facility is demand-operated, it will only run when the building is occupied.
Daylight and lighting systems
Daylighting elements include high-mounted daylighting fenestration above vision glazing in all laboratory and classroom spaces. While still providing diffuse light to the space, daylighting will incorporate glare-control elements.
Designed with the intent to harness daylighting as a primary source of illumination, the electric lighting system controls will reduce electric light output when adequate daylight is available. Lighting will be switched off by occupancy sensors should the occupant neglect to manually shut the lights off.
HVAC systems
The mechanical systems are being designed for efficiency using the following guiding principles:
distributed heating and cooling in order to meet thermal loads;
DOAS to separate ventilation from heating and cooling (allowing for better comfort control by separating humidification monitoring from space temperature regulation and increasing the effectiveness of exhaust air heat recovery);
heat-pump-based heating to reduce onsite energy consumption and eliminate fossil fuel consumption (the heat pumps are coupled to a geoexchange well field consisting of 27 wells, which will serve as the heat source/sink); and
demand-responsive (i.e. carbon-dioxide-based [CO2]) systems for ventilation and heating/cooling.
Water conservation and supply
Potable water use reduction is one of the key sustainability objectives of this design. Strategies that were employed include:
ultra-low-flush urinals;
low-flow faucets; and
rooftop rainwater harvesting for toilet/urinal flushing and irrigation needs.

Control the content you see on ConstructionCanada.net!
Learn More.