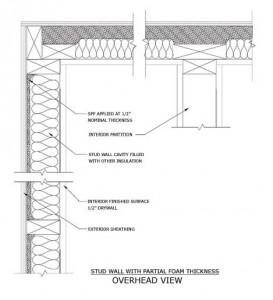 Quite surprisingly, insulation seldom garners the attention it deserves in the buyer's evaluation process, and, further, it is understandable builders focus on giving their clients the things they want most. The underlying liability with this approach is it results in poorer energy efficiency, diminished home comfort, and higher monthly home operating costs, which amortize over the home's entire life. The end result can be dissatisfied customers.
Many Canadian homebuilders do not currently use ccSPF in their builds. It is an understandable approach when one considers their markets are highly competitive and insulating complete homes with ccSPF would put extreme pressures on competitive pricing strategies. However, is relying on traditional insulation materials short-sited? Luckily, this is no longer a dichotomy.
Insulation choices
As builders continue to strive for innovation and differentiation, an emerging approach is the practice of using a more diverse range of insulation materials to match each of the various components of a new home. Each component of the building envelope represents a different set of challenges. This author considers some of the more important components of a new home from an insulation perspective.
Basement header
This area typically consists of a sill plate (i.e. top of foundation), a rim, or band joist, which rides parallel to the foundation walls and sits on the outer edge of the sill plate and floor joists, forming the supports for the subfloor and perpendicularly spanning across the entire basement ceiling. The basement header poses a significant insulation installation challenge and usually consists of hundreds of small sections of 406 x 254-mm (16 x 10-in.) rim joists and floor joist bays, often obstructed by ductwork, plumbing, and electrical wiring. This area is a commonly known culprit for air loss.
The traditional approach to insulating these areas is to cut sections of batt insulation, stuff them into each cavity, and then cover each section with a vapour barrier. A visual inspection of most homes that have been occupied for a few years will show crimped and poorly sealed batts, likely discoloured (i.e. grey) due to high volumes of air passing through, or even black, due to moisture that has led to mould and mildew.
The use of ccSPF in the header seals all nooks and crannies, eliminating improper fitting of traditional insulation and the vapour barrier, and stopping air loss, which has an impact on keeping heat in the building. Many newer homes today feature ccSPF in the header sections.
Basement walls
A common practice today is to insulate the upper 1.2 m (4 ft) of a basement wall with batts and a vapour barrier. This is basically the minimum requirement to satisfy NBC, but does not adequately meet the requirements of an energy-efficient home. In fact, many homes in Canada have basements with no insulation. Given that heat moves from hot to cold, heat loss will still occur in a basement due to air loss, moisture, and conduction. A poorly insulated or uninsulated basement will draw heat down, through the main floor, and out through the walls.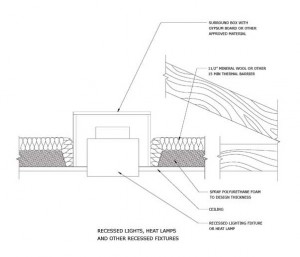 According to Natural Resources Canada (NRCan), basements can account for up to 35 per cent of a home's heat loss. (Basements can account for up to 35 per cent of a home's heat loss, according to NRCan's "Basement Insulation." Visit oee.nrcan.gc.ca/residential/home-improvement/choosing/insulation-sealing/basement/12735). Many homeowners opt to insulate their basements when they decide to finish the area, but that usually does not occur until several years after the occupants have taken residence. Until the basement is insulated, heat escapes the home and operating costs are higher as a result.
Another common issue with basements is dampness due to concrete and in-ground moisture content (MC). Since ccSPF retains virtually zero moisture, mould and mildew do not occur in the insulation materials. Best practices include using ccSPF to insulate full basement walls and finish with drywall. This is necessary to comply with fire regulations.
Garage ceilings
Under living spaces––such as a family room, bedrooms, and bathrooms––are quite common. In the event the garage is unheated, this will pose a significant challenge for builders. The garage ceiling area usually consists of a network of heating ducts running outside the building envelope. Often during cold conditions, the heat traversing the ducts gets consumed by the cold air, usually resulting in cooler air coming out of the registers in the living spaces above the garage. Heat is also lost through the floors due to lack of an air seal. The recommended approach is to air-seal this ceiling, ensuring the ducts are also insulated.
Cantilevered sections and bump outs
Cantilevered sections and bump outs include bay windows and fireplaces. These locations are challenging because the insulation normally used in these areas is not protected by any layers other than soffit. The air loss in these sections can negate the performance of batt insulation.
Cathedral ceilings
Cathedral ceilings pose a different challenge for builders as the required R-values for these sections are higher and require a significant amount of board stock to accommodate for 254 to 305 mm (10 to 12 in.) of more traditional insulation. It is also quite labour-intensive to install batts in a cathedral ceiling and, typically, there is not enough room to apply blown-in insulation.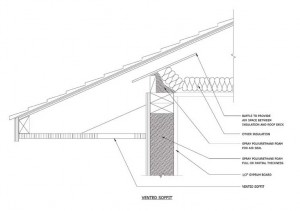 Exterior walls
Exterior walls are usually the largest component of an insulation project. Given NBC normally calls for 2×6 framing and codes for R-values range from R-20 to R-30 (RSI-3.5 to 10.5), it is common practice to install a layer of R-10 (RSI-1.75) rigid board on the exterior and then use batts for the rest.
Attics
Attics are usually built to accommodate 406 to 508 mm (16 to 20 in.) of insulation material. The normal practice is to apply blown-in insulation to achieve R-40 (RSI-7.0) or higher. A common approach for the energy-wise builder is to apply 51 mm (2 in.) of ccSPF for R-12 (RSI-2.1) and then top off to the desired R-value with blown-in insulation. This is a more cost-effective approach because it eliminates the need to install a vapour barrier over the ceiling.
Hybrid approaches
Given the many choices available for insulation, and the performance-versus-cost variables, another method to consider is a hybrid approach. For example, a 25-mm (1-in.) application of ccSPF could be applied to the wall's interior side to form an air barrier, while 102 mm (4 in.) of batt is applied over the remaining cavity. Then, a vapour barrier is fitted over the top. This can be a very cost-effective way to achieve superior performance without incurring a significantly higher price. The hybrid approach of using ccSPF and traditional insulation materials such as blown-in fibre, batts, and rigid board is becoming increasingly popular.
Conclusion
The union of closed-cell sprayed foam insulation for superior performance, and the more traditional insulation materials for lower cost in a hybrid approach, is a pragmatic balance of short-term and long-term cost benefits also in tune with the latest and developing building codes.
Tod King, MBA, is the president and co-owner of KinLar Insulation. He is a certified sprayfoam installer and is a member of Canadian Urethane Foam Foam Contractors Association (CUFCA), Canada Green Building Council (CaGBC), Greater Ottawa Home Builders' Association (GOHBA), and Ottawa Construction Association (OCA). King can be reached via e-mail at tod@kinlar.ca.

Control the content you see on ConstructionCanada.net!
Learn More.