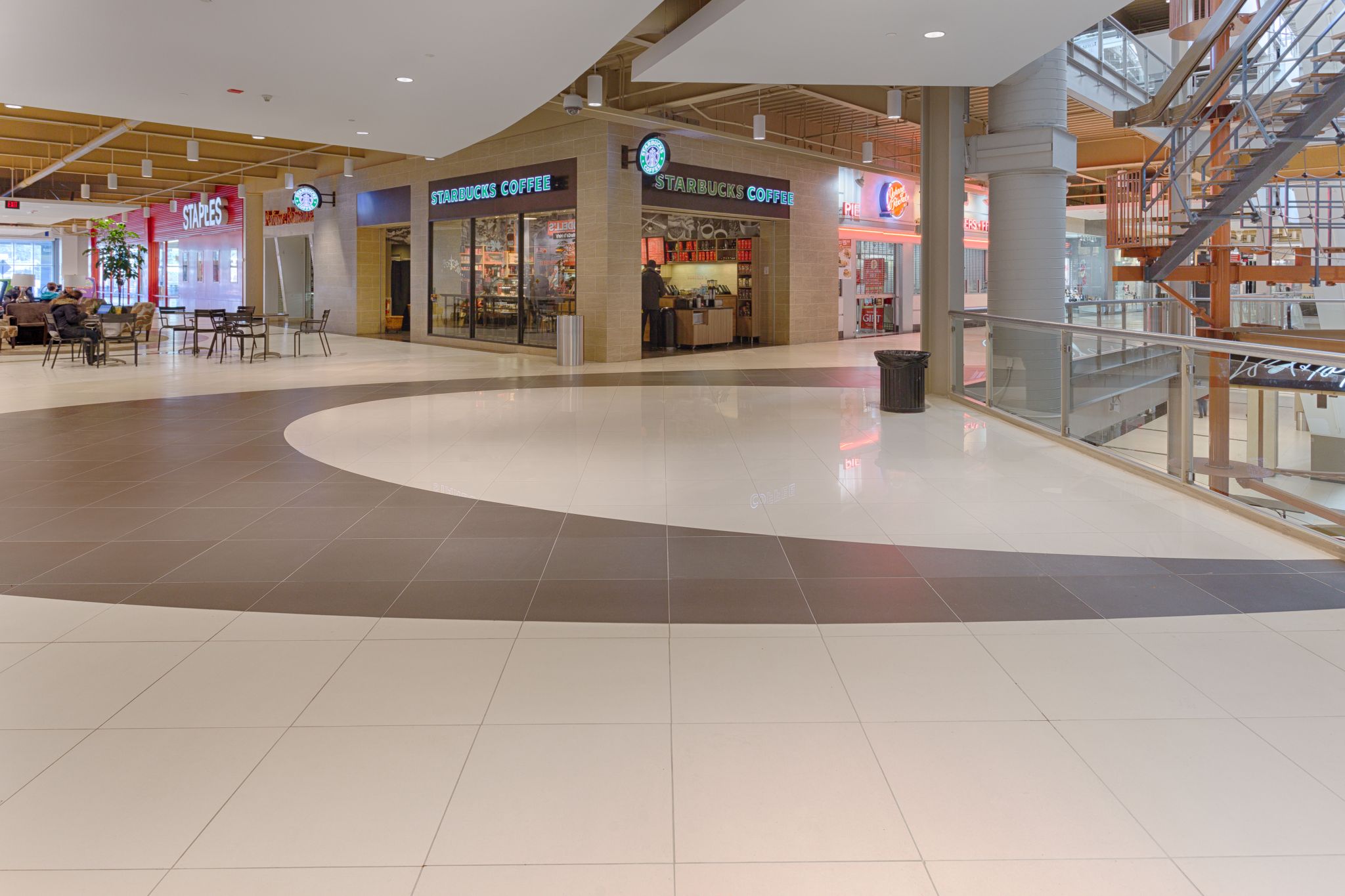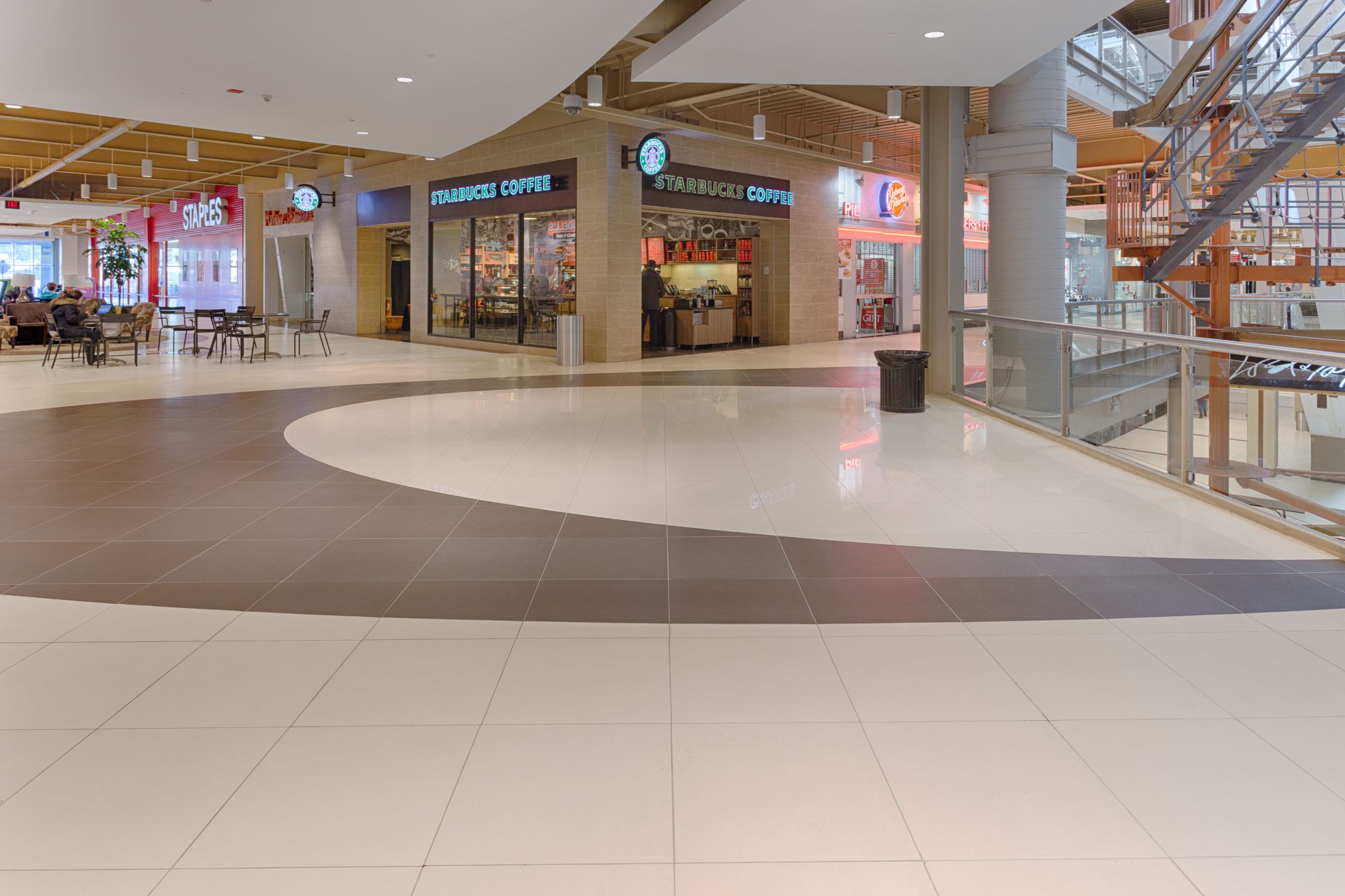 By Steve Taylor
Today, the ceramic and natural stone tiles used for floors and walls are bigger and heavier than ever before. Gone are the days of floors routinely set with 304 x 304-mm (12 x 12-in.) units. Architects, designers, and end-users now appreciate the clean, monolithic look of large-format tile on building projects.
Options for large tiles come in all shapes and styles, from traditional stone to contemporary porcelains; they include planks that simulate wood, and units as large as 1.5 x 3 m (5 x 10 ft). This explosion of tile sizes, densities, and compositions has created a need for technological advances in setting materials and the adoption of new installation methods best-suited for challenging installations.
The Tile Council of North America (TCNA) defines a large-format tile as any ceramic or natural stone tile with one edge greater than 381 mm (15 in.). The current edition of the TCNA Handbook offers specific recommendations for their installation.
Substrate flatness
Perhaps the most important thing to consider when setting large format tile is substrate flatness. The American National Standards Institute (ANSI) specification for the installation of ceramic tile sets forth a maximum allowable flatness tolerance for larger-sized tile in ANSI A108.01, General Requirements: Subsurfaces and Preparations by Other Trades. It recommends the substrate have no more than a 3.2 mm (1/8 in.) variance in 3 m (10 ft), with no more than 1.5 mm (1/16 in.) variation in 609 mm (24 in.).
The substrate's preparation is important in any installation, but large-format tiles mean having a flat surface is crucial. The depressions found in all concrete slabs and wood subfloors are a landscape of mountains and valleys when setting large tiles. A substrate that exceeds the ANSI standards must be corrected with an appropriate patching or self-levelling underlayment, or must be ground to the correct tolerance. A flat substrate is the first step toward a uniform-looking, problem-free, high-quality installation, and a self-levelling underlayment is the easiest way to achieve the required flatness.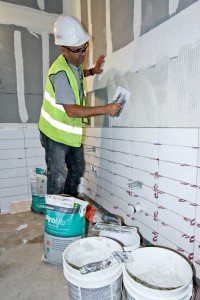 Managing deflection, crack isolation, and control joints
Subfloor deflection is also an important consideration. Floor span and tile weight should comply with local building codes, with the floor not deflecting more than l/360 with expected loads. Control joints must also be incorporated into these large expanses of ceramic and natural stone tile. Expansion joints should not be covered, but rather continued through to the finished surface. Cracked or suspended substrates should always be covered with an appropriate fabric or liquid-applied crack isolation membrane.
With the support of tile installers, TCNA has developed specific recommendations for the installation of large-format ceramic and natural stone tile in the TCNA Handbook. The council's current guidelines—updated regularly with new tiles and methods—should be reviewed before beginning an installation project involving large-format tile.
Correct mortar selection
Dry-set mortars for large- and heavy-tile medium-set (medium-bed) mortars are recommended to compensate for irregularities in the tile and substrate, as well as to manage the weight of the larger units. Common thin-set mortars shrink as they cure, and this displacement of water causes the mortar to retract and pull the tile as it hardens. When this occurs with a thick layer of a common thin-set mortar, it can leave an uneven surface from tile to tile—known as 'lippage'—or even lead to cracking. Mortars with medium-bed features are formulated to control the amount of shrinking that occurs during the curing process, which allows the tiles to stay level with each other.
Tile installation product manufacturers have developed dry-set, thin-set mortars with medium-bed capabilities that are easy to spread, offer non-slump/non-slip support, and are available in rapid-setting formulations. Whereas standard mortars are capable of a setting bed 2.4 to 4.7 mm (3/32 to 3/16 in.) thick, a dry-set thin-set mortar with medium-bed features can span from 2.4 mm up to 19 mm (3/4 in.) thickness after beat-in, providing maximum support and coverage.
Porcelain and natural stone tile manufacturers recommend use of a polymer-modified mortar for the installation of tile to concrete, plywood, and synthetic membrane surfaces. For these installations, TCNA advises mortars meeting:
● ANSI A118.4, Standard Dry-set Cement Mortar;
● A118.15, Improved Modified Dry-set Cement Mortar; and
● A118.11, Latex Portland Cement Mortar.
Crack-prevention mortars are ideal when maximum bond strength and flexibility is required. They are formulated for easy handling, will support large tiles in vertical installations, and bond to many difficult surfaces like dense porcelain and stone tile. Some crack-prevention mortars can be used for both thin-set and medium-bed installation up to 19 mm (3/4 in.) thick.
Rapid-setting mortars offer the same high performance and flexibility as their companion standard mortars while meeting the rigours of setting large-format tile and stone for fast-track commercial or multi-family residential installations. Some are suitable for thin-set and medium-bed applications up to 19 mm thick after beat-in. These mortars have sufficient working time to allow for tile adjustments. However, they quickly set, allowing the grouting process to begin in under three hours, and can handle light traffic in four hours.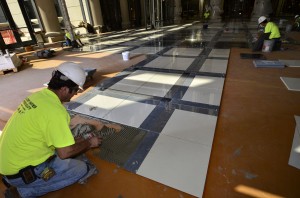 Full-contact medium-bed mortars offer full transfer to the back of the tile with minimal effort, eliminating the need for back-buttering or extensive beating-in techniques, saving time and labour for most installations. These mortars are more fluid than traditional thin-sets, yet hold their ridges and support deeper notch trowel sizes for large-format tiles.
Specialty stone medium-bed mortars are developed to maximize the bond to natural stone tile. They are also an excellent choice for the installation of large porcelain tile and can be used to install large ceramic and stone tiles that require a setting bed up to 19 mm thick in both interior and exterior applications.
Fortified medium-bed mortars provide non-slip, non-sag, and non-slump characteristics. These polymer-modified mortars are specifically designed for large format-tile and stone, for interior and exterior floor, wall, and countertop installations.
For special installations such as walls and glass tile, it is crucial to specify a mortar formulated specifically for these unique applications. To prevent large-format wall tiles from slipping, vertical installations require a mortar formulated with superior non-sag and non-slip characteristics.
Large-format glass tile requires another set of demands due to the tile's unique attributes, including full coverage, superior bond strength, and a bright white mortar colour tailored to the translucency and smoothness of the tiles.
Large thin porcelain tile
Porcelain tile panels up to 3 m (10 ft) long can be made as thin as 3 mm (0.118 in.). These large, thin tiles require special care, tools, and methods for their installation. Adequate mortar coverage is especially important to secure these large, heavy tiles, to prevent hollow spots, guard against chipped corners, and minimize cracks.
Modified dry-set mortar for large and heavy tile medium-set (medium-bed) mortars are generally recommended. Many large-format tiles, particularly thin porcelain and stone tile, have a resin/fibreglass reinforcement coating on the back. This reinforcement coating can be difficult to bond to with a cement mortar, and in most cases, requires an epoxy-based bonding mortar.
These epoxy mortars can be used as a thin-set or medium-bed mortar. Their non-slump capabilities help support large format tile in floor installations. The tile manufacturer and tile-setting installation products manufacturer should be consulted regarding the best products and techniques to use with a specific tile. TCNA, with the help of installers and installation product manufacturers, is refining standard methods and practices to address the installation of these largest panels.
Two of the most important keys to large-format tile installation success are proper subfloor preparation to ensure a flat, even surface, and specialized mortars specifically designed for use with large format tile should be specified.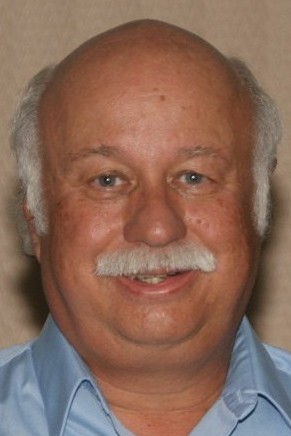 Steve Taylor is director of architecture and technical marketing for Custom Building Products and has more than 30 years of experience developing products for the construction industry. He is a member of the Tile Council of North America (TCNA) board of directors and serves on various subcommittees. Taylor can be reached by e-mail at stevet@cbpmail.net.

Control the content you see on ConstructionCanada.net!
Learn More.