Innovation in design drives formwork solutions
January 3, 2017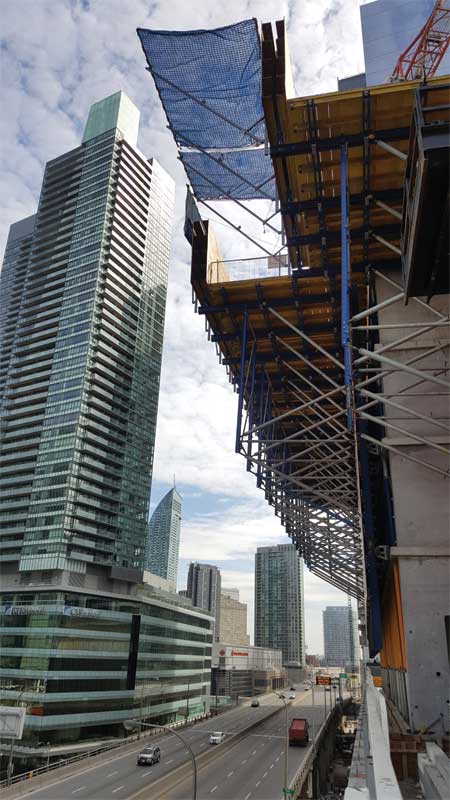 By Michael Schaeffer
The advent of innovative designs keeps prompting formwork manufacturers to come up with new and custom solutions to meet the needs of abstract projects. Contemporary architecture is dominated by complex geometries and ever-higher buildings, and the success of these projects depends largely on efficiency in the construction process. As architects continue to stretch the limits with design, contractors are making inventive use of formwork to allow these concrete structures to come to fruition. It is a team effort between architect, contractor, and formwork supplier.
Innovatively designed structures differ from standard ones not only in outside appearance, but also in structural design and construction methods. To meet the unusual demands of these designs, the market offers many formwork systems varying in technical function and price. In order to find the optimal formwork solution, factors such as cycle time, construction method, site equipment, and type of reinforcement must be taken into account during the planning phase. It makes sense to invest in a higher-quality system if it improves construction processes and results in savings of manpower, cost, and construction time. Selection of the appropriate formwork system results in crucial improvements to the construction workflow.
Determining the formwork
Consultation and expert support from the beginning can help professionals determine the formwork system best-suited for a job. This process should begin with an evaluation of the conditions known to be at the site. It is important to start contacting formwork suppliers and concrete contractors as early as possible in the design stage, so contractors can provide advice on the most economical construction methods and perform a detailed analysis of the site.
Given conditions vary for each project, there is no simple formula for choosing the right formwork system. Considerations affecting formwork selection include crane availability, access in and out of the site, and experience level of the available labour force.
When configuring the exact formwork to use, specialists can draw up assembly and erection plans to suit the project's specific requirements. With this specialized design method, time is not lost to poor planning, and professionals can work with greater certainty, having fewer interfaces to co-ordinate. A good formwork company will provide professional engineering services, recommending design changes to generate a more economical total project cost.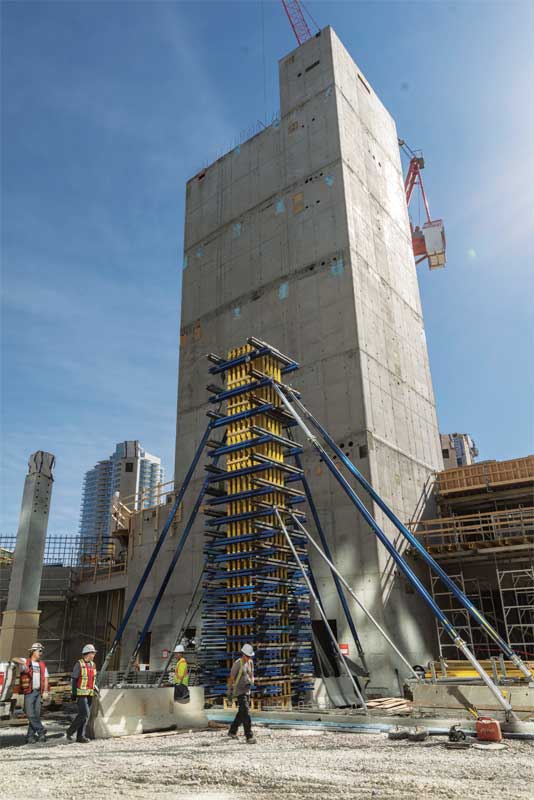 Engineering services can be crucial to formwork success. Ideally, value engineering involves helping the contractor make the right decisions about every aspect of formwork so costs are kept under control and risks can be assessed well in advance.
Innovative designs and specifications for formwork often dictate specific engineering requirements. These may include submittal requirements such as the design and stamping of drawings with calculations by a professional engineer registered in the province in which the project is being built—such submittals can require up to a 60-day review period.
To meet the timelines set out in the contract documents, a schedule with milestones should be laid out in advance with the formwork supplier. This way, professionals can be sure enough time has been allowed for potential revisions, and can avoid any delays to the start of the forming process. It is important to remember to include any submittal requirements in the process. More unusual designs may have more complicated requirements.
In response to the inventive building designs being produced, new formwork varieties are increasingly appearing on construction sites. Specific examples can be seen in two new structures—Ten York in Toronto and the New Central Library (NCL) in Calgary.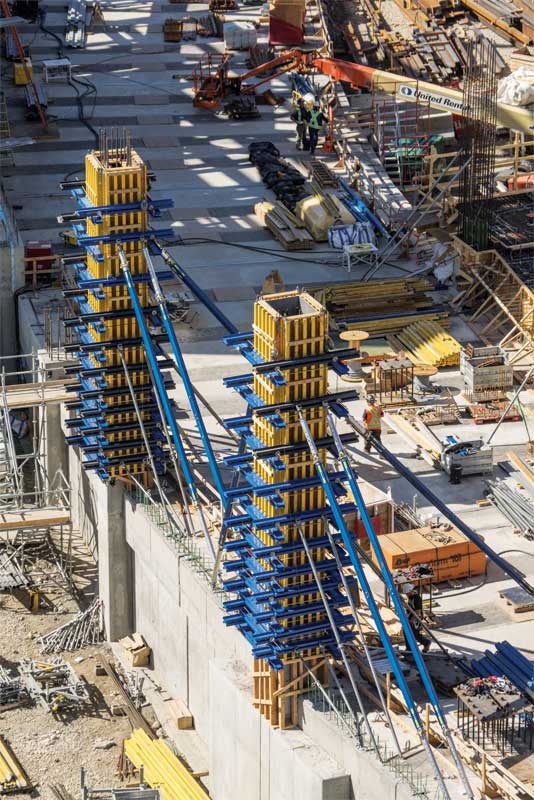 Ten York
Currently under construction, Ten York is a 65-storey luxury residential building that will, on completion, soar 224 m (735 ft). Designed by Wallman Architects and developer Tridel, the building rises dramatically from a triangular wedge alongside one of Toronto's major city arteries, the Gardiner Expressway. It will be one of the most prominent locations downtown, overlooking Lake Ontario and close to major transportation such as the subway, GO train, and Union Station.
Formwork challenges
The project team at Hardwall Construction knew building a structure such as Ten York would be no easy task. Many constrictions were imposed on the process due to the jobsite's close proximity to a major highway.
The position of the project prevents use of traditional truss tables, as well as limiting space on the ground for staging and storage of material. Another concern is the shear wall construction restricting the movement of shoring material through the building. Additionally, the building design calls for a 3-m (10-ft) deep transfer slab suspended 12 m (40 ft) above the floor below, and a schedule requirement of four days per floor.
The solution
One of the first steps to resolving these issues was to design and install preassembled perimeter protection loading platforms. The units could unfold and pin together onsite, allowing for quick assembly
and installation.
For ensuring worker safety, full-perimeter protection was implemented at the working level. This enclosure allows all work to be carried out in complete safety, protected from all weather conditions.
Wide-platform storage can also be integrated into the protection screen, providing storage and laydown space outside the building perimeter at any height, while the 5-m (16-ft) projection from the building allows shoring tables to be easily cycled without any interference from the perimeter protection. The windscreen platforms at the slab working level allow shoring material to be rolled out onto the working platform without use of a crane, and seven fully loaded windscreens can climb at once. Crane time is also reduced by storing wall formwork on protection-screen loading platforms instead of flying material back down to the ground. This innovative climbing perimeter offers work and loading platform protection in one system, saving valuable weeks of construction time.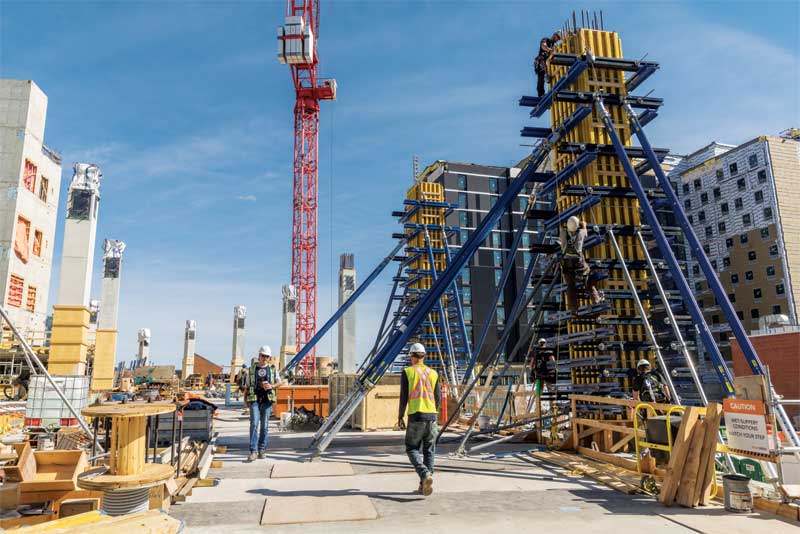 "This [adapted] version of the windscreen system demonstrates the ability to continuously evolve and improve construction technology. [These] systems have increased production and safety onsite," says Chris Taylor, engineering manager for Hardwall.
Calgary's New Central Library
In the early 1960s, Calgary's old library was built for a city population of 400,000 people. Since then, growth in Calgary and the surrounding area to almost 1.5 million has necessitated a corresponding increase in the size of the library as well as a modernization effort.
For New Central Library, the city chose a prime location: one block east of City Hall in the burgeoning cultural hotspot of East Village. Providing approximately 22,297 m2 (240,000 sf) of usable library space (66 per cent more than the existing downtown library), NCL will host a collection of approximately 600,000 books, as well as special programs and spaces for children and teens, a technology commons and laboratory, and a centre supporting community integration and advancement through skills development.
The site is bisected by two significant corridors: an active light rail transit (LRT) line moving in a north-south arc, and the 8th Avenue pedestrian corridor running from west to east. The challenging design of the library, resembling a graceful ship sailing into the future, includes geometric exterior cladding and vast, open interior spaces. The project should be completed in 2018.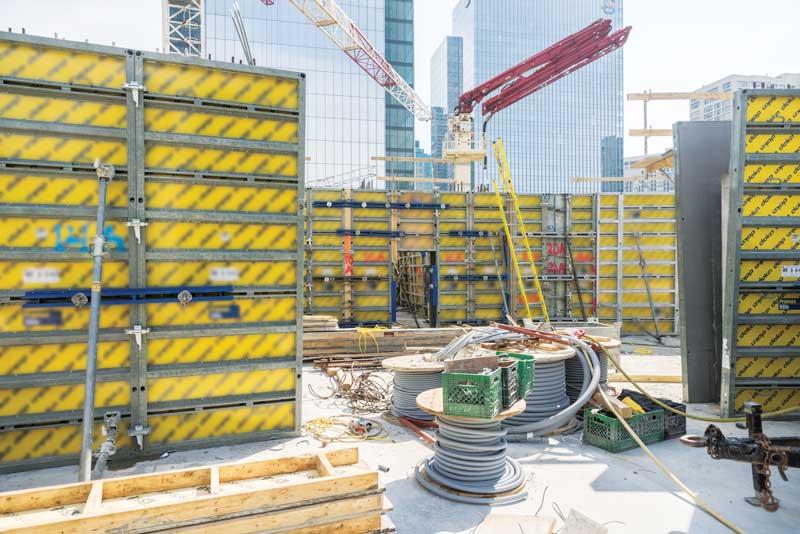 Formwork challenges
NCL will be a landmark building exemplifying design excellence, as well as a community space inspiring thought, collaboration, and conversation. The design is the greatest challenge on this project, given its very high slabs and architectural exposed walls and columns, which translate to a low amount of repetitive work. Therefore, most of the forming solutions implemented here are custom. Many of the project's steel and concrete components are built simultaneously and incorporated within each other.
The solution
For this design, it was necessary to provide a tieless formwork solution for the architectural columns and beams. The tieless solution eliminated concerns and potential conflicts with reinforcement steel and composite steel structural components. In addition, it provided a smooth final architectural concrete finish, as patching of holes from ties was eliminated. With this method, challenges introduced by complicated column cross-sections, large column heights, and stringent specifications on concrete finish requirements could all be met.
The formwork provider's team of engineers used 3D modelling from the architect to complete the execution and assembly drawings for the customer. Weekly meetings with the contractor, Stuart Olson Company, were required to stay atop ever-changing project demands and ensure the formwork solutions achieved a high-quality architectural concrete finish.
Conclusion
Specific engineering requirements introduced by innovative design choices can be met by involving the formwork company early in the process, and by working with its in-house engineers to find the best customized solution. The formwork company can also provide ongoing engineering and onsite support throughout the project to ensure the solutions are working. Ten York and NCL are two examples of groundbreaking structures where the architect, contractor, and formwork supplier must work closely together to achieve desired designs.
Effective column formwork can be used to tackle issues such as complicated column cross-sections, large column heights, multiple formwork reuse cycles, and tough specifications with regards to the concrete finish.
HOW TO CHOOSE THE BEST FORMWORK SYSTEM FOR A JOB
By working closely with the formwork provider right from the beginning, building professionals will be able to use formwork efficiently and to its full capacity. It is crucial to eliminate unplanned costs and delays by asking questions from the start and working with the formwork partner through every step of the project.

1. Evaluating total project needs.
Choosing the correct formwork for a project starts with reviewing the project and the design and site challenges. Does the design call for use of multiple types of formwork? Does the site necessitate work in close quarters without room for the formwork staging?

2.Development of cost-effective solutions.
To help determine the most efficient solution for a project, a contractor should evaluate several forming systems. It is best to rely on professional advice when selecting formwork to ensure a cost-effective system is chosen. Each concrete structure is unique, so there is no one-system-fits-all solution. Since formwork must be considered in the overall construction plan decision-making process, it is best practice to get the formwork supplier involved in early discussions.

3. Value engineering of project design.
Formwork specialists can draw up assembly and erection plans to suit specific requirements and preferences. This facilitates optimization of the formwork systems provided and helps ensure success onsite by saving time and cost and improving risk assessment.

4. Estimating total costs and schedule.
Contacting formwork suppliers as early as possible means the maximum amount of information can be included in the bid documents, providing a more accurate cost estimate.

5. Job-built versus equipment rental.
The decision of whether to build or rent equipment should be based on the duration of the project and the overall strategy of the construction company. Typically, if a form system has to be rented for more than eight to 10 months, purchasing it might be more economical.

6. Engineering design requirements.
Specific engineering requirements, such as a 60-day review period or specialized stamping of drawings, can be required in formwork specifications. If these are to be met and the project is to remain on schedule, specifiers should lay out a timeline with the supplier well ahead of time.

7. Development of a jobsite plan.
Effective development of a jobsite plan relies on communication between all parties, including the concrete contractor and the formwork supplier. All elements of the job and the formwork should be considered.

8. Management of equipment delivery and returns.
The formwork delivery must be timed so it is available onsite when needed. If the site has a limited assembly and storage area, formwork delivery and removal must be meticulously scheduled.

9. Assembly and inspection onsite.
It is essential to follow the engineering drawings for assembling and setting up the formwork. Not following setup instructions letter-by-letter can lead to accidents, unsafe working conditions, and unnecessary downtime.

10. Jobsite closeout.
A good formwork supplier makes jobsite closeout their job. Proper organization at the start of the project can simplify the closeout process.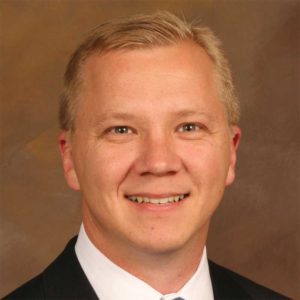 Michael Schaeffer is the vice-president of sales for Doka North and South America, and has been in the design/construction industry for more than 25 years. His career in formwork has included front line sales, operations, and organizational development, but his current responsibilities include sales management, product development, customer solutions, marketing, and project management. He can be reached at michael.schaeffer@doka.com[1].
Endnotes:
michael.schaeffer@doka.com: mailto:michael.schaeffer@doka.com
Source URL: https://www.constructioncanada.net/innovation-in-design-drives-formwork-solutions/
---