Improvements in roof hatch design
by mdoyle | September 2, 2013 2:00 pm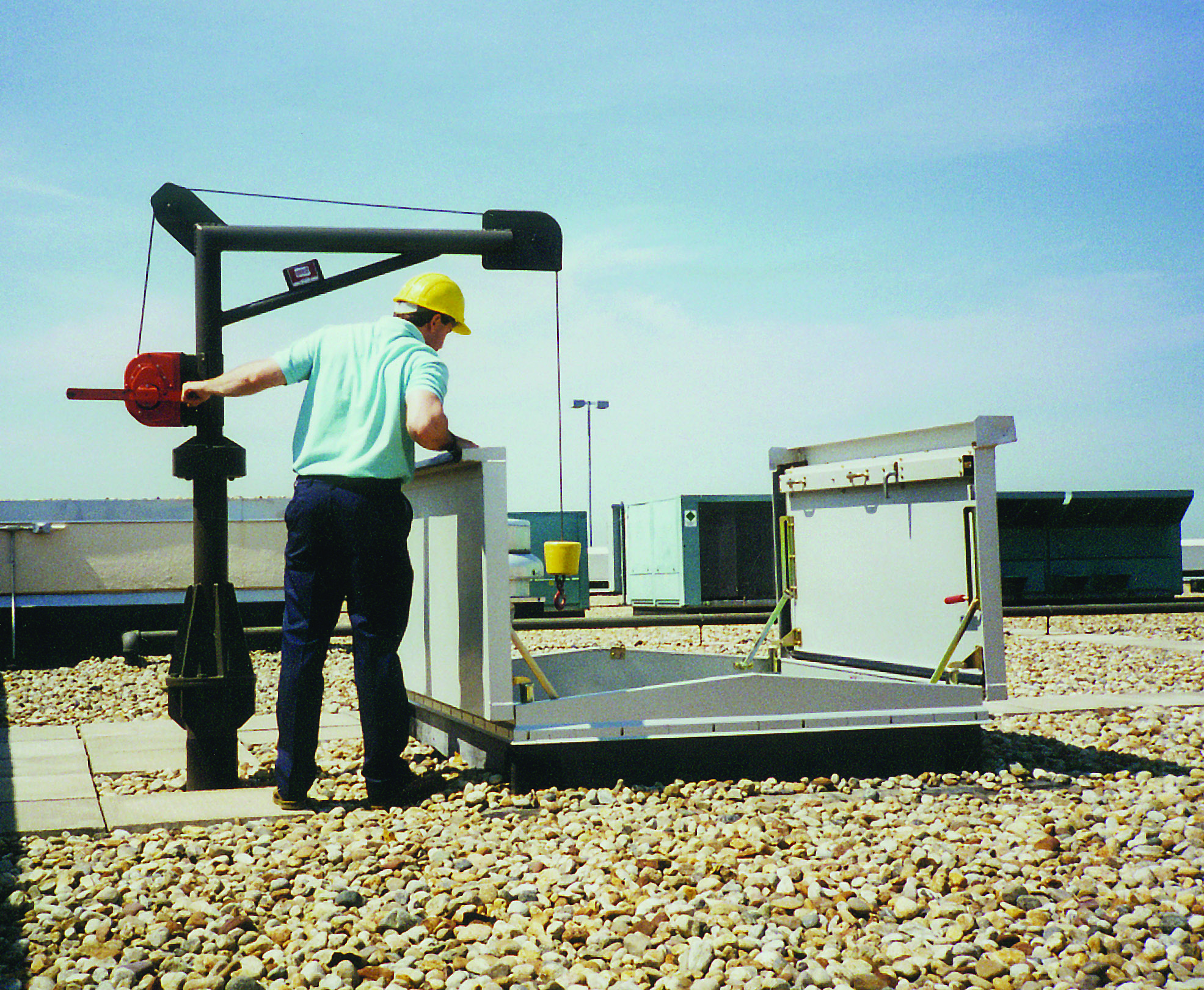 By Michael Toohey
A roof hatch, also referred to as an access hatch or roof scuttle, provides convenient access to and from a rooftop area in a commercial building or large multi-family project with mechanical systems up top. They are most common on flat roofs, but can be adapted for pitched assemblies as well.
Roof hatches allow access to these areas for maintenance of HVAC and other roof-mounted equipment, and can also be used to facilitate the installation or removal of large pieces of equipment in a building. They also help enable maintenance of the roofing material itself.
Prior to roof hatches, this access was typically provided by a fixed or temporary ladder on the outside of a building, or by constructing a penthouse on the roof with a full vertical door. However, exterior ladder access could be dangerous in inclement weather conditions and was not a viable option for taller buildings.
While rooftop penthouses offered a safer alternative, they added to construction costs, needed be maintenance, and generally gave the building an unattractive sightline. In the 1950s, building design professionals and manufacturers recognized the need for a replacement to the traditional penthouse, and the roof hatch was 'born.'
The hatch offered a low-profile design that allowed architects to keep clean building lines. These components could also be installed at a cost much lower than a standard penthouse. While roof hatch design was far cruder a half-century or so ago, the products offered the same basic features that remain today—lift assistance, hold-open arms, and insulation.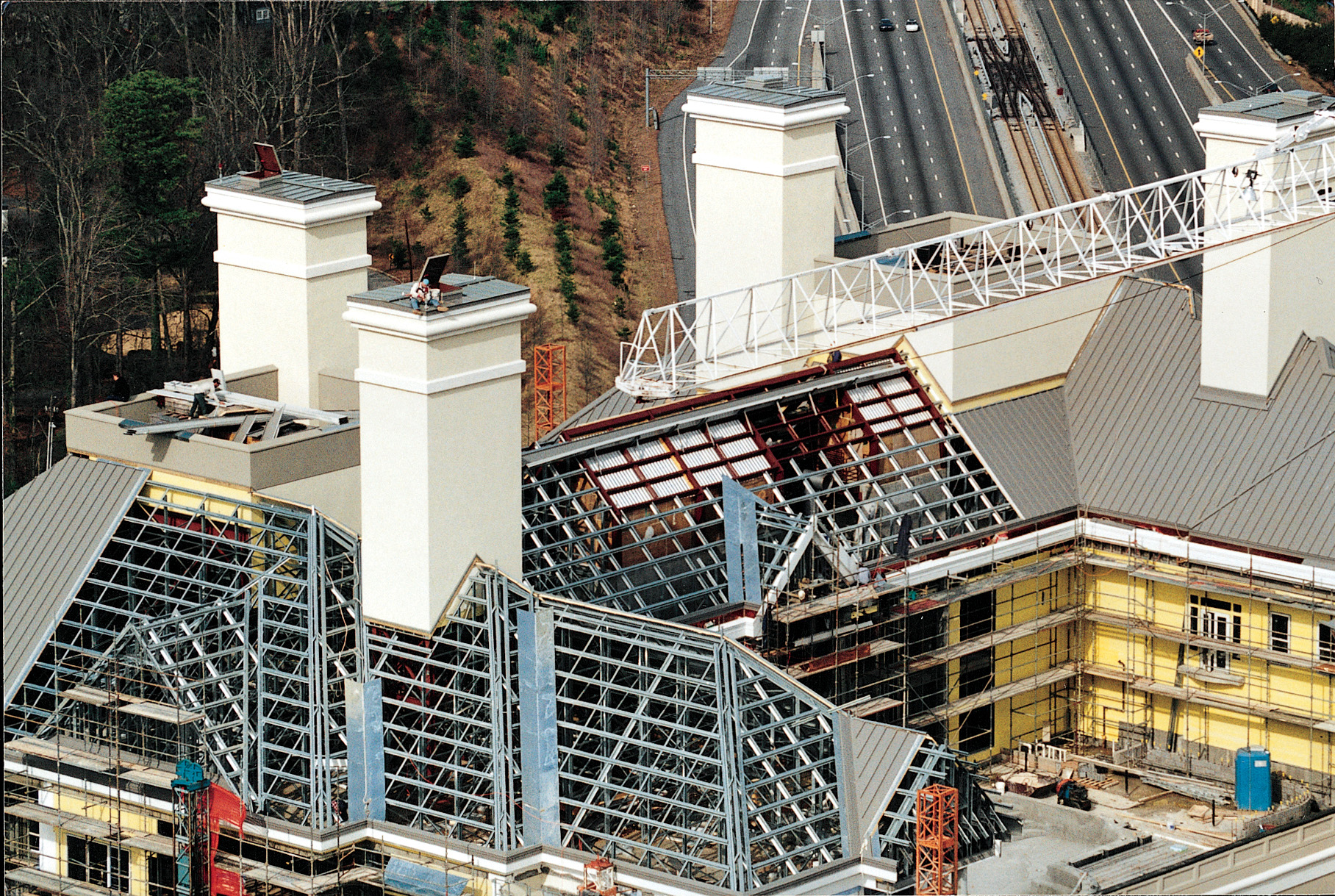 Product selection
The selection of a roof hatch should begin by identifying a building's access requirements, including whether the opening would be used by personnel and/or equipment. For personnel access, the most common type of roof hatch is designed for a fixed interior ladder. For more frequent access, standard roof hatch sizes are available for use with a ship stair or a full-size staircase. These hatches provide easier movement for maintenance personnel, particularly those carrying tools or repair equipment.
If a roof hatch is required to install equipment or move material into a building, it is best to start by discussing the physical dimensions of the equipment with a roof hatch manufacturer before determining the proper hatch size. Roof hatches are designed with operating hardware that can impact the clear opening and the manufacturer will determine the proper frame opening size to avoid these obstructions and provide the necessary clearances.
Once the roof hatch size has been determined, there are a few more factors to consider before choosing a product. Hatches are available in several different materials, with the specification usually based on the corrosive nature of the building environment or simply product cost.
Galvanized steel construction is the most popular—and frequently least expensive—option, but hatches are also available in aluminum, stainless steel, and copper at varying price points. (Units constructed from hot-dip galvanized steel typically have a primed finish and should be painted in the field with a finish coat of paint. Aluminum units require virtually no maintenance.) Hatch pricing can range from $500 to $600 for a standard-sized ladder-access product, up to several thousand dollars for a large, two-cover, custom-sized model.
Building security is also an important factor when specifying a roof hatch. Products are typically supplied with a standard slam latch that includes an interior and exterior padlock hasp. For added security, some manufactures offer lock options such as a keyed cylinder lock or a prison deadlock.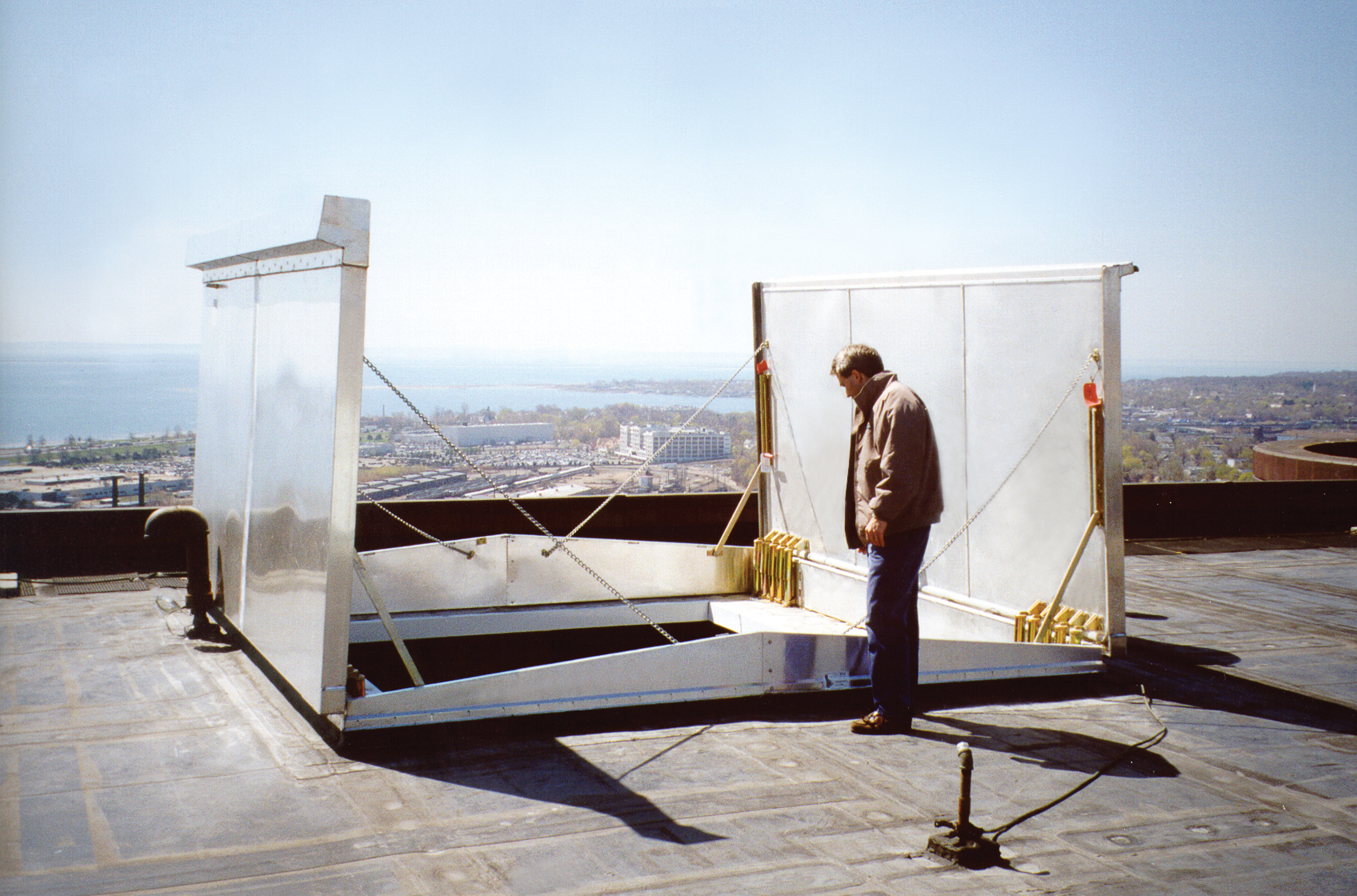 Weathertightness and energy efficiency are other important features for any building owner. The design professional should seek roof hatches that feature fully welded construction, a positive seal between the cover and curb, and a fully insulated design.
Safety standards
There are numerous design elements to consider when selecting a roof hatch. Ease of operation is the most critical feature, as user safety can be compromised if a hatch is too difficult to operate. For example, a hatch that requires two-handed operation while standing on a ladder can pose an extreme safety issue. Counterbalanced design as noted in following sentences is also very important from a safety standpoint.
It is important to specify a hatch with uniform lift assistance that affords easy one-hand operation and prevents the hatch cover from slamming closed under its own weight. A well-designed roof hatch should also include an automatic hold open arm that securely locks the cover in the open position when personnel are entering or exiting.
Indeed, safety is probably the biggest issue should the wrong type or size of hatch be specified for a project. If it is too small and above a staircase, there could be headroom issues, possibly resulting in a code violation. If it is too large and installed over a ladder, it may be difficult to reach the cover to close the hatch when service personnel are descending, creating an unsafe situation.
It is not uncommon for roof hatch covers to be left in the 'open' position during maintenance projects as workers often fear they may be locked on the roof if it is closed. Hold-open arms maintain the cover in the position the operator left it, as compared to a door closing on its own after use. Lift assistance is simply a method by which minimal force or effort is required to open or close a door leaf, regardless of the weight or size of that door leaf.
Hold-open arms lock the cover in the fully open position (typically 70 or 90 degrees, depending on the product type). This is an important safety characteristic as a strong wind could move or even close the cover if it was not in the fully upright and locked position—a serious hazard if someone was ascending or descending the ladder or stairs.
Lift assistance, typically provided by spring mechanisms, allows a heavy, metal cover to be easily opened and closed by one person. It is not uncommon for a cover on a large hatch to weigh several hundred pounds and lift assistance is essential to ensure workers can easily and safely open the hatch.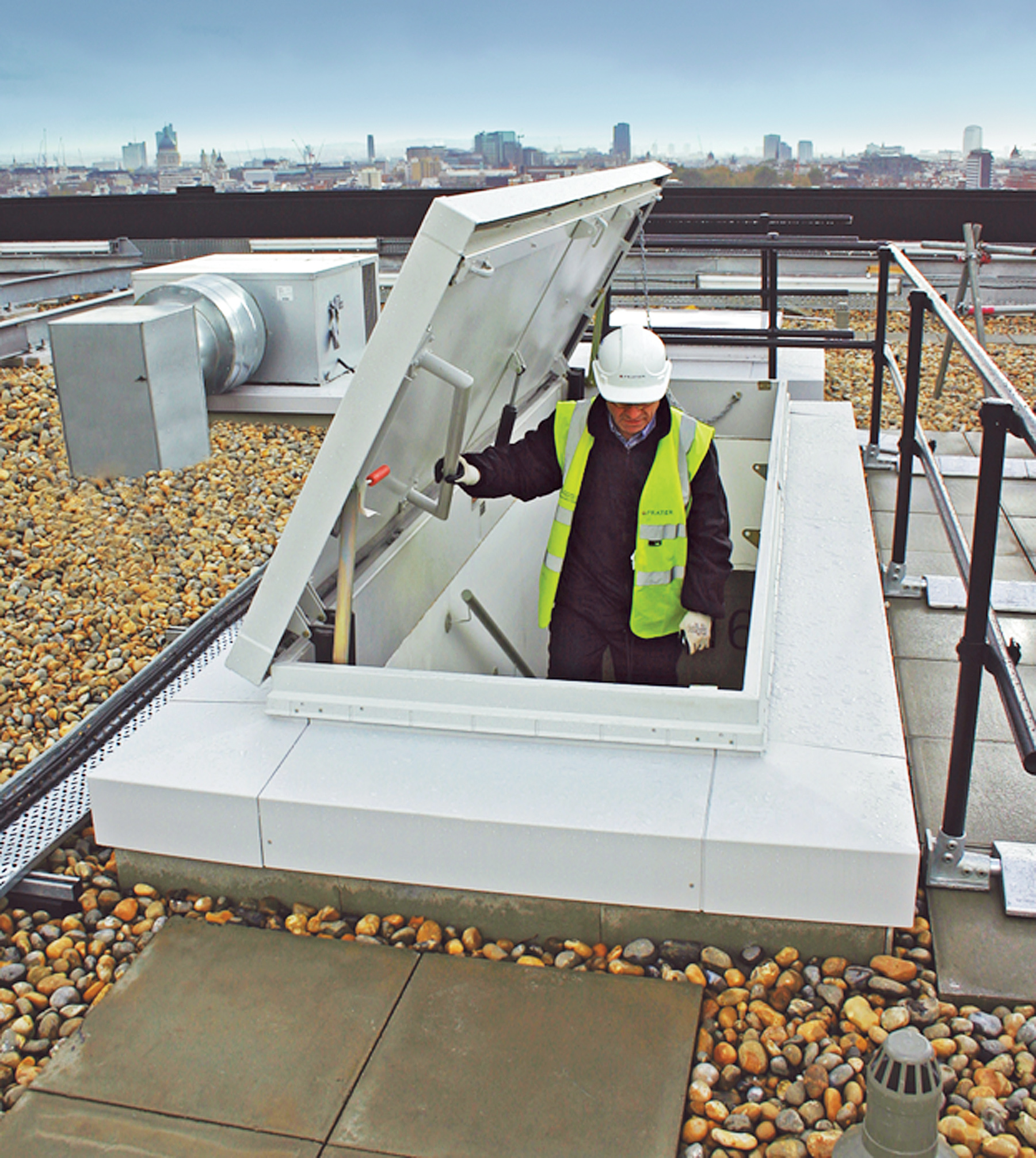 Tripping into an open hatch, of course, can also result in a serious injury—the Canadian Centre for Occupational Health and Safety (CCOHS) has recognized this situation as a dangerous fall hazard.
To protect against falls and satisfy CCOHS requirements, a fall protection railing system should be installed around the roof hatch. Railing systems are available in numerous different designs and materials and several manufacturers offer a system that can be mounted directly to the roof hatch curb to avoid any penetrations through the roofing material.
Permanently mounted hatch rail systems must be anchored to something to satisfy CCOHS loading requirements. To accomplish this, rail systems need to either be anchored to the roof deck or the hatch. Anchoring to the roof deck would require anchor points in the horizontal surface of the roof and this could be a major leak path. Rail systems connected to the roof hatch are either mounted through the curb (another potential leak path) or to the capflashing. Mounting to the capflashing is the recommended approach as this connection is outboard of the roofing material.
In addition to fall protection, ladder safety is an important aspect to consider for roof hatch access. Exiting and entering the opening can be somewhat awkward for climbers. They must pull themselves out of the hatch when exiting, and carefully lower their body into the opening to descend with only the roof hatch curb to grab on to. A ladder safety post dramatically improves user safety by providing a positive hand-hold throughout the egress process. The post mounts to the top two rungs of any fixed ladder and telescopes up through the opening when access is required, allowing users to maintain an upright and balanced position.
From a design standpoint, it is important domed roof hatches withstand impact testing to satisfy fall protection requirements. Units that do not satisfy this requirement typically need to have a screen installed over them to provide a fall barrier.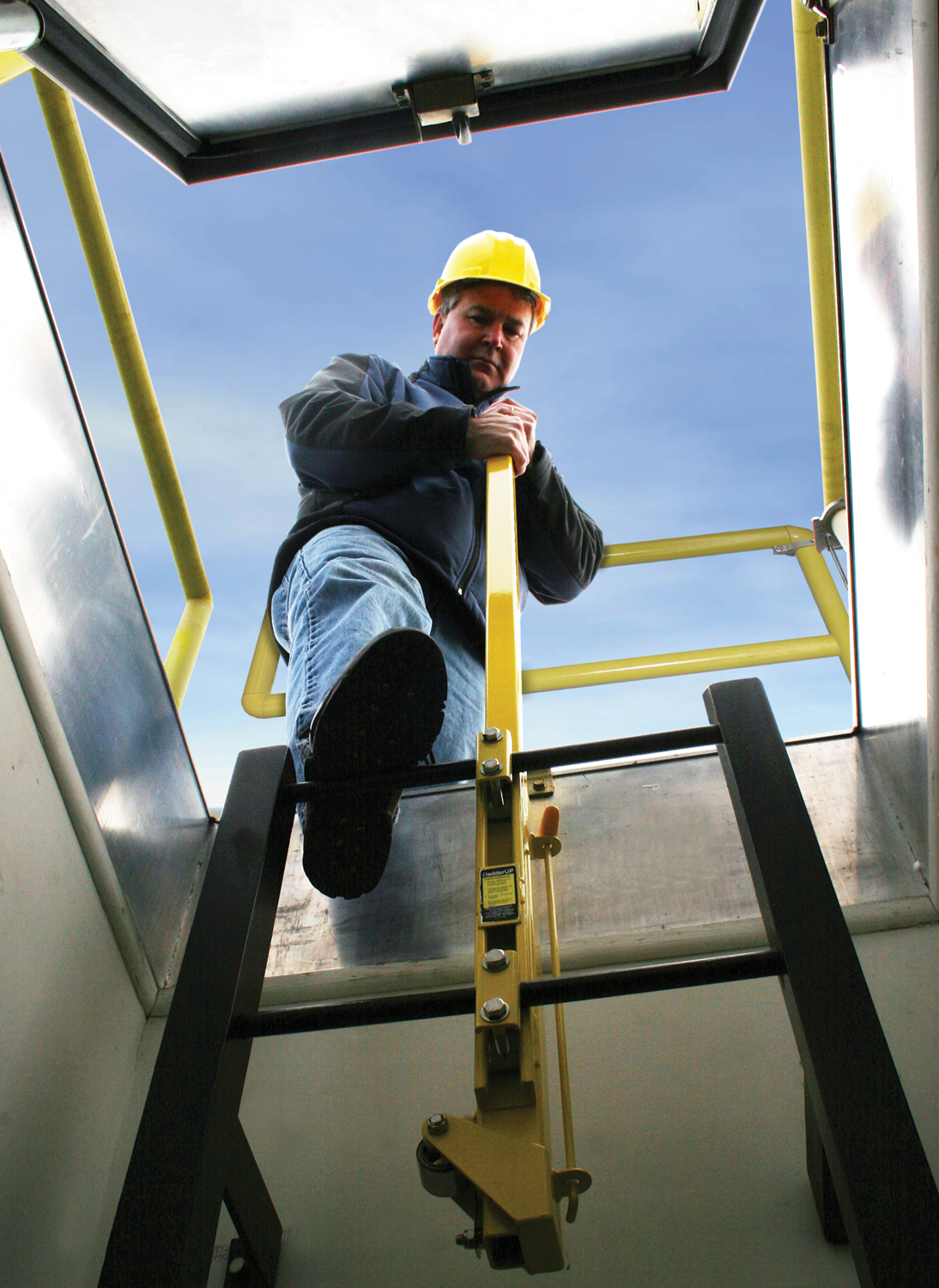 Improved energy efficiency
In recent years, manufacturers have recognized the need for improved energy efficiency in roof hatches. Traditionally, roof hatches have been designed with fibreglass insulation in the cover and fibreboard insulation in the curb. For improved thermal performance, standard products are now available with polyisocyanurate (polyiso) insulation in both the cover and curb.
This insulation drastically improves a roof hatches' RSI (R-value), and brings its level of energy efficiency in line with new roofing materials. In addition to advances in insulation, there have been improvements in weatherstripping or gasketing in recent years. New designs have been developed and tested to minimize air infiltration and leakage and ensure maximum weathertightness. (Hatches come fully insulated when they leave the factory, so the user/installer need not worry about any special considerations. Additionally, any special insulation requirements should be discussed prior to construction with the hatch manufacturer.)
Manufacturers use a variety of gaskets to prevent water infiltration from wind-driven weather. The materials employed range from open-cell foam to ethylene propylene diene monomer (EPDM). The former tends to degrade when subjected to temperature extremes, while gaskets of the latter are more suitable because they withstand hot and cold temperatures and maintain their shape, ensuring they provide a positive seal between the top of the hatch curb and the underside of the cover.
Natural daylighting
Energy-efficient windows and skylights have allowed architects to incorporate natural daylighting into their building designs. When designed and used properly, these products can reduce the need for artificial lighting during daylight hours without causing heating or cooling problems. This results in a more pleasant working environment for building occupants and reduced utility costs for the building owner.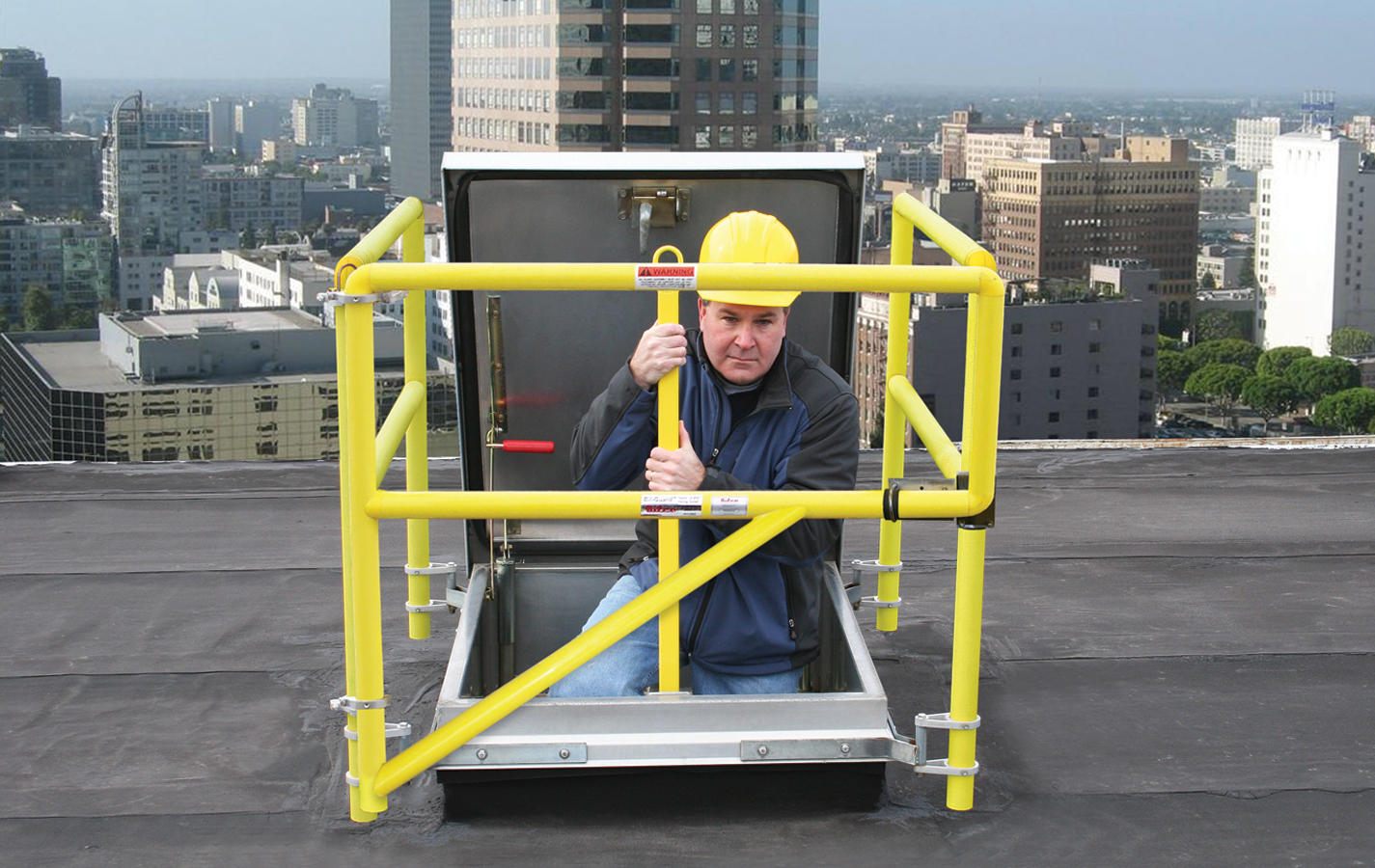 The growing trend for natural daylighting has spilled over into roof hatch design and duel functioning products are now available to provide access and natural daylighting. These products typically feature a polycarbonate dome cover and all the standard operational features of a basic roof hatch. Covers can be supplied with various glazing options and products are available in various standard and special sizes.
Conclusion
The level of sophistication in roof hatch design has improved over the years and the products of today can satisfy virtually any access requirement. Many standard options are available for added safety, security, and improved energy efficiency. Additionally, roof hatch manufacturers can develop custom solutions to meet the unique access requirements for any building application.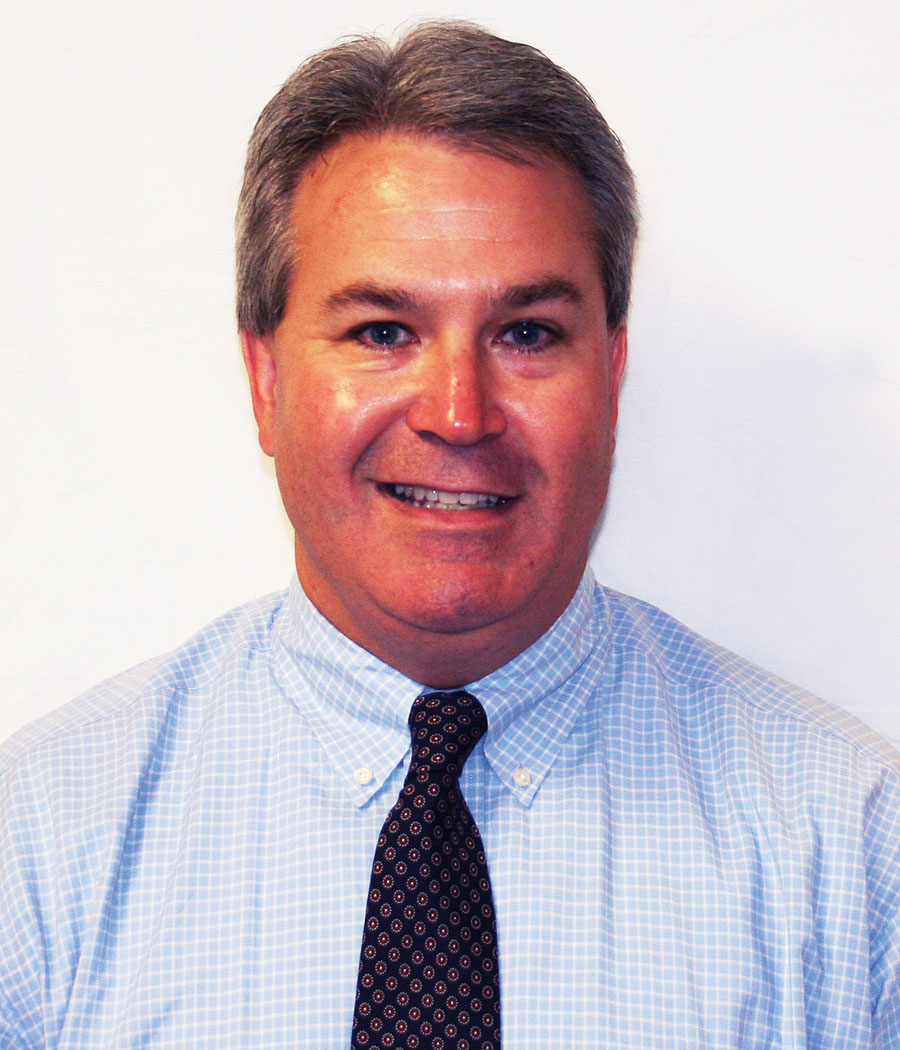 [7]Michael Toohey is the marketing manager for the Bilco Company. He has more than 25 years of experience in the construction industry and has dealt with specialty access products for more than two decades. Toohey is a member of the National Roofing Contractors Association (NCRA). He can be contacted at (203) 934-6363.
Endnotes:
[Image]: http://www.constructioncanada.net/wp-content/uploads/2014/07/Open-Hatch.jpg
[Image]: http://www.constructioncanada.net/wp-content/uploads/2014/07/Roof-Hatches.jpg
[Image]: http://www.constructioncanada.net/wp-content/uploads/2014/07/Bilco-Double-Leaf.jpg
[Image]: http://www.constructioncanada.net/wp-content/uploads/2014/07/Single-Lead-App.jpg
[Image]: http://www.constructioncanada.net/wp-content/uploads/2014/07/Ladder-Up.jpg
[Image]: http://www.constructioncanada.net/wp-content/uploads/2014/07/Bil-Guard-and-Ladder-Up.jpg
[Image]: http://www.constructioncanada.net/wp-content/uploads/2014/07/Head-Shot-MPT.jpg
Source URL: https://www.constructioncanada.net/improvements-in-roof-hatch-design/
---