By Marcin Pazera, PhD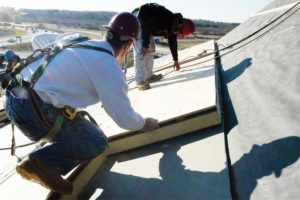 A well-functioning roof system is essential to protect a building from the elements. Across Canada, where many regions cope with substantial winter snowfall and demanding weather throughout the year, a tapered insulation system can reduce water ponding by effectively managing rainwater runoff into gutters and drains. This simplifies maintenance and yields cost savings, while offering a thermally efficient roof. This is increasingly important as the continued effects of climate change place greater demands on the built environment. Given the large footprint of low-slope roofs on typical commercial buildings, designing a system that manages rainwater in a timely and effective manner is critical for both new construction and roof replacements because it can improve longevity of a system and decrease maintenance costs over the life of the structure.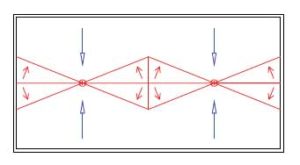 Efficient drainage is the most important element in the maintenance of a low-slope roof. This reduces loads and stresses on the membrane and the supporting roof structure. Often what determines a roof's ability to drain effectively has less to do with the roof membrane itself and more to do with what lies beneath the visible roof surface. Designing the foundation for a roof membrane with a slope provided either through structural elements or a tapered insulation system ensures the roofing system drains well and is easier to maintain.
Tapered insulation systems can help reduce or eliminate the amount of ponding water on the roof when the structural roof deck does not provide adequate slope to drain. Due to its wide use in low-slope roofing application, tapered polyisocyanurate (ISO) insulation systems offer a number of benefits in addition to providing positive drainage: high R-value, versatility and customization to accommodate project-by-project complexity, and ease of installation.
Slope and drainage requirements in building codes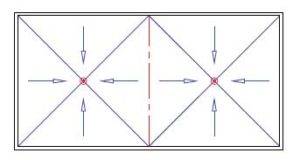 Notwithstanding the absence of prescriptive strategies, subsection 5.6.2.2 of the National Building Code of Canada (NBC) 2015 does provide general guidance requiring mandatory drainage provisions for horizontal or sloped assemblies that may be subject to accumulation of water, snow, or ice. Conformance with any relevant provincial, territorial, or municipal regulations is also required. Further, the Appendix Notes in NBC recognize a perfectly sealed, watertight cover on any surface of a building is likely unachievable, and as such, drainage is specifically acknowledged as a likely and overarching principal strategy to divert water to the building exterior.
Again, while no specific acceptable solutions are cited, the relevant mandatory code language is tied to the identified functionalities of providing resistance to the ingress of water and to the facilitation of its dissipation.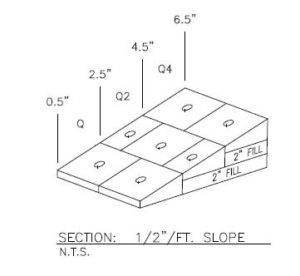 In the case of re-roofing, the Canadian Roofing Contractors Association's (CRCA's) Technical Bulletin, Reroofing Design Considerations (June, 2018), also acknowledges roofs must, via strategies of deck design—or insulation—be properly sloped, together with an adequate number of drains and scuppers.
When reviewing the options available for achieving the required slope in a roof system, designers have a number of choices. According to the National Roofing Contractors Association (NRCA), the slope can be achieved by sloping the structural framing or deck, designing a tapered insulation system, using an insulating fill that can be sloped to drain, proper location of roof drains, scuppers, and gutters or a combination of the above (Consult the National Roofing Contractors Association's (NRCA's) Roofing Manual: Membrane Roof Systems, 2019).
Design considerations for tapered insulation systems

Proper design and installation are critical to the effective performance of tapered ISO insulation systems, and this is true for any product or system. Tapered ISO is manufactured in 1.2 x 1.2 m (4 x 4 ft) or 1.2 x 2.4-m (4 x 8-ft) panels that change thicknesses over the 1.2-m distance from the low edge to the high edge on the opposing sides of the panel. The standard slopes for tapered insulation are 3, 6, and 13 mm (1/8, 1/4, and 1/2 in.) per foot to accommodate specific project requirements. However, tapered insulation panels with slopes as low as 1.5 mm (1/16 in.) and other alternative slopes (4.7 and 9.5 mm [3/16 and 3/8 in.] per foot) can be ordered to accommodate unique field conditions.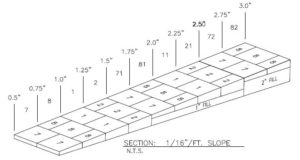 The common minimum manufactured thickness of tapered ISO insulation board at its low edge is 13 mm and the common maximum thickness at the high edge is 114 mm (4 ½ in.). Other product thicknesses (both minimum and maximum) may be available from certain ISO manufacturers.
The design of the tapered insulation system will be governed by the footprint and complexity of the roof under consideration, slope of the roof deck, presence and configuration of roof drains (primary and secondary), scuppers, gutters, or drip edges. Additionally, roof structures, height of parapet walls, expansion joints, curbs and through-wall flashings, and any other elements that may obstruct water management also need to be considered in the design phase. The tapered insulation system will be lowest at internal drains, scuppers, gutters, and drip edges, and will slope upward away from these features.
The primary goal of a tapered insulation system is to move water to the specified drainage points. Two-way (two-directional slope) or four-way (four-directional slope) systems are the most common designs. A two-way tapered insulation system is commonly used on roofs where multiple drains are in straight lines. In this scenario, there is a continuous low-point between the drains, and it often extends to the parapet walls. Crickets are installed in between the drains and between the building or parapet walls and the drains (Figure 1).

Control the content you see on ConstructionCanada.net!
Learn More.