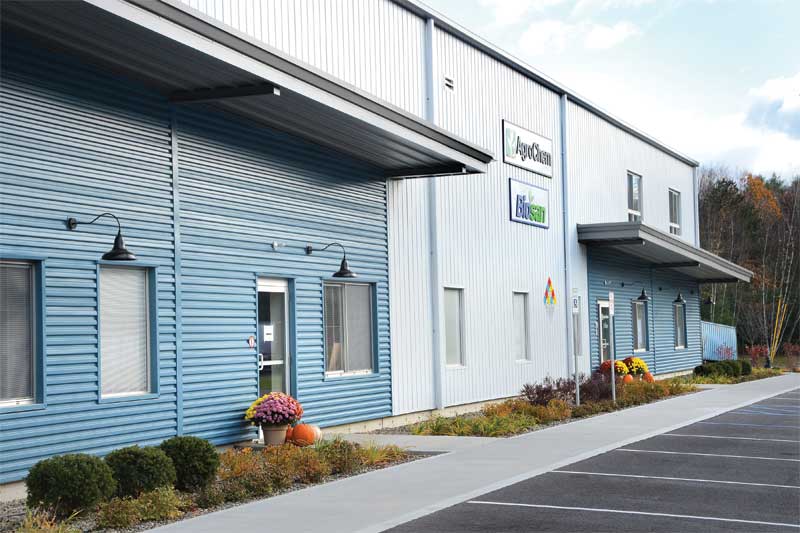 By Lee Hawkins and Geoff Seale
Insulated metal panels (IMPs) are used across Canada, but have traditionally been most commonly used for cold storage facilities in the food industry—specifically Québec, Ontario, and British Columbia—mainly due to higher populations within these regions. These large product-storage facilities keep food items fresh or frozen for the companies producing them. IMPs help control the buildings' interior climate, efficiently keeping them at a consistent temperature to adequately store and maintain the perishable contents within.
The building season in Canada is never quite as long as it needs to be for builders. Tilt-up concrete must be poured in temperatures above freezing, and ideally above 10 C (50 F), which limits the building season by four to six months. Stud-frame building can be time-consuming, because of the number of layers used to construct the entire system—the minimum of a vapour barrier, girts, insulation, and cladding are four passes for the builder to meet the required R-value demands.
IMPs offer a quick solution that can be installed virtually year-round. There will be times when it is simply too cold for efficient construction, and high winds pose limiting construction factors. However, IMPs allow a building to be quickly enclosed so other trades can start their work inside a more sheltered space. These advantages have led to the material's increased use in applications other than simply cold storage facilities.
Manufacturers of IMPs have also expanded their offerings to include more profiles, colours, and textures, providing both architects and building owners with more attractive options. A better esthetic enhances a structure's appearance, making IMPs a desirable option for many architects designing commercial buildings. These panels are available with a smooth or stucco-like finish, as well as a wide array of profiles and thicknesses to meet R-value requirements. They can also be installed horizontally or vertically for greater design versatility. To accommodate thermal expansion and contraction, IMPs bow between connection points. The panel joint is thermally broken to avoid conduction through the joint.
IMPs for industrial construction
Large production facilities take time to erect, so employing a building method requiring less installation time in turn allows more time to construct more buildings. IMPs have been used for industrial facilities dealing with the mining of oil, potash, gold, diamonds, and uranium, which demand high-quality, long-lasting finishes able to fight the corrosive atmosphere to which they are subjected.
In addition to the energy efficiency benefits of IMPs—mainly the ease with which they achieve desired R-value through the variable thicknesses—these panels also facilitate rapid construction, comparably speaking. Building owners have an ever-present need for production facilities to be erected, enclosed, and operational within a short amount of time. Time is money to end-users, and the sooner the building is constructed, the sooner they can start providing their services.

Control the content you see on ConstructionCanada.net!
Learn More.