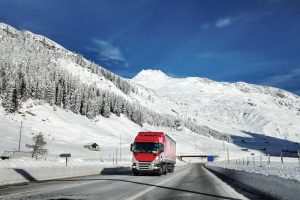 When HDG and metallizing work together
Although HDG and metallizing are leading and sustainable choices in the battle against corrosion, there are certain circumstances where it may be difficult or impossible to galvanize, or too expensive to metallize. For instance, what should one do if a piece of steel is too large to be accommodated by either traditional or progressive dipping? What if the steel is located in the field, in a place too difficult to access? There is a surprisingly simple solution to help maximize corrosion protection capabilities—galvanize whatever possible and metallize the rest.
An example where galvanizing and metallizing can be used to overcome the limitations of either coating application method alone is in the construction of bridges containing large girder designs. Oversized girders that cannot be successfully or easily galvanized due to length or size can be metallized while the remaining bridge articles are hot-dip galvanized. It is possible to find even further efficiencies for oversized structures by immersing each end sequentially through hot-dip galvanizing, and metallizing only the remaining mid portion.
Use of the two zinc coatings in tandem is also applicable for bridge rehabilitation projects, where portions of the construction cannot be easily removed and transported from the job site for galvanizing. In such cases, metallizing can be performed in the field while more easily transportable items are hot-dip galvanized. This practice can also provide indirect cost savings in road and bridge closures, where it is not required to take critical steel members out of service to perform metallizing.
Another application for the combined use of HDG and metallizing is for structures with the potential to be negatively affected by exposure to the galvanizing process temperature. Hot-dip galvanizing does not change the mechanical properties of the steel, but there are certain fabrication and design practices (e.g. severe cold-working or bending, asymmetrical design) which may leave steel articles susceptible to concerns such as distortion. It is important to note galvanizing process temperature concerns can be greatly reduced, eliminated, or remedied by following the guidelines provided within ASTM A384/A384 M, Standard Practice for Safeguarding Against Warpage and Distortion During Hot-dip Galvanizing of Steel Assemblies and ASTM A143/A143M, Standard Practice for Safeguarding Against Embrittlement of Hot-dip Galvanized Structural Steel Products and Procedure for Detecting Embrittlement. However, for critical applications where fabrication/design practices of concern cannot be avoided, the susceptible articles can be metallized while the remainder of the steelwork is hot-dip galvanized.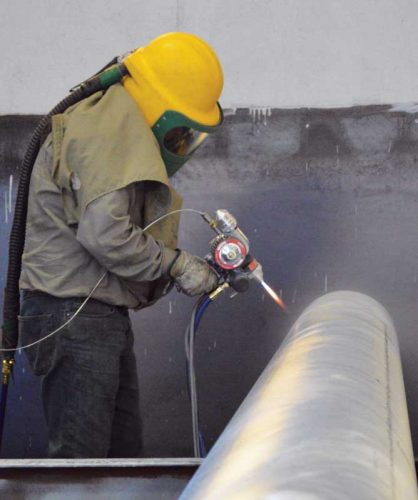 Castleton Bridge
The Castleton Bridge in Indiana, which has temperatures similar to southern Alberta, is a great example of a bridge currently using both hot-dip galvanized and metallized steel to achieve long-term savings and corrosion protection. Originally half-painted and half-hot-dip galvanized to test performance in 1970, the bridge is subject to a harsh suburban atmosphere and rough winters, complete with road de-icers.
After more than 40 years of service, the original hot-dip galvanized coating on the northbound side still exceeds ASTM 123 requirements for newly galvanized steel—while the southbound side was repainted after 14 years, and then considered a failure and metallized for protection in 2002. According to officials affiliated with the construction and maintenance of the bridge, it cost more to maintain the painted southbound side than it originally cost to build the entire bridge.
In 1970, the only experience the owners had with hot-dip galvanizing was with guiderail. Today, engineers need look no further than Castleton to reaffirm the reliability of hot-dip galvanized steel for bridge applications. In accordance with ASTM A896A, Standard Practice for Conducting Case Studies on Galvanized Structures methodology, inspection, and testing was completed in September 2011.
Based on the results of the testing performed onsite, the owners can expect an additional 60 years of life to first maintenance (five per cent rust) from the galvanized side of this bridge, lending credibility to the dream of the 100-year bridge design (Figure 1).
With the paint system on the southbound side of the bridge replaced by metallizing, the bridge will benefit from the complementary metallized and galvanized coatings. The two coatings can be used together without the fear of corrosion from dissimilar metals, and will age similarly, giving the adjacent structures a cohesive look. There is no need for a coating maintenance program, as the two zinc coatings will remain virtually maintenance-free over the remaining life of the project. Metallizing was an excellent way to support the corrosion protection of this bridge project together with hot-dip galvanized steel.
Conclusion
For large or complex projects, hot-dip galvanizing and zinc spray metallizing can be used in tandem to overcome the limitations of using either coating application method alone. In such applications, structures benefit from the advantages of both coating systems, without sacrificing corrosion protection. The zinc coatings are compatible, have the same electrical potential, and can be used freely together without developing corrosion cells. Additionally, the two coatings will weather similarly, giving the structure a cohesive look as time progresses. The bond strengths of HDG and metallizing to steel will also provide excellent abrasion resistance and are much greater than paint coatings to steel.
The next time a project requires the consideration of another coating system due to limitations in hot-dip galvanizing, one should consider a joint method of galvanizing whatever parts possible, and metallizing the rest. By utilizing hot-dip galvanizing and zinc spray metallizing together, one can ensure outstanding durability and corrosion protection of hot-dip galvanized steel without continual maintenance, while also receiving a reliable back-up on parts that cannot be easily or successfully galvanized.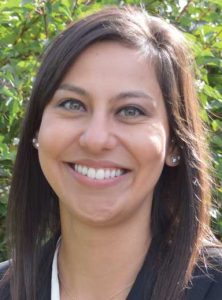 Alana Hochstein is the corrosion engineer for the American Galvanizers Association (AGA). She provides assistance to architects, engineers, fabricators, owners, and other specifiers regarding technical issues and the processing of hot-dip galvanized steel. She also manages AGA studies and research on performance, application, and processing of hot-dip galvanized steel. Hochstein can be reached via email at ahochstein@galvanizeit.org.

Control the content you see on ConstructionCanada.net!
Learn More.