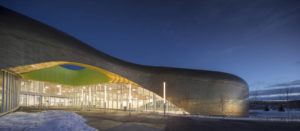 Fifteen projects across Canada and the United States were recognized for outstanding application of architectural copper and copper alloys at the 2018 North American Copper in Architecture (NACIA) awards, presented by the Copper Development Association (CDA) and the Canadian Copper & Brass Development Association (CCBDA). The awards program celebrated a range of building types, including educational facilities, government buildings, and religious structures.
Among this year's winners was Shane Homes YMCA at Rocky Ridge, Calgary, which was honored in the New Construction category. Designed by GEC Architecture, the centre is approximately 23,000 m2 (247,570 sf). Brass shingles provide a unique blend of natural materials and colours to capture the rolling prairie landscape of the Alberta foothill just west of Calgary before entering the Rocky Mountains. The natural patina of the brass and the flexibility of the shingle design made it the product of choice for this project.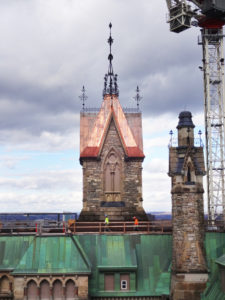 "Architects and contractors continue to develop innovative and impressive designs that speak to copper's formability, durability, and unique weathering characteristics," said Stephen Knapp, director of CDA's Strip, Sheet, & Plate Council. "Copper may be referred to as mankind's oldest metal, but it certainly is not antiquated. In fact, as green building trends continue, we expect specification of copper to increase in order to meet various sustainable building standards."
Parliamentary Hill's West Block Rehabilitation Project in Ottawa was recognized in NACIA's Renovation/Restoration category for its recent roof replacement. Architects from Arcop/EVOQ Architecture replaced the copper standing seam mansards and dormers, diagonal batten tower roofs, and parapets, dating from the 1960s. The cast iron cresting was restored and reinstated at the top of the copper roofs. In the courtyard, the original copper sheathed mansards have been maintained using patina-faced copper sheeting selected from around the building. In all cases, every component was replicated through in-kind modelling of the original design patterns and language, honouring the heritage value of the building fabric. Where appropriate, improvements to the details were introduced to increase durability.
Other winners include:
New Construction
Renovation/Restoration
Ornamental Applications
To read more about the winners, click here.