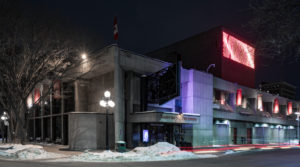 The Royal Manitoba Theatre Centre (RMTC) in Winnipeg is the recipient of the 2019 Prix du XXe siècle by the Royal Architectural Institute of Canada (RAIC) and the National Trust for Canada. The award recognizes buildings over 25 years old that have become landmarks of Canadian architecture.
Designed by Number TEN Architectural Group from Winnipeg, RMTC opened in 1970. The theatre is recognized as a National Historic Site of Canada, both for the company's influence on the development of Canadian theatre, and as an expression of small-scale Brutalist architecture in the country.
The principal architect for the 785-seat theatre was Allan H. Waisman, FRAIC, and the design architect was Robert Kirby, who worked closely with the artistic director of the theatre company, Eddie Gilbert.
The members of the jury praised RMTC's design for creating "theatrical intimacy between audience and actor."
The foyer includes viewing windows to the backstage area, where theatregoers can see all the aspects that go into a production.
"It promotes an awareness and appreciation of the relationships between those behind-the-scenes, those on stage, and the audience, a casualness of contact," the jury said. "It explores the social, the political, the material, and the place as conditions for creativity and innovation."
The building contributes to the two streets it faces with the uniqueness of its auditorium design, with an irregularly shaped balcony extending over the orchestra and a flexible stage that can project and recess through the frame of the proscenium. Other notable features are continuous skylight on two sides of the auditorium, and the high quality craftsmanship of the exposed concrete.