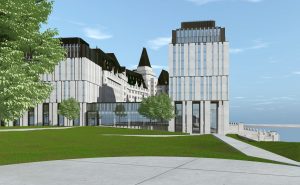 Heritage Ottawa and Capital Hotel, an affiliate of Larco Investments and the owner of the Fairmont Chateau Laurier, have reached an agreement with respect to the proposed addition to the historic hotel.
The agreement is based on an altered design of the addition that will see an end to the widely condemned horizontal bar-shaped structure, which blocked the rear view of the hotel.
According to Heritage Ottawa, the new two-pavilion design with low-rise connector is more compatible with the irregular silhouette of the original hotel and reopens iconic views to the rear courtyard that reveal the U-shaped form and picturesque qualities of the Château Laurier from Major's Hill Park and re-establishes a more favourable relationship with the Rideau Canal.
Further, the preponderance of Indiana limestone cladding and copper and bronze elements reflects the heritage character-defining elements of the historic hotel.
This revised scheme was designed by Larco's architect Peter Clewes, of architectsAlliance, after consultation with and input from experts in heritage architecture, including representatives from Heritage Ottawa.
Pursuant to the agreement, the parties have agreed to consensually resolve the legal proceedings presently before the Local Planning Appeals Tribunal (LPAT), which are related to the decision of the Committee of Adjustment in 2019, in such a manner so as to permit the revised architectural scheme.
Larco Investments will now re-engage with both the City of Ottawa and the National Capital Commission with respect to the revised design plans.
"From the beginning we have called for an appropriate contemporary architecture that respects the heritage characteristics of the hotel, and we are very pleased with this result," said Richard Belliveau, president of Heritage Ottawa. "Heritage Ottawa could never have achieved this outcome without the advice of heritage experts and historians, and more importantly, without the financial and moral support of the Friends of the Château Laurier and the hundreds of Canadians who gave so much to this important cause."
Heritage Ottawa also appreciates Larco's openness to negotiation and the goodwill it showed in the discussions leading to a resolution of this dispute.