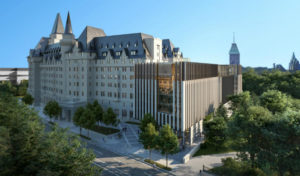 Ottawa's city council has voted to refuse to reopen the debate on the controversial addition of the historic Château Laurier hotel.
A special council meeting was held last week for council to reconsider its 14-9 decision to refuse to revoke the heritage permit for the historic hotel expansion. With a 13-10 vote, council declined to reopen the debate and Larco Investments, the owners, had council-approved design for its modern addition, the Ottawa Citizen reports.
The contemporary addition has already gone through five public design changes since 2016.
The design falls under the heritage permit that was accepted last year when city council approved the application to alter the landmark hotel as long as Larco Investments worked with city staff to make the addition 'more visually compatible' with the existing space. The council also wanted three changes: more Indiana limestone, a breakup of the blocky north façade, and geometric patterns similar to the hotel's structure, as per the Ottawa Citizen.
City staff felt that conditions had been met and voted 8-3 in the hotel's favour in a meeting last month.