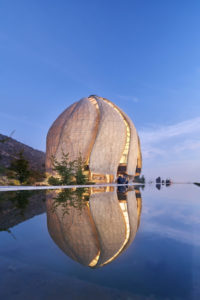 The Baha'i Temple of South America in Santiago, Chile, designed by Toronto-based Hariri Pontarini Architects has won the 2019 Royal Architectural Institute of Canada (RAIC) International Prize.
The prize consists of a monetary award of $100,000 and a sculpture designed by Canadian designer Wei Yew. It celebrates a single work of architecture that is judged to be transformative within its societal context and expressive of the humanistic values of justice, respect, equality, and inclusiveness.
"The architects resolve a challenging and prescriptive program for a new Baha'i Temple near Santiago with a powerful form that creates a new landmark—a jewel—in a dramatic natural setting," said the jury. "During the day, the striking form is animated by the variations of light and shade on the building's softly turning surfaces. At night, it stands like a lantern, softly lit from within."
The temple's nine torqued wings, bound to an oculus at the top, are made of an outer layer of cast-glass panels and an interior layer of translucent marble from Portugal. The invention of this new material—cast-glass cladding—took four years of experimentation and collaboration with a Canadian glass artisan.
The interior spaces of the temple are designed to invite people to come together and sit in quiet contemplation. An alcoved mezzanine offers a space to seek solitude while remaining connected with the community below.