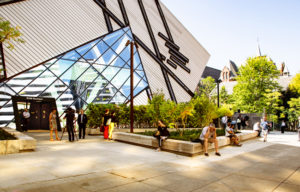 The new Helga and Mike Schmidt Performance Terrace and the Reed Family Plaza at the Royal Ontario Museum (ROM) in Toronto are now open.
Designed by Siamak Hariri of Hariri Pontarini Architects (HPA), the spaces cover 1263 m2 (13,600 sf) and create a streetscape around the museum's Michael Lee-Chin Crystal entrance.
"For me, this project is all about welcome—the realization of the possibilities and rich opportunities of the public realm as it extends not only forward along Bloor Street but also to the west with its connection to Philosopher's Walk," said Hariri. "A space that creates a warm and open connection between the ROM and the city."
The Algonquin limestone of the terrace and the curved edges of the benches surrounding planting beds with trees and biodiverse gardens provide public gathering and seating space in the heart of the city. The terrace provides a sheltered area for outdoor performances.
This marks the third and final phase of the ROM's Welcome project that included the reopening of the heritage Weston Family Entrance and free access to the Daphne Cockwell Gallery.