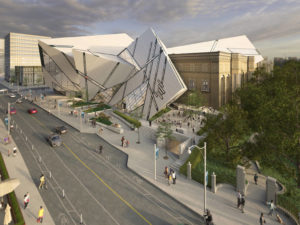 The Royal Ontario Museum (ROM) in Toronto has announced plans to begin work on the Helga and Mike Schmidt Performance Terrace and the Reed Family Plaza. This initiative is part of the Welcome Project, established to provide greater access to the museum. Slated for completion in early 2019, the project will create a vibrant streetscape and outdoor gathering space beside the museum's Bloor Street entrance. Encompassing nearly 511 m2 (5500 sf) of exterior space, the initiative was made possible by lead donors Helga Schmidt and Nita and Don Reed.
Designed by Toronto architect Siamak Hariri of Hariri Pontarini Architects, the project will be anchored by beautiful landscaping and an outdoor performance terrace. The Reed Family Plaza, which runs along the Museum's north-facing façade, will feature a gathering space with plantings and seating, enhancing the pedestrian experience and offering visitors an inviting spot to meet, sit, and relax.
The Helga and Mike Schmidt Performance Terrace will be located on the northwest corner of the museum overlooking Philosophers' Walk. The outdoor performance and event space will provide an open-air venue for music, theatre, discourse, and performances for all to enjoy.
In December, the ROM completed the first stage of the Welcome Project with renovations to the museum's Queens Park façade and the re-opening of the Weston entrance doors.