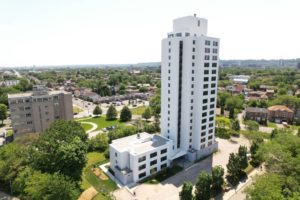 The Ken Soble Tower in Hamilton, Ontario, has become the world's largest residential building retrofitted to the Passive House standard. It is also the first retrofit of its kind in North America.
The 18-storey, 7432 m2 (80,000 sf), and 146-unit building has achieved a 94 per cent reduction in greenhouse gas emissions and a 91 per cent reduction in heating energy demand.
The Ken Soble Tower is climate resilient, supporting indoor health and comfort during both extreme heat and cold climate events anticipated in coming decades.
Building performance was achieved in part through an ultra high-performance building envelope, with exterior and interior insulation meeting stringent airtightness requirements, triple-glazed windows, and heat recovery in all building penetrations. Obsolete and unhygienic HVAC systems have been fully modernized to provide fresh air to each suite.
To achieve EnerPHit certification, a comprehensive air tightness testing and quality management program was developed by the project team and guided by PCL Construction's (PCL's) in-house envelope engineer and construction team. The effectiveness of PCL's quality program was demonstrated by final operational whole building airtightness tests bettered targets by more than 50 per cent at 0.235 air changes per hour (ACH) at 50 pascals pressure (Pa).
CityHousing Hamilton, in partnership with the University of Toronto, ERA Architects, and PCL, will study and measure the impacts of the building on its residents and surrounding environment, including building performance, resident health and safety, and economic impacts, among others.