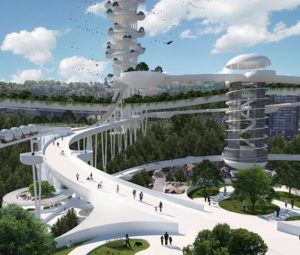 DPAI architects have proposed a futuristic project for Hamilton. According to the architects, the Fibroblast Tower is a prosthetic intervention designed to begin the healing process of the Niagara Escarpment, a natural ecosystem.
Seen as a barrier, the residents of the city have attempted to overcome this United Nations Educational, Scientific, and Cultural Organization (UNESCO)-designated World Biosphere Reserve by scarring its surface with roads, paths, and funicular railways to overcome travel challenges. The Fibroblast Tower aims to bridge the infrastructural and socioeconomic divide created by the escarpment, as well as the environmental wound created by existing roadways.
The structure will accommodate pedestrian, automobile, and public transportation, while connecting cycling infrastructure above and below the tower. It will reconnect the wildlife highway and provide new bird habitats to support the natural ecosystem.
The tower will function both as a vertical public park, and as an extension of the escarpment's natural ecosystem. The pods that surround each level of the tower function not only as observation platforms, but also as pools and planting beds with enough depth to accommodate the root system of a large tree. There are also various other parks included in the plan such as a skating rink, amphitheatre, and waterfall park.