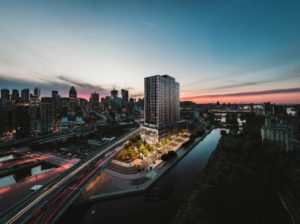 Real estate firm, Ivanhoé Cambridge, the City of Montreal, Cogir Real Estate, and construction firm Pomerleau broke ground on Haleco, a mixed-use development, which won C40's Reinventing Cities competition, and is set to revitalize the area between Old Montreal and Griffintown.
C40 is a network of mayors from nearly a hundred world-leading cities, collaborating to deliver the urgent action needed to tackle the climate crisis. The network's global competition features innovative, carbon-free, and resilient urban projects.
Montreal-based firms, ACDF and L'OEUF Architectes, are responsible for the design of the 31,442-m2 (338,439-sf) project, which will include:
327 units and 40 community housing units
Two floors of office space, with 1974 m2 (21,248 sf) of gross leasable area on the second floor and 2017 m2 (21,711 sf) on the third floor
1432 m2 (15,414 sf) of gross leasable retail area on the ground floor and 994 m2 (10,700 sf) on the mezzanine level.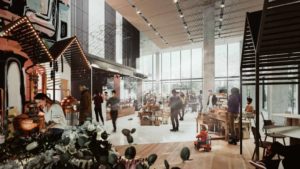 The social housing developer, Bâtir son quartier, is coordinating the execution of the residential component of the project.
With a design focused on energy efficiency, the project is aiming for Leadership in Energy and Environmental Design (LEED) Platinum certification. The designers extended beyond the usual energy-saving parameters for this project by creating an envelope which stands out for its thermal resistance, resilience, and energy performance.
Moreover, special attention is paid to the project's energy supply, as it will have a 100 per cent electric system designed to be efficient —with integrated renewable energy generation systems, such as heat pumps, on each floor.
The principles of regeneration and preservation of biodiversity guide the project designers to upgrade the area by creating green spaces accessible to the public; hence the density of the building on a site where 57 per cent of the land will be revegetated, ensuring inclusion the surrounding biodiversity. The project will include a community garden, fruit trees, and a pollinator garden, with native and adapted species contributing to the area's revegetation.
"Haleco is an exemplary, ambitious project, not only because of its rigorous approach to reduction of greenhouse gas (GHG) emissions and the environmental impacts of the building, but because it will create a new living and meeting place that will help Montrealers adopt a more sustainable way of life," says Hélène Chartier, director of urban planning and design at C40.
Construction will last about two years, with the delivery of the first rental spaces scheduled for the summer of 2024.
The Government of Canada also contributed to the project through a $135 million low-cost loan.