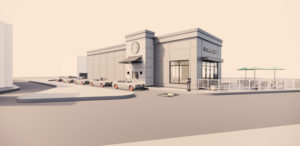 Canadian green construction technology company, Nexii Building Solutions Inc. (Nexii), has constructed a Starbucks store in Abbotsford, B.C.
The café was built using Nexii's green construction technology, which is designed to reduce the store's carbon emissions by approximately 30 per cent.
According to a press release, Nexii is able to minimize carbon emissions of buildings through two key innovations: its choice of building material and assembly process. Nexii's proprietary material, which is used within its building panels, is more thermally efficient and less carbon-intensive than concrete. Additionally, when assembled, the Nexii panels create an airtight building envelope. Together, this markedly improves a building's energy efficiency and, in turn, lowers the greenhouse gas (GHG) emissions for ongoing building operation.
The Starbucks café's wall and roof building panels were precision manufactured in a Nexii production facility and the onsite assembly of the airtight building envelope was completed in just six days.
"Creating green buildings is key to tackling our world's climate emergency, so we are excited to be working with Starbucks Canada as we build a new, sustainable blueprint for their stores," said Gregor Robertson, executive vice-president of strategy and partnerships at Nexii.
The Starbucks Abbotsford building, which features both an instore café and drive thru, is expected to open in early 2021.