Good acoustic design is half the battle in multifamily dwellings
March 2, 2018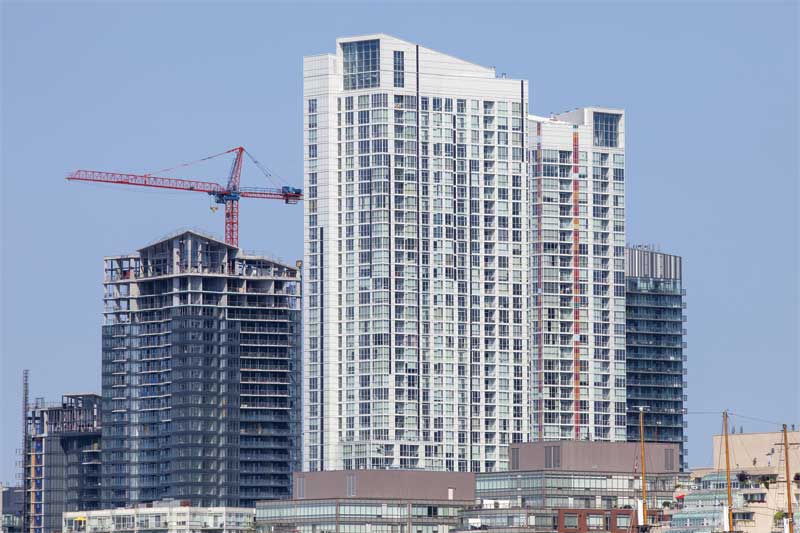 By Nick Walters, M.A.Sc., P.Eng., and Brad Pridham, PhD, P.Eng.
For a generation of Canadians, a detached house on a private lot was the standard first home. Today, with property at a premium, sprawling suburban lawns and quiet family homes are being traded for condominium towers by first-time home-buying millennials and downsizing baby boomers. While the setting for these households has changed, the desire for a quiet, private space to come home to has not. Condominium owners want the feeling of privacy and seclusion, but with all the benefits of luxurious amenities, proximity to retail spaces, and city life outside the door.
To meet the standards of condominium buyers, developers, contractors, and residential designers are increasing their focus on privacy and noise control. Marketing of 'premium acoustic performance' is growing in popularity in the condo market with the increased densification of urban centres. In some jurisdictions, minimum levels of sound isolation performance must be achieved for compliance with new homeowner warranty programs. The evolution of timber construction also introduces many challenges for designers and contractors from an acoustics perspective.
This article presents some practical considerations of acoustical design and construction, highlighting several key issues and approaches to successful implementation of noise control measures.
Acoustic design requirements
Building code requirements for acoustic performance in condominium buildings are currently limited in scope, and often do not address key issues. For example, design requirements specified in the National Building Code of Canada (NBC) are limited to sound isolation only. Minimum sound transmission class (STC) ratings are specified for demising walls between suites, corridors, common areas, and garbage chutes.
The 2015 edition of NBC proposes changing the sound isolation rating between residential suites from a minimum STC 50 for the wall or floor/ceiling assembly to a minimum apparent sound transmission class (ASTC) 47 value.  (For more information, read "A New Approach to Building Acoustics Regulation in Canada" by D. Quirt and B. Zeitler, published in a 2014 edition of the Canadian Acoustics journal.) This change from a design-based criteria to performance-based places more emphasis on the proof-of-performance testing by the acoustical consultant. The three-point difference between laboratory and apparent performance is consistent with measurement data and is indicative of good construction practices. It is anticipated this requirement will be adopted across provincial building codes. It has already been applied as the minimum acceptable field performance criteria by many acoustical consultants.
Notably absent from NBC are performance criteria concerning impact and background noise. Both noise sources can often have significant effects on perceived acoustical often performance, even if code requirements for sound isolation are satisfied.
In Ontario, acoustical requirements for condos are addressed in the Ontario New Home Warranties Plan Act. The process requires new condominium projects be registered with the Tarion Warranty Corporation under the Builder Bulletin 19 (B19) program.  (The B19 program is intended to ensure building design and construction meet required standards to protect the buyer and Tarion as the warranty holder.) Apart from the legal requirements of meeting the 2012 Ontario Building Code (OBC), Tarion B19 demands design and construction meet good architectural and engineering practices so as to address risk of complaints related to privacy and noise disturbance.
The B19 program in Ontario expands the acoustical design requirements of OBC through the newly updated Risk Area 11–Acoustics. (Visit www.tarion.com/sites/default/files/2017-08/Builder-Bulletin-19R-D5-Dec-16-2016.pdf[2] to get more information on the program.) The B19 program now includes considerations for sound transmission between suites and other common areas, mechanical sound and vibration transmission, and electrical components such as generators and transformer noise, which can affect other units in the same building, or offsite receptors/residences. An issue with the B19 program is risk areas are identified without associated criteria or constraints for their evaluation. The crucial responsibility of establishing criteria, defining and meeting best practices, and implementing appropriate design solutions rests with the acoustical specialist.
Key acoustic issues
While the concepts and strategies for meeting acoustic performance targets are well established, their implementation can sometimes be challenging. It requires builders and architects to adopt new construction methods at additional costs. Success on a project requires diligent co-ordination between the design team and the builder to ensure correct implementation. An important first step is conducting early reviews of design drawings to identify specific acoustic concerns and concepts for mitigation.
Sound isolation
Careful planning to promote compatible space usages greatly reduces the need for acoustical controls. Fitness rooms and amenity spaces directly adjacent to bedrooms can require cavity walls, floating floors, or acoustic ceilings, depending on the base building construction. This can complicate co-ordination with building services, reduce ceiling clearance, decrease floor space, and add significant cost in materials and labour.
Construction details for partition separations are often omitted from project specifications or are only provided for generic, simple conditions. Procedures for some common details include acoustical caulking application, treatment of any service penetrations, marriage of varying wall types, and sound flanking control information where demising walls terminate at mullions. A wall type easily exceeding required design STC ratings can have significantly reduced field performance even when it has been installed to follow design documents perfectly, if these items are overlooked.
Details regarding material types, acceptable products and vendors, and applicable criteria (e.g. background noise) should be integrated into project specifications early so that they are not missed. Examples include vibration isolation product types, any specialty acoustic drywall, acoustic ceiling tile types, and performance ratings.
Building services
Most isolation products provided by the original equipment manufacturers (OEMs) generally do not account for floor flexibility, wall constructions, or adjacent space sensitivities. An early review of these elements ensures costs of controls are integrated into the project.
Horizontal sanitary runs in the ceiling of an occupied area can result in easily apparent flow noise from occupants in other suites (e.g. toilet flushes). Layouts of pipes should be reviewed early to establish where alternate controls such as cast-iron pipe, lagging, or bulkhead enclosures might be necessary.
Rigid mounting of the garage-door motors and rails to the building itself can generate structure-borne noise to structurally coupled suites above.
Noise coming from rooftop equipment, parking garage exhaust fans, and nearby road and rail lines is often addressed during site plan approvals with general statements on noise control to satisfy regulatory requirements. During detailed design, these issues should not be overlooked, and noise controls must be integrated to address them.
Amenity spaces and retail
A large draw to condo buildings is the numerous amenities often available to the tenant. However, living close to fitness rooms and party spaces increases risk of noise disruption and of complaints. Golf simulators, squash courts, and movie rooms tend to have specific acoustic design challenges.
Acoustic controls to address boundaries shared with retail spaces largely depend on the retail tenant. Boundaries between residences and offices or typical nine-to-five businesses have much different requirements than boundaries between residences and restaurants or gyms. A high-STC base boundary construction, along with appropriate verbiage in tenant covenants related to additional acoustic controls, can be an effective approach.
Site implementation reviews
Achieving desired levels of acoustic performance requires acoustical details and controls to be correctly implemented during construction. Field reviews are the most effective way to address possible issues before they spread through the building. Reviews are scheduled following the completion of key elements (e.g. when drywall boarding occurs at the lowest floors of a high-rise) or at the earliest possible stage to ensure quality controls are carried to completion.
Typical issues identified in construction reviews  mainly include:
incorrect application/lack of acoustical caulking (Figure 1);
sanitary runs in contact with bulkheads and ceilings (Figure 2);
debris in gap between garbage chutes and slab (Figure 3);
tie holes in concrete construction not filled
(Figure 4);
acoustical ceilings rigidly connected to perimeter walls (Figure 5); and
bridged acoustic controls (e.g. resilient channels/vibration isolation) (Figure 6).
Performance testing
Performance testing is an effective way to verify that construction methods and installation details provide the required acoustic ratings. The benefits of this testing are twofold:
It provides a confirmation building code/B19 minimum requirements and the objectives of the design are satisfied.
Results are used to identify acoustic deficiencies, such as flaws in construction or missing elements (e.g. an incorrect number of drywall or insulation layers), and the required approaches to mitigation.
Performance testing is a requirement for Tarion B19 approvals in Ontario and is becoming rapidly adopted for non-condominium construction projects as a method to quantify performance, ensure contract acoustic requirements are met, and safeguard this building in the event of future acoustic issues
or complaints.
When performance testing indicates an assembly has not met the minimum field requirements, mitigation is needed prior to sign-off from the acoustical engineer. While it is often simple to identify the root cause of the acoustical deficiency, it can be challenging to develop a mitigation solution that is cost-effective, simple to implement, and—most importantly—provides the required level of acoustical performance.
Acoustic proof-of-performance testing is available in all major cities across Canada and can be tailored to suit the builder's requirements.
Conclusion
A successful acoustic design always requires strong co-ordination between design team and contractor. Three proven success steps are:
early reviews of design documents to establish criteria and controls;
site reviews to assure quality and consistency in implementation; and
performance testing to verify means and methods satisfy the acoustical objectives of the project.
The acoustical consultant manages this process, providing technical input, experiential guidance, and practical solutions to unique field conditions. As many of the controls span multiple design and construction disciplines, achieving overall consensus on both design objectives and approaches to field implementation is paramount to success.
Nick Walters, M.A.Sc., P.Eng., is the condominium construction lead at Novus Environmental, based in Guelph, Ont. Responsible for project management, site reviews and inspections, and final building performance testing, he is an acoustics and vibration engineer with a focus on applied building design and construction. Walters works closely with architects and developers throughout Canada and the United States to integrate acoustical design, noise control, and vibration mitigation concepts with practical considerations for construction and remediation. He received his masters of applied science in environmental engineering from the University of Guelph. Walters can be reached at nickw@novusenv.com[8].
Brad Pridham, PhD, P.Eng., is a principal with Novus Environmental. He is actively involved in acoustic and vibration design of buildings for healthcare, labs, institutional, education, science and technology, industrial, high-rise residential, and land-use approvals. A member of the Society for Experimental Mechanics, Pridham has applied his expertise to the design of long-span highway and pedestrian bridges, as well as industrial machine installations involving vibration control. He has also assisted building owners with wind-induced noise (aeroacoustic) problems associated with architectural façade elements. Pridham can be reached at bradp@novusenv.com[9].
Endnotes:
[Image]: https://www.constructioncanada.net/wp-content/uploads/2018/03/bigstock-204179725.jpg
www.tarion.com/sites/default/files/2017-08/Builder-Bulletin-19R-D5-Dec-16-2016.pdf: http://www.tarion.com/sites/default/files/2017-08/Builder-Bulletin-19R-D5-Dec-16-2016.pdf
[Image]: https://www.constructioncanada.net/wp-content/uploads/2018/03/Figure-2a-Sanitary-stack.jpg
[Image]: https://www.constructioncanada.net/wp-content/uploads/2018/03/Figure-2b-Sanitary-Stack.jpg
[Image]: https://www.constructioncanada.net/wp-content/uploads/2018/03/Figure-3a-Garbage-Chute.jpg
[Image]: https://www.constructioncanada.net/wp-content/uploads/2018/03/Figure-3b-Garbage-Chute.jpg
[Image]: https://www.constructioncanada.net/wp-content/uploads/2018/03/Figure-6a-Generator-Isolation.jpg
nickw@novusenv.com: mailto:nickw@novusenv.com
bradp@novusenv.com: mailto:bradp@novusenv.com
Source URL: https://www.constructioncanada.net/good-acoustic-design-half-battle/
---