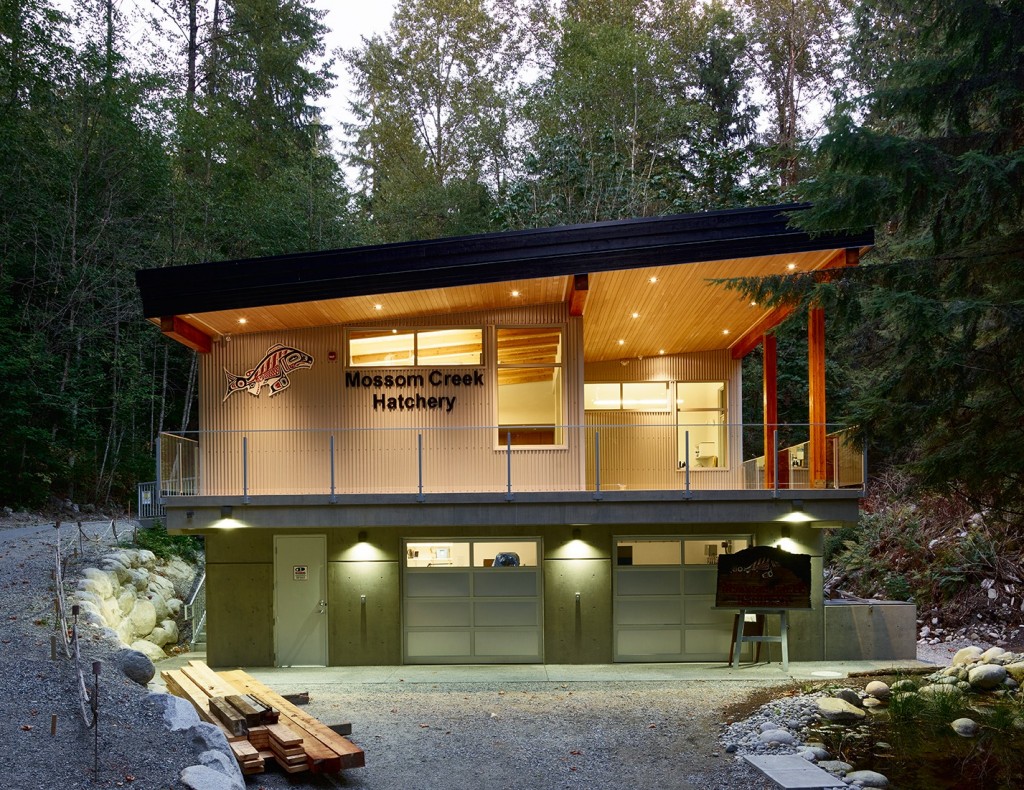 About 15 months after a December 2013 fire completely destroyed the Mossom Creek Hatchery in Port Moody, B.C., the facility reopened thanks to the work of a group of volunteers, fundraising, and donated building products.
Mossom Creek was the first community hatchery approved in British Columbia back in 1976. A vision of two high school biology teachers who decided students could learn a lot more seeing their study topics in a natural environment (rather than simply reading about them in a book) the hatchery is supported by Fisheries and Oceans Canada, but run by volunteers associated with the Burrard Inlet Marine Enhancement Society. It has been an important pillar of the community in seeing salmon—both Chum and Coho—restored to the local creeks. (By reintroducing these fish, the hatchery strengthens the surrounding ecosystem at various trophic levels. Every year the hatchery releases approximately 100,000 Chum fry into the area and between 5000 and 10,000 Coho smolts.)
Led by Patrick Dennett (a construction manager with 45 years of experience in construction and former owner of a glass contractor) and members of the Glaziers and Glassworkers Union District Council 38, the $1.2-million rebuilding project focused on the environment, sustainability, and education. Due to its remote location from the city water supply, the building was required to be built non-combustible.
The two-storey structure houses the hatchery on the ground floor and an education centre upstairs. The ground floor is concrete construction with no windows, for security and fire safety. The hatchery building features a large deck over a portion of the lower hatchery, forming the roof in this area. Since the hatchery would be fully enclosed, Dennett wanted a way to introduce a light source, and chose a fire-rated glass skylight installed in the deck above.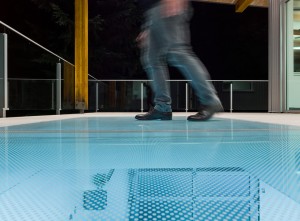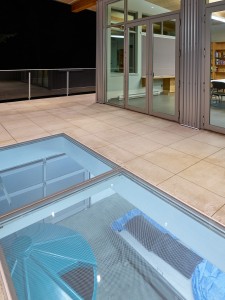 This glass component needed to be walkable, provide one-hour fire separation from the upper structure to the lower hatchery, serve as a light source for the hatchery, and allow visitors to see into the hatchery and out to the surrounding forest.
The 60-minute insulated glass (IG) unit walkable glass floor/skylight chosen features a fire-rated interior lite and offered energy savings to meet the project's sustainability targets. A slip-resistant ceramic frit pattern provides a non-slip walkable surface for the deck, while still allowing visitors to see the hatchery from the deck, and the world outside from the space indoors.
Other highlights of the reborn facility include a vegetated roof, tanks and tubs, webcams for security (and Internet viewing), and new monitoring equipment so volunteers can keep track of water quality. Future plans include the building of a wetland where children can watch bugs and fish at play, as well as enhancing the second-storey kitchen, offices, and education centre.

Control the content you see on ConstructionCanada.net!
Learn More.