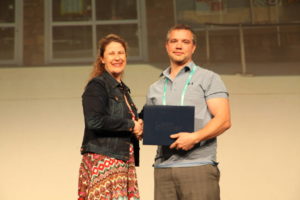 Canadian discount retailer Giant Tiger Stores' high-reaching rooftop performance was recognized at the Professional Retail Store Maintenance Association (PRSM) National Conference in Dallas last month. PRSM celebrated a total of eight organizations for excellence in commercial building rooftop unit (RTU) efficiency at the conference's Advanced RTU Campaign (ARC) Awards ceremony. The Ottawa-headquartered store chain was specifically acknowledged for the largest efficiency gain for a single-building RTU replacement project, thanks to the performance of its store in Brampton, Ont.
"At Giant Tiger, we recognize that being a responsible business is good for business," said Mark Pasini, the company's senior manager of energy and facilities, who accepted the award. "As caring members of the community, we are continually working to reduce waste, reduce energy consumption, and implement efficiencies."
Giant Tiger's RTU replacement resulted in 64 per cent installed efficiency gain and 40 per cent capacity reduction. For the company, this translates into 30,800 kWh saved each year. Thanks to reduced utility costs such as replacement and quality management, the eight organizations recognized are estimated to save a combined total of 600 Btus, or more than $5.6 million, in a year.
ARC is intended to encourage organizations to replace or retrofit their outdated and inefficient RTUs in pursuit of such positive effects. The effort not only offers cost savings, but also reduces energy use and enhances user comfort.