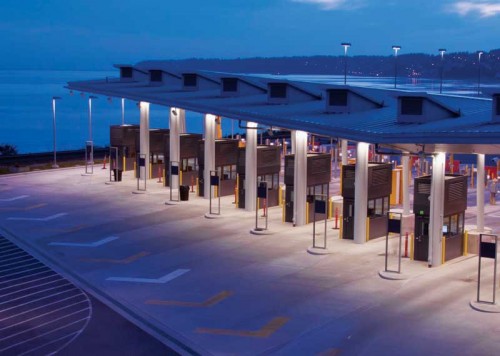 The lighting at the border crossing between Vancouver and Washington shines green. When the U.S. Border Patrol planned the opening of its enlarged land port of entry (LPOE) station, energy savings were an important factor incorporated into the design.
The crossing is adjacent to the historic Peace Arch monument erected in 1921 on the border in Blaine, Wash. The incorporation of lower-watt, longer-life lighting throughout the buildings and grounds was requested by port of entry administrators. The project team included Candela Lighting Design and Consulting, U.S. General Services Administration (GSA) on behalf of the Border Patrol, as well as Bohlin Cywinski Jackson Architects, and Swift & Company Landscape Architects.
Initially, light-emitting diode (LED) fixtures were examined as a possibility. However, instant-on linear T5 fluorescents were chosen instead. Reasons for incorporating this type of product include:
low energy draw and carbon emissions;
long operating life (often rivaling that of LEDs);
pure white-light quality;
low initial purchase, maintenance, and eventual replacement costs; and
ease of installation and maintenance, which also includes contractor familiarity.
A Leadership in Energy and Environmental Design (LEED) Gold project, the luminaires selected for the design were surface-mounted linear T5s installed in the overhead canopy above the auto inspection lanes. Recessed linear rows were integrated into the ceiling inside the main building, at walk-up stations employing louvres intended for computer-intensive environments.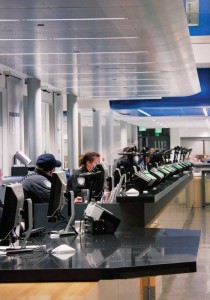 Uplights illuminate the building's entire façade through a long row mounted to upper-window mullions, lighting high ceilings and the exterior canopy. This creates a 'glowing tower' effect.
The conference rooms are illuminated with up- and down-light pendants, and hallways include wall-mount versions. This feature allows luminaires to blend into the building's architecture—a key design factor.
Current T5 linear fluorescents routinely provide even greater luminance, uniformity, glare control, and longevity than their predecessors. Randy Fisher, Candela's associate and senior designer, says it was important new lighting abide by recent security issues post-9/11. It also needed to provide levels of lumen gradiance for the border station's staff and visitors.
The lighting parameters now employed throughout the Peace Arch border crossing station have been added to a new set of lighting guidelines for GSA, accepted for all future U.S. LPOE renovations and construction.

Control the content you see on ConstructionCanada.net!
Learn More.