George Brown's previously awarded mass timber building shortlisted for a new honour
by arslan_ahmed | October 12, 2022 11:19 am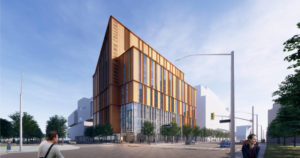 George Brown College's  mass timber building, Limberlost Place, currently under construction in Toronto at the Waterfront campus, is shortlisted for a 2022 World Architecture Festival (WAF) award in the category, Future Project: Education; and is already one of the 20 winners of the special WAFX award.
The WAFX award celebrates international projects which embrace cutting-edge design and address important world issues, such as the climate crisis, or community resilience, etc.
The WAF is one of the world's largest architecture festivals, with awards dedicated to celebrating and sharing excellence in the field. WAF is one of the few architecture festivals where finalists present their projects live to the judges and audience. The event is attended by global architects, interior designers, developers, funders, contractors, and trade media across the industry. Representatives from each of the 20 shortlisted finalists, including Limberlost Place, will present live onstage at WAF in Lisbon from Nov. 30 to Dec. 2, where a sole 2022 WAFX award winner will be announced.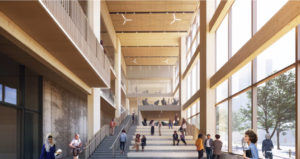 Designed by Moriyama & Teshima Architects and Acton Ostry Architects Inc., Limberlost Place, targeting Tier 4 of the Toronto Green Standard—a minimum standard for all new construction, starting from 2030— is a pinnacle of sustainable and green build in Canada. At 20,900 m2 (225,000 sf), the 10-storey, tall wood Limberlost Place is proudly 'Made in Canada,' with its mass wood components being sourced nationally.
The building's form and facade are shaped to maximize access to natural light and fresh air, with a 40 per cent window-to-wall ratio. Two solar chimneys located on the east and west facades will be used to create a sustainable system of natural convection, drawing air up and through the building from operable windows. A roof-mounted solar array will generate 24 per cent of Limberlost Place's energy consumption to offset greenhouse gas (GHG) emissions generated in the electricity grid.
Limberlost Place will operate with no fuel-fired systems. Its electric systems will be more energy efficient and represent a cleaner form of energy consumption than natural gas. For half the time in a year, the building will be able to operate passively.
"Our entire design team is grateful for George Brown College's vision and commitment to realize this first-of its-kind in the world, tall, exposed mass timber, net-zero carbon emission building, and we are thrilled to have been recognized by the WAF awards program," says Carol Phillips, Moriyama & Teshima Architects. "We look forward to presenting our scheme to the jurors in December."
Endnotes:
[Image]: https://www.constructioncanada.net/wp-content/uploads/2022/10/AA_GeorgeBrownMassTimber_1.jpg
[Image]: https://www.constructioncanada.net/wp-content/uploads/2022/10/AA_GeorgeBrownMassTimber_2.jpg
Source URL: https://www.constructioncanada.net/george-browns-awarded-mass-timber-building-shortlisted-for-a-new-honour/
---