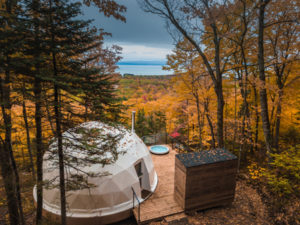 Designed by Bourgeois / Lechasseur architects, the Dômes Charlevoix is a new concept of four seasons, eco-luxurious accommodations located in Petite-Rivière-Saint-François, Qué.
The three geodesic domes, the first phase of a larger tourist project, blend harmoniously with the landscape. Each one is located on the mountain side and perfectly integrated to the landscape.
They can be accessed via a path through the trees from a common parking lot at the entrance. The dome is set on a wooden patio and houses a spa overlooking the natural setting. The south-facing windowed area offers a breathtaking view of the St. Lawrence River and maximizes exposure to natural light.
The concrete floor adds a touch of comfort and helps maintain a uniform temperature inside the domes.
The grey canvas and the fireplace create a warm and cozy atmosphere. A black streamlined service area is set in the centre. In the volume are concealed a kitchen, main bed, and a bathroom.
A boat staircase leads to a second bed above the service area.
The Dômes Charlevoix is an invitation to experience luxury in the mountains, in harmony with nature and its elements.