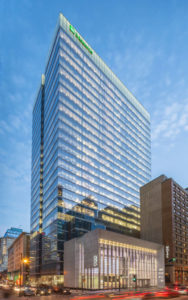 WiredScore, the company behind an international standard for rating digital connectivity in commercial buildings, has released the Wired Certification Guidelines for Commercial Developments and Redevelopments – Canada. The guidelines for designing buildings to meet the best-in-class standards for connectivity and telecommunications infrastructure has been localized to address the nuances of the Canadian telecommunications landscape.
This release comes after WiredScore announced a national expansion of operations across Canada in May. Wired certification guidelines are designed to be utilized by architects, engineers, and developers during the design and construction phases of any commercial development or redevelopment.
"WiredScore's engineers have developed these guidelines as a free resource that will bring technology to the forefront of the design process," said Arie Barendrecht, CEO of WiredScore. "Technology has never been more important to office tenants than it is today and by providing invaluable insights into how to optimally design for reliable connectivity, mobile enhancement planning, electrical resiliency, and flexibility to adopt new building technologies, we are helping Canadian developers design future-proofed office assets."
WiredScore developed the guidelines based on an evaluation of more than 1400 commercial office buildings across North America and Europe and with input from the WiredScore connectivity advisory committee and a diverse group of partners in the technology and telecommunications industries.
The guidelines consist of eight sections outlining standards and best practices related to the underlying infrastructure and the connectivity of an office property.
Wired Certification Guidelines for Developments and Redevelopments are being used to future-proof and evaluate office projects for their digital connectivity infrastructure in the country's three largest office markets. Notable projects including Maison Manuvie (Ivanhoé Cambridge and Manulife) and 700 Saint-Jacques Street (Broccolini) in Montréal, 1 York Street (Menkes Development) and 65 King East (Carterra) in Toronto, and Vancouver Centre II (GWL Realty Advisors) in Vancouver have achieved or are in the process of pursuing Wired Certification.
To download the guideline, click here.