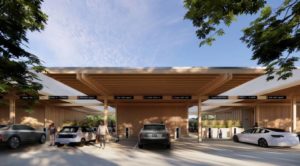 Electric Autonomy Canada has unveiled the winner of its electric vehicle (EV) fuelling station design competition. The winning concept will be brought to life in British Columbia, as part of the province's ambitious EV charging strategy.
Architects and designers across the country were tasked with developing innovative new concepts for EV fuelling stations. The winning design, More with Less, is a timber-framed pavilion which provides charging bays under the shelter of a curvilinear canopy. It serves as a beacon of architecture meant to inspire EV adoption and is formulated to suit both rural and commuter locations.
Standout features include a sensory garden experience, fitness and exercise zones, cafes and public barbecues, health and wellness and beauty parlours, and examples of flexible programs which can grow or be altered based on site-specific needs.
The canopy structure is designed to be prefabricated, made from off-the-shelf small timber sections. These timber sections are designed to stack together with minimal details and sit on solid cast piles grounded with prefabricated stone plinth.
Additionally, strip light-emitting diode (LED) lighting is arranged along the primary structural beams. Solar shading elements, rainwater collection, and natural cross ventilation all play a part in keeping a low-impact design.
"My proposal for the future charging station is an environment that relaxes, slows, and centres the soul. It is a place to take a breath and charge not just our vehicles, but ourselves. The result is not simply a process on the journey, but a space meant to be enjoyed. Here, nature is invited into the structure, as we strive to harmonize our future," said competition winner James Silvester.