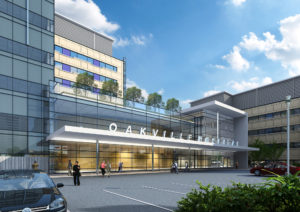 At the 24th annual Canadian Council for Public-private Partnerships (CCPPP) National Conference last month, awards were presented to the winners of the 2016 National Awards for Innovation and Excellence in Public-private Partnerships (P3s). Five winners in total were celebrated, under four categories: infrastructure, project development, service delivery, and project financing.
Infrastructure
Two projects were rewarded for P3 excellence in infrastructure, winning silver and gold respectively.
New Oakville Trafalgar Memorial Hospital
A replacement for a legacy hospital in Oakville, Ont.—the New Oakville Trafalgar Memorial Hospital—earned the Gold Award in the infrastructure category. The project cost $2 billion and garnered total savings of $383.1 million.
The completed hospital can accommodate 457 inpatient beds, with space for an additional 602 in the future. The awards panel took particular note of the hospital's dual role as an economic stimulant and centre for medical excellence, as well as its innovative architecture, up-to-date technology, and incorporation of community input.
"The new Oakville Trafalgar Memorial Hospital is a wonderful example of how P3s help build and grow healthy, safe, accessible communities," says Mark Romoff, president and CEO of CCPPP. "Public-private partnerships have been used to build or redevelop 90 healthcare and treatment facilities across Canada over the past two decades. The innovations in their design and operations not only provide value for the money invested in the project, those innovations support improved patient care and experience."
The Meadows, Swift Current Long-term Care Centre
The infrastructure category's Silver Award went to the Meadows—a long-term care centre in Swift Current, Sask. The province's first P3 project, the centre replaced three older facilities in the region, expanding on available space for long-term and palliative care.
The Meadows had a total project cost of $108.5 million, and provided savings of $16.5 million. It demonstrates several of the primary benefits of P3 projects, including cost and time savings and innovative design, and appealed to the awards panel with its family-focused 'human' design, integration of inter-generational elements, and involvement of local contractors and community.