Rebuilding the facility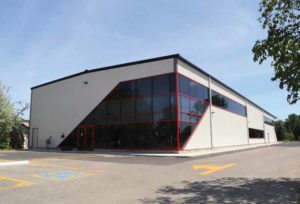 The new 1207-m2 (13,000-sf) building, nearly double the size of the previous gym, used a standing-seam steel roof system composed of steel single-skin panels. The steel standing-seam roofing panel system was attached to the subframing of the building using concealed, interlocking clips that provided minimal panel penetrations. This choice of roofing system provided a high degree of weathertightness for the building envelope.
Further, the decision to incorporate a steel roof in the Brantford Gymnastics Academy redesign brought advantages such as low maintenance needs, energy efficiency, durability, and (as mentioned) fire resistance. Supporting its durability, steel has a higher strength-to-weight ratio than many conventional construction materials, resulting in a stronger, more cost-effective building requiring less material and assembly. Although it takes a skilled crew and specialized labour to erect a metal structure, the numerous advantages and cost savings steel offers made it the right choice for this project.
This construction method, which incorporated fire-resistant steel, insulating metal panels (IMPs), and concrete, gave the owners peace of mind with the facility rebuild. To comply with property line boundary-limiting distance requirements, one of the exterior walls on the building is clad in 101-mm (4-in.) IMPs designed to achieve a one-hour fire rating by incorporating a thick steel veneer and rock-based mineral fibre insulation comprised of volcanic rock and slag (a byproduct of the steel and copper industry).
This fire-resistant IMP functions as exterior fire-resistant separation walls and is a popular choice for arenas, gymnasiums, and high-occupancy structures. In addition to its noncombustible core, IMPs offer strong thermal performance and protection from the elements across the entire wall area, and the mineral wool core provides enhanced insulation resulting in significantly lower heating and cooling costs for the owner.
The adjacent wall to the southern neighbours' property did not require fire resistance as it did not sit on the property line, and this allowed the Brantford Gymnastics Academy team to clad the balance of the exterior walls with 101-mm IMPs that have an attractive, stucco-like appearance and tilt-up look. This panel type combines the thermal efficiency of IMPs with a modern masonry appearance often used in both new and retrofit construction.
Inside the facility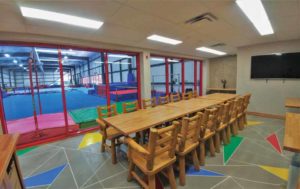 Inside the academy, the faces of the panels feature a white, lightly corrugated profile creating a feeling of openness between exterior walls and a 7-m (20-ft) clear ceiling height. These panels have a standard Factory Mutual (FM)-approved Class 1 foam core and offer excellent insulation value. The steel and foam composite construction provide a rigid panel stronger than the individual parts, thereby creating span capability and reducing the need for secondary structural components.
Nathan Lancaster, CEO of Lanca, said the IMPs "provide the benefits of good thermal performance and reduced sound transmission." He also praised the material's fire resistance and esthetic benefits, saying, "It is an attractive metal panel that exhibits the natural beauty sought by many owners and designers. In designing the building, we knew it was important to match the professionalism and vibrancy that many people associate with Brantford Gymnastics Academy and its members."
Among the factors making these IMPs appealing is the aforementioned factory-applied, hard aggregated fibre-reinforced, stucco-like finish that offers an extremely durable, impact- and abrasion-resistant coating able to withstand severe weather conditions.
"What this durability results in is nearly zero maintenance in the long run while still enjoying the benefits of an IMP urethane core and energy efficiency, as well as thermal efficiency," said Lancaster. "Who says that beauty and functionality have to be mutually exclusive?"

Control the content you see on ConstructionCanada.net!
Learn More.