First Nations art showcased in B.C. hospital
by jclancy | August 8, 2014 8:42 am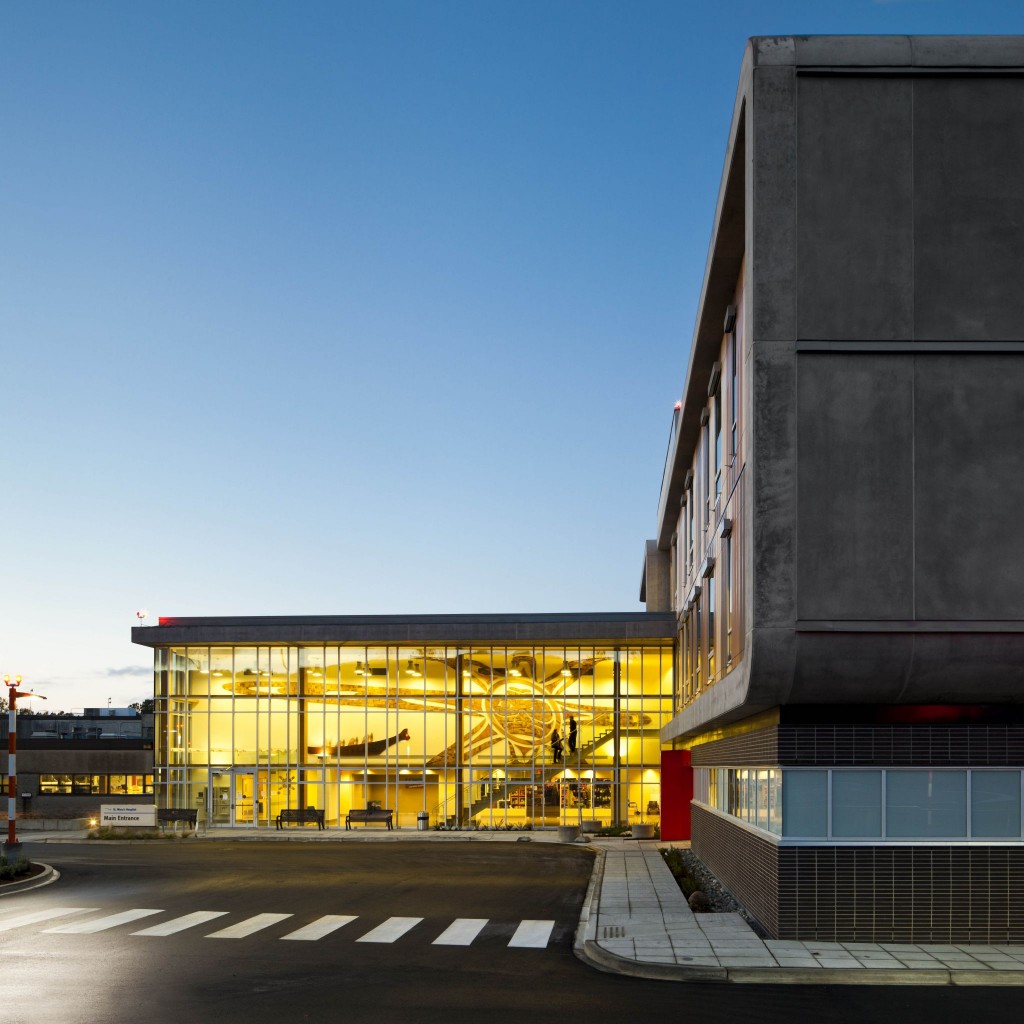 Designed by Farrow Partnership Architects in association with Perkins+Will, St. Mary's Hospital was created with the goal of being North America's first carbon-neutral hospital, while integrating First Nations artwork into its design features.
Located in Sechelt, British Columbia, the Leadership in Energy and Environmental Design (LEED) Gold-targeted facility was conceived as a long-term asset to the community. The Sechelt Indian Band donated the site for the hospital nearly 50 years ago on land once part of a residential school.
Various sustainable features were incorporated into the facility's design. Carbon-neutrality was achieved by employing energy conservation measures to reduce the emission of greenhouse gases (GHG) from burning oil, coal, or gas. In addition to a high-performance building envelope, the hospital includes 125 boreholes, each 76 m (250 ft) deep, to provide zero-carbon energy for heating and cooling for the building distributed through radiant slabs. A 19-kilowatt photovoltaic (PV) array, the largest of its type in the province, generates electricity. Additionally, patients are able to look out over a vegetated roof that, along with white roofs, reduces solar heat gain.
Passive design strategies, such as the use of solar shading and operable windows, allow for natural ventilation. Lighting is equipped with occupancy sensors and exhaust air recovery ventilation. As a result of these efforts, the project is on target to achieve a 40 per cent energy savings.
"St. Mary's is setting a new benchmark in healthcare design," firm principal Tye Farrow said. "The art and architecture together provides a new public face for the hospital that radiates a message of welcome with roots and stories from native culture. The shape of the building itself was inspired by the cedar bent-box, unique to the coastal First Nations. In this concept, the bent-box holds our most precious possession—our health."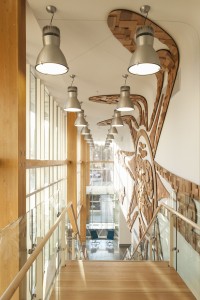 Nursing units are shaped in a bent lacrosse stick shape to improve sight lines and reduce travel distance. Also, a publicly accessible interior porch along the south elevation provides respite for patients by allowing direct views to Georgia Strait; 85 per cent of spaces have access to natural daylight. Skylights and clerestory windows are included in the emergency room area where the large floor plate would have restricted access to natural light.
Drawing on the talents of First Nations peoples who settled there thousands of years ago, designers also included three art installations in public areas;
● a 6 x 15 m (20 x 50 ft) wide mural for the new lobby;
● three totem poles at the main entrance; and
● memorable elevator lobby plaque symbols.
The purpose of the featured artwork is to bring meaning, understanding, and connection to this community and its hospital. The theme of healing was essential not only in relation to the hospital, but also with regard to the First Nations' history on this particular land.
In addition to being consistent with high sustainability standards for the building as a whole, the artwork creates a legacy as treasured pieces for generations to come. For the sunburst mural, only recycled or salvaged materials were used. The base is made of reused form plywood. Cedar blocking is from milling operations cut-offs. Copper in the sun rays was salvaged and pounded with hammers for texture, then pieced together like a puzzle.
The facility was twice honoured at the annual Design & Health International Academy Awards held in Toronto last month with top awards in the "Use of Art in the Patient Environment" and "Sustainable Design" categories.
Endnotes:
[Image]: http://www.constructioncanada.net/wp-content/uploads/2014/08/LDP068_3694.jpg
[Image]: http://www.constructioncanada.net/wp-content/uploads/2014/08/LDP068_3671-2.jpg
Source URL: https://www.constructioncanada.net/first-nations-art-showcased-in-b-c-hospital/
---