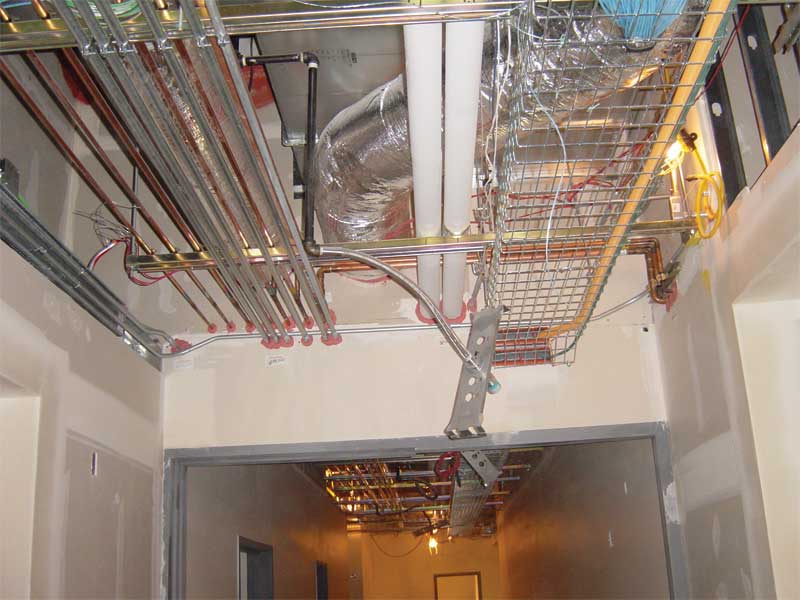 By Bill McHugh, CSC, CSI, MBA
Fire resistance is one of the oldest protection strategies in buildings. Continuously joined fire-resistance-rated walls and floors form 'effective compartmentation' for an area of any size. The objective is to limit fire spread to the area of origin. In addition to the sprinkler, alarm, and egress systems, proper design, installation, inspection, and maintenance (DIIM) of fire resistance, as well as highly effective compartmentation, is critical to protecting people
in buildings.
Materials that are specified in MasterFormat Section 07 84 00−Firestopping, when installed to the listing and manufacturer's installation instructions, maintain the continuity of this fire-resistance-rated compartmentation construction. Continuous protection is introduced through application to abutments, continuous gaps, breaches at the tops and bottoms of walls, curtain wall and horizontal assemblies, and the holes made for the passage of cables and pipes. One area that is not always reviewed is the gaps, joints, and openings at adjacent assemblies.The continuity of fire resistance between adjacent building elements is specified in the National Building Code of Canada (NBC) in Sentence 3.1.8.3(4):
The continuity of a fire separation shall be maintained where it abuts another fire separation, a floor, a ceiling, a roof, or an exterior wall assembly.
In other words, the gaps at the top and bottom of gypsum fire-resistance-rated walls are required to maintain continuity by NBC. This is important, as this breach, void, gap, abutment, and holes are frequently overlooked on construction projects. The voids or holes made for sevice penetrations are equally important, and required by NBC.
Fire resistance starts with a fire-resistance-rated-assembly. Such ratings are determined through tests in conformance with Underwriters Laboratories of Canada (CAN/ULC) S101, Standard Methods of Fire Endurance Tests of Building Construction and Materials.
In addition to testing for fire performance, there are also calculated methods for fire resistance used with concrete assemblies. These employ the equivalent thickness needed to resist fire for a period of time.
NBC is a performance code, different from other codes in North America. The performance nature of NBC introduces the need for smoke-resistant properties of fire separations. Appendix A-3.1.8.1. (1)(b) states what the intent of the code is for compartmentation:
Although a fire separation is not always required to have a fire-resistance rating, the fire separation should act as a barrier to the spread of smoke and fire until some response is initiated. If the fire-resistance rating of a fire separation is waived on the basis of the presence of an automatic sprinkler system, it is intended that the fire separation will be constructed so that it will remain in place and act as a barrier against the spread of smoke for a period of time until the sprinklers have actuated and controlled the fire.
This passage sets up the need for firestop systems providing both fire- and smoke-resistant properties to the assembly. NBC Article 3.1.9 ("Building Services in Fire Separations and Fire-rated Assemblies") specifies CAN/ULC-S115, Standard Method of Fire Tests of Firestop Systems, for treating breaches, gaps, voids, or openings made to accommodate movement of assemblies, separation of noncompatible materials, and insertion of service penetrating items. In this standard, there is an optional test for air leakage (L), which simulates smoke movement to result in an L-rating for the firestop system.

Control the content you see on ConstructionCanada.net!
Learn More.