By Alana Hochstein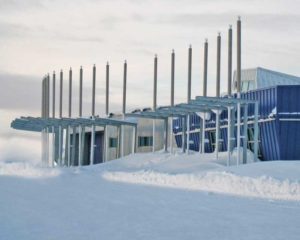 As specifiers of commercial buildings look to achieve durable and long-lasting structures, many are turning to hot-dip galvanizing (HDG) as a method for protecting structural-steel members against atmospheric corrosion for many decades. However, when HDG is specified as the primary method of corrosion protection for structural steel members requiring a fire-resistance rating, passive fireproofing specifications may need to be lengthy and detailed to ensure the overall system will perform as the manufacturer intended. Although there are many benefits to using HDG steel for corrosion protection under fireproofing, the galvanized coating must be carefully prepared for the system to meet requirements for minimum bond strength and perform as intended.
The term galvanizing is often used to describe a variety of coating methods used to apply zinc to steel for the purpose of corrosion protection. Each of the following application methods have unique characteristics affecting the type of products that can be coated, coating thickness, economics, and performance in the environment:
batch HDG;
continuous HDG;
zinc plating; and
zinc-rich paint.
Of these, batch HDG, also known as general galvanizing, is the most common method used for structural steel members in building construction. Therefore, this article reviews specific recommendations for the application of passive fireproofing over batch HDG steel.


Batch HDG
Batch HDG involves submerging iron or steel products into a bath of molten zinc to produce a thick, metallurgically bonded coating comprising zinc/iron intermetallic alloy layers and a surface coat of pure zinc (Figure 1). This process is performed after the steel member's fabrication such as poles, beams, plates, frames, and other assemblies. First, the steel products are chemically cleaned to remove organic contaminants, mill scale, and oxides prior to immersion in a zinc bath (galvanizing kettle) containing at least 98 per cent pure zinc and heated to approximately 443 C (830 F).
While the steel is immersed in the galvanizing kettle, zinc reacts with iron to form the hot-dip galvanized coating, becoming part of the steel itself rather than just a surface/barrier coating. This metallurgical bond creates a barrier coating with exceptional resistance to abrasion because the intermetallic layers of the coating are harder than the substrate steel (read the 2011 publication "Zinc Coatings" by the American Galvanizers Association [AGA]). The HDG coating also provides the steel with cathodic protection ensuring the steel underneath will not corrode until all nearby zinc has been consumed. When small surface damage occurs exposing bare steel, the surrounding zinc will still provide cathodic protection, unlike painted steel.
Another aspect of HDG differentiating it from other building materials is its longevity in atmospheric environments. The time to first maintenance of a hot-dip galvanized coating depends on the coating thickness and the corrosivity of the environment, but it is not uncommon to experience a longevity of 50 to 120 years for batch HDG items depending on atmospheric conditions such as yearly average rainfall, temperature, humidity, air salinity, and exposure to road salts (Figure 2) (see the 2014 publication "The Performance of Hot-dip Galvanized Steel Products in the Atmosphere, Soil, Water, Concrete and More" by AGA).
HDG for corrosion protection under passive fireproofing
Although HDG has long been recognized for its ability to provide protection against atmospheric corrosion in aggressive environments, there are additional benefits when employing spray-applied fire-resistive materials (SFRMs) and intumescent fire-resistive materials (IFRMs) atop galvanized surfaces (see the 2014 publication "The Performance of Hot-dip Galvanized Steel Products in the Atmosphere, Soil, Water, Concrete and More" by AGA).

Control the content you see on ConstructionCanada.net!
Learn More.