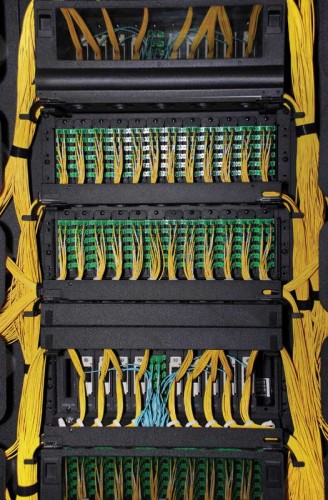 By Bob Chomycz, P.Eng.
Fibre-optic cables are deployed across cities, countries, and oceans to provide high-capacity and reliable transmission for Internet, telephone, video, TV, and other forms of communication. Even though fibre-optic technology is widespread throughout the telecommunication industry, it has not yet been significantly installed in commercial, industrial, and residential buildings.
With the increasing number of bandwidth-hungry technologies (e.g. computers, servers, tablets, smart phones, HDTV, and 3-D TV), building owners are having a second look at how fibre-optic cable can satisfy growing demands for high-capacity building communication infrastructure. This article examines advantages and disadvantages of fibre-optic technology and the basics of its deployment into buildings.
A brief history
The principle of guiding light in an optical fibre was discovered in the 1960s, but the breakthrough came the next decade when a team of Corning Glass Works scientists made low-loss optical fibre capable of propagating light over long distances. In 1974, a team at Bell Laboratories developed a process to mass-produce long lengths of this low-loss fibre, which still remains a manufacturing standard. Three years later, the first commercial use of optical fibre—in a Chicago telephone system—was installed by AT&T Bell Labs.
By the mid-1980s, telephone companies realized the benefits of fibre-optic communication and began deploying it nationwide. In 1984, SaskTel constructed a 3000-km (2000-mi) fibre-optic network connecting 52 communities in Saskatchewan. Today, fibre-optic cables cross cities and countries and are employed every time the Internet is used or a long-distance telephone call is made.
What is fibre-optic communication?
In its basic form, fibre-optic communication is the transmission of information using light through a fibre-optic cable. The cable comprises one or more optical fibre strands, and each strand is made of clear silica glass with a diameter of 125 µm (5 mil)—about the same width as a human hair. The cable protects the optical fibres from the environment; it is available in various installation environments within buildings, direct burial, aerial pole lines, and under the sea.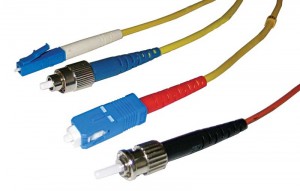 Since fibre-optic signal transmission is only by light propagating inside a glass fibre strand, the fibre-optic cable does not need electricity or copper to propagate signals. This means it is available as a completely nonconductive (dielectric) cable. This electrical isolation capability is one of its many useful properties.
A transceiver converts the electrical communication signal to an optical one for transmission in the optical fibre. At the fibre link's other end, the transceiver receives the optical signal from the fibre and converts it back to a proper electrical signal. The light source used in the transceiver is a solid state laser or light-emitting diode (LED). A transceiver with a LED light source is the least expensive, but has a limited range and transmission rate and only works with multi-mode fibre.
A telecom-industry multi-source agreement (MSA) standardizes the optical transceiver interface and form factor; it allows for the transceivers from various manufacturers to be interchanged with minimal interoperability issues. One type of MSA optical transceiver is called the small form-factor pluggable (SFP). It is approximately 60 x 20 mm (2.4 x 0.8 in.) and can be easily plugged into any manufacturer's communication equipment subscribing to the MSA standard. Typical equipment using this standard includes Ethernet routers, switches, modems, and synchronous optical networking (SONET) gear. Two other types of common MSA standard optical transceivers are 10-gigabit small form-factor pluggable (XFP) and gigabit interface converter (GBIC).
Signal transmission with optical transceivers is possible over distances of a few metres to hundreds of kilometres of cable. Since each transceiver type has different characteristics—such as wavelength, range, and data rate—it is important to choose the proper transceivers to work in the fibre-cable link. The combination of the proper standard fibre-optic transceivers and fibre-optic cable, with associated cable hardware, is all that is needed to build a basic fibre-optic communication system. For example, a high-capacity communication link between two Ethernet switches (with SFP ports) would only require the proper fibre-optical cable between the switches and appropriate SFP transceivers that plug directly into them. Fibre-optic communication systems can be very simple or quite complex.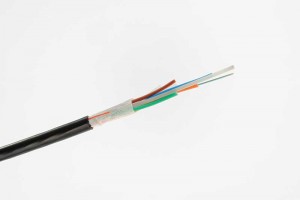 Fibre-optic deployment
When specifying a fibre-optic cable communication system, there are numerous design issues to be addressed. After assessing present and future tenant and building communication requirements, a fibre-cable route is planned. For a typical high-rise building, the route consists of two main fibre-optic cable sections: the vertical riser and the horizontal floor sections. The building cable riser is the building ductwork and/or conduit running vertically through all floors. It typically passes through each floor's telecommunication or electrical room distributing building power and communication cables to the floor.
In older buildings, these risers are often packed with various cables, leaving little to no room for additional cables. This is where fibre-optic cable's small diameter can help in cable placement. Alternately, additional riser holes may need to be drilled in each floor to accommodate the new cable; the Canadian Electrical (CE) Code and National Building Code of Canada (NBC) should be referenced. When planning the hole's location, it is important to ensure floor-embedded rebar and electrical or other cables are not cut or disturbed. (Floor X-rays may be necessary.)

Control the content you see on ConstructionCanada.net!
Learn More.