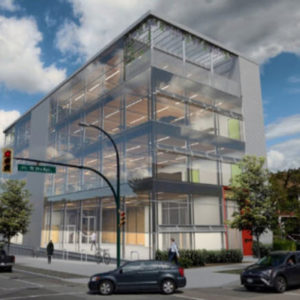 Construction has begun for structural engineering firm Fast + Epp's new four-storey mass timber office in Vancouver. The hybrid superstructure is scheduled to be erected within 12 days.
The building will feature:
prefabricated, hybrid mass timber and steel superstructure;
electrochromatic glass;
cross-laminated timber (CLT) firewall prefabricated with exterior finishes; and
an earthquake-resistance technology with resilient slip friction joints that effectively dissipates energy and does not require post-event maintenance (the technology will anchor the CLT shearwalls and will be one of the first in North America).
"The new building is a purpose-built structure that will give us a more updated space and more flexibility as we continue to grow," said Paul Fast of Fast + Epp. "The entire Fast + Epp team is really proud of this new office design. It is allowing us to experiment with features and structure that are at the forefront of what we do as a firm, and gives us the freedom to be practical and thoughtful, yet also adventurous."
The new facility has been designed collaboratively with F2A Architects (base building) and HCMA Architecture + Design (interiors).