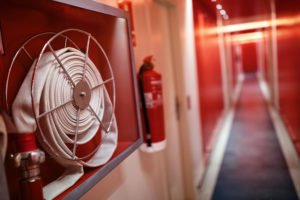 This fall, the Firestop Contractors International Association (FCIA) is bringing its Design, Installation, Inspection, and Maintenance (DIIM) Symposium to Ontario. On September 21, design/construction professionals can visit Holiday Inn Toronto International Airport to network, check out exhibits, and learn more about firestopping systems. The symposium targets professionals in the Canadian firestop and effective compartmentation industry.
The event offers varied educational sessions, including:
"FCIA & the DIIM of Firestopping," a topic explained in the July 2017 issue of Construction Canada;
"Firestopping, Specifications, and Existing Buildings;"
"Underwriters Laboratories (UL) on Listed Systems in Canada;" and
"The National Building Code of Canada (NBC) Development Process–Fire Resistance Business Development."
Attendees will also have the chance to show what they have learned, with firestop exams from FM and Underwriters Laboratories Canada (ULC) available to be taken September 20. For authorities having jurisdiction (AHJs), the exams and this day's seminars are free. (The ULC firestop exam is an open-book test, whereas the FM exam is not.)
Both days feature social events such as breakfasts, luncheons, a welcome reception on Wednesday, and closing remarks on Thursday. Exhibitors can also complete short presentations, currently slated for the afternoon of September 20.
Registration is open until September 13, and can be completed here.