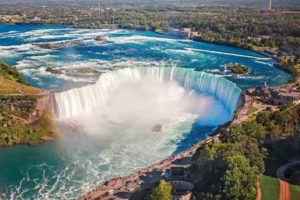 By Tristan Marks
The Sheraton Fallsview Hotel lived up to its name as attendees of the Construction Specifications Canada (CSC) national conference gathered in the mist-infused vicinity of Niagara Falls from May 25 to 29. The theme of this year's conference, "Re-energizing the Future," was apt, not only because of the proximity to Canada's energy-producing "Eighth Wonder of the World," but also because this was the first time CSC members congregated in person since 2019.
Post-pandemic optimism was a strong current, as members had the chance to catch up with old colleagues, leverage the opportunity for face-to-face networking, and listen to a lineup of top-notch speakers. The event organizing committee, made up of members from the Grand Valley, Hamilton/Niagara, and London chapters, accomplished their mission to re-energize the conference in 2022, as life continues to return to normal.
The event kicked off with the Welcome Reception (sponsored by Construction Specialties Inc.), followed the next day by the Welcome Breakfast for delegates and guests.
The technical discussions continued through the week and attendees had a choice of three educational streams each day. The sessions included thematic presentations such as "Harnessing Earth Energy—Geothermal Heating and Cooling," which was moderated by Sergio Almeida, P.Eng., chief technology officer at Geo-Xergy Systems. Other topics included "Fire-Rated Glass and Framing 101," by Connor Martin of Technical Glass Products (TGP); "Adapting Building Codes to Changing Climate Hazards," with Sihan Li, Mike Gibbons, and Jan Dale from RWDI; and "The Future of Buildings—Tall Timber Buildings," with David Moses of Moses Structural Engineers.
Sessions on Centre Block Parliament Hill: A Collaborative Rehabilitation and the Masonry Envelope Repair on Château Frontenac were popular with attendees. The former was presented by Duncan Broyd, HOK Architects, principal in charge, Centre Block, Justin Houle, PCL/ED, a Joint Venture, superintendent, Centre Block, and William Coleman, PCL/ED, a Joint Venture, structural lead, Centre Block, while the latter was presented by John Cooke, FCSC, RSW, Pascal Laveille, John G. Cooke & Associates Ltd.
Throughout the conference, experts shared experience and sage advice on everything from innovations in concrete mix to masonry repair and the utility of laser scanning.
Toting sponsored conference bags, attendees were also able to participate in "speed-networking" sessions between seminars and in the exhibit hall during the popular Connections Café.
At the Thursday luncheon, delegates listened in as speakers from Bikers Against Child Abuse (BACA) detailed the programs and initiatives its organization oversees, and the impact it has on the lives of society's most vulnerable. Over the past several years, CSC conference host chapters select a charity or cause to support. This year, the conference committee chose BACA as the organization to receive funds.
At the next day's luncheon, sponsored by Owens Corning Canada, keynote speaker and comedian Jeff McEnery had the audience in stitches, with his signature brand of "Smalltown, Ontario" humour. President Kimberly Tompkins, FCSC, CTR, also took the stage and presented executive director Nick Franjic, CAE, with cufflinks to recognize his 25 years of dedicated service and guidance.
Later, for the CGC-sponsored Fun Night, attendees bused over to the Greg Frewin Theatre for an evening of wild magic and majestic jungle cats. At the show, Franjic was presented with a plaque, as well as a book signed by all the evening's attendees. He even made a surprise appearance during Frewin's final act.
The following day brought another key highlight of the conference, the President's Reception and Ball (sponsored by IKO Industries Ltd. and Custom Building Products, respectively), which was emceed by Tompkins' daughter, Samantha MacGregor. Delegates, companions, and special guests celebrated this year's Life Award and President's Award recipients and listened to an address by incoming president Kazim (Kaz) Kanani, FCSC, CSP, CCCA, CDT, on the post-pandemic future of CSC and the organization's commitment to its mission, "to educate, connect, and lead the design and construction community to achieve excellence in project delivery." The formal program was followed by a night of dancing.

Control the content you see on ConstructionCanada.net!
Learn More.