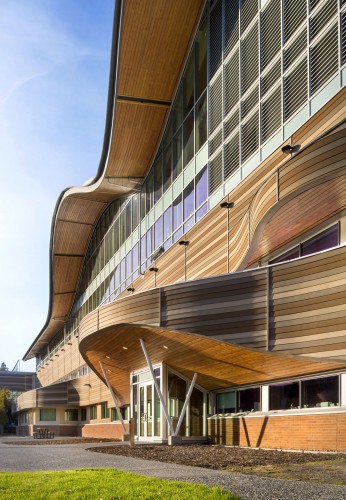 More than 100 projects were nominated for the 2016 Wood Design Awards, hosted by WoodWorks B.C., which recognized leadership in advancing wood use in design and building.
Design and building professionals gathered to honour the nominees and winners of 13 categories celebrating structural and architectural achievement using wood. The nominees came from all over British Columbia, as well as some national and international submissions from England, Germany, Japan, China, South Korea, and Taiwan.
"Advances in wood product research, engineering, and construction practices have expanded the possibilities for wood in building and design," said WoodWorks B.C.'s executive director, Lynn Embury-Williams. "British Columbia's architects, engineers, designers, and project teams continue to explore its potential and impress us with their projects. Not only are we playing an important role in sustainable development and climate change mitigation, but we are also creating a contemporary built environment that celebrates our heritage."
A few of the winners included:
special recognition—University of British Columbia for its many iconic buildings featuring technologically advanced wood products made in the province;
wood champion—Andrew Harmsworth of GHL Consultants;
architect award—Patrick Cotter of ZGF Cotter Architects, who pioneered the first six-storey wood-framed residential building in Canada;
commercial wood—Peter Johannknecht and Greg Damant of Cascadia Architects for Cordova Bay Physiotherapy Clinic in Saanich;
institutional, small—Graham McGarva and Scott Taylor of VIA Architects for Queensway Transit Exchange in Kelowna;
institutional, large—Donald Schmitt of Diamond Schmitt Architects and Thompson Rivers University's faculty of law for the Old Main addition in Kamloops; and
international—Gerald Epp of StructureCraft Builders for Tsington Pearl Visitor Centre in Qingdao, China.
To view all winners, click here.