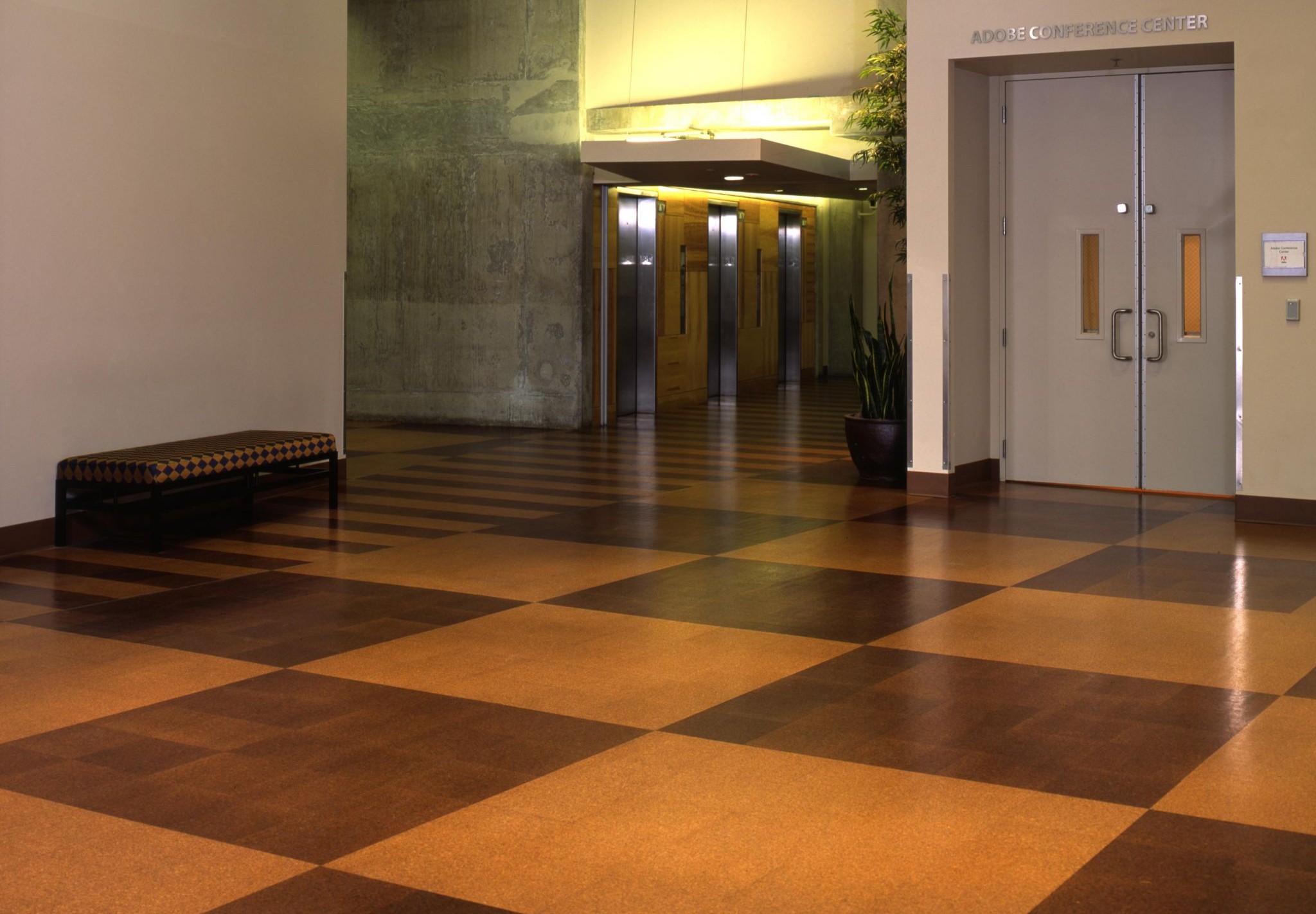 By Tino Couto
Cork flooring has evolved over the past few years. Today, it comes in various styles, textures, and modern finishes. While it continues to offer builders, architects, and specifiers many design benefits, it has morphed from its early pushpin board days into a durable flooring choice with powerful esthetic potential.
Cork is a 100 percent natural, renewable resource and, contrary to popular belief, it is not going extinct. Cork is harvested from the outer bark of the cork oak tree, which means no trees are ever cut down or damaged for a harvest. The outer bark is carefully collected once every nine years, allowing new bark to grow in its place, without ever damaging or killing the trees. As a result, it is not unusual to have a 200-year-old tree still producing cork bark.
Cork flooring is made from recycled pre-consumer cork, left over from the production of cork-stoppers. In fact, 100 percent of the waste following the production of these units is used to manufacture cork agglomerate products such as flooring, wallcoverings, and other materials. The qualities of cork, which are naturally unique to this material, are what give it its noise-cancelling and warm-to-the-touch feel.
Myths and misconceptions
Beyond its availability, other myths and misconceptions surrounding cork flooring remain. Some designers believe the material is too soft and will wear out quickly. Over time, the industry has refined its finishing techniques to result in a product far more durable and resistant than earlier iterations. With the inclusion of aluminum oxide, cork flooring can now be installed in high-traffic commercial areas without needing to be redressed every couple of years. As a result of this new material treatment, manufacturers work to find the balance between cork's naturally soft nature and a resistant finish making the flooring extremely durable.
Years ago, traditional cork flooring needed to be re-finished or have its surface 'refreshed' every few years. However, the new finishes now enable the material to last a lifetime without ever being refinished or refreshed. These advances have enabled cork to be specified for high-traffic public areas like libraries, museums, offices, restaurants, and retail stores.
For residential applications, cork has often been thought of as limited to basements and kitchens. While it has proven itself as one of the top flooring choices for basements because of its insulating properties (which make the floor warm underfoot) and its natural water/mould/mildew-resistance qualities, the product can be used anywhere in the house.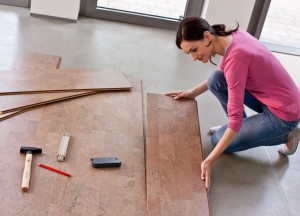 In the kitchen, where people commonly stand for extended periods, using cork flooring is not a surprising choice because of the soft cushioning underfoot, making it easy on one's back and joints. It is also naturally resilient, repelling dust, germs, and mould. Cork's impermeable, fire-resistant and resiliency characteristics make it a durable and versatile choice for flooring material in the kitchen.
Cork's natural honeycomb-like cellular structure creates air pockets that give the flooring material a natural bounce and a natural insulator. Walking barefoot on a cork floor enables one's body heat to be reflected back, making it a comfortable temperature for cold Canadian mornings in cottages or cabins. However, builders are also increasingly installing cork flooring in urban condominiums because the material serves as a natural shock-absorber to help dampen noise. Cork flooring absorbs sounds and vibrations helping to reduce sound transmission from one unit to another.
Another misconception people have regarding cork flooring involves limitations with design options. People still tend to think of cork flooring in the traditional bulletin board or wine-stopper pattern. However, new staining and finishing technology allows for a wide variety of textures, colours, and finishes, making the product fit any esthetic. Cork can be matched to virtually all colours, tints, or shades—manufacturers can work directly with interior designers to create custom colours for cork floors. Once a designer picks the style and gloss level, and provides a sample of the particular colour, it can be matched and produced in less than a month.
Cork flooring has evolved into a chic design product that can even be used as a feature focal wall. In fact, its versatility offers many luxurious finished looks that can emulate hardwood, marble, and other textured surfaces.
Every year, cork flooring development teams at major manufacturers (many based in Portugal, source of more than half the world's cork supply) head to design trade shows to forecast the newest trends. Participating in shows like Frankfurt's Heimtextil, Hannover's Domotex, and Las Vegas' Surfaces enables them to translate current style and trends into the colour and texture of new cork floor products. This means innovation from European companies can be adopted much quicker than a decade ago, allowing designers access to bring to life looks from all over the world.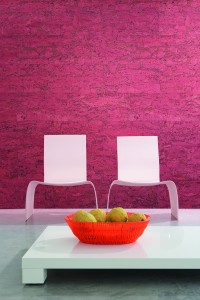 The technical side to cork
Installing cork is a surprisingly easy task. Panels simply snap together without the use of any glue or other adhesive substances via a tongue and groove. Cork is applied floating over any existing floor or subfloor.
Cork flooring can easily transition to existing surfaces and flooring. Mouldings are used around the perimeter of the floor to create visually appealing transitions to adjoining floors, or trimming along the walls. Components can include:
● reducer: flooring mouldings for use in doorways and adjacent room entrances where floor levels are different;
● T-moulding: flooring moulding for use in doorways and adjacent room entrances where floor levels are identical (can also be used as an expansion trim for large-area applications to maintain flooring stability);
● square-nose: edge moulding for use around room perimeter; and
● stair-nose: stair-edge trim moulding for installation of flooring on staircases.
Quarter-round can still be used around the room perimeter baseboard trim moulding.
Installation benefits to cork flooring
When installing cork flooring, there are numerous benefits extending beyond its easy, mess-free installation process.
Forgiveness
Cork flooring offers installers the utmost forgiveness regarding the quality of the existing subfloor. When gluing down vinyl, for example, the subfloor has to be much smoother and more level. Cork can be installed over most existing, glue-down, or nail-down laminate, hardwood, vinyl, linoleum, ceramic, rubber, or plywood floors.
Reusability
Cork flooring offers designers a lot of flexibility. Since the flooring floats, it keeps the original floor completely intact. In other words, one can remove the cork floor at a later date and reuse the existing floor without any damages. For example, this author has been part of initiatives where the removed cork floor is donated to Habitat for Humanity and installed in homes again.
Easy board replacement
Unlike glued-down or nailed-down floors, it is extremely easy to replace a single board if it gets damaged. While it is critical to always plan with the other trades on a construction project, if a single board happens to get damaged, it can easily be replaced without ripping up pieces of the floor. This feature is extremely popular with both residential and commercial builders.
Conclusion
While cork flooring continues to evolve and meet the demands of architects, designers, and builders, this sustainable option continues to remain durable, flexible, and on-point with design trends. The qualities of cork make it a suitable choice for flooring. Cork reduces sound, holds an optimal temperature, and is comfortable to walk on, not to mention the material is hypo-allergenic, insect-resistant, and mould- and mildew-resistant. Its qualities have not been replicated by any artificially-engineered flooring material.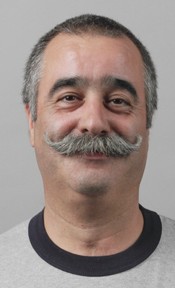 Tino Couto has been the senior product development manager at Torlys Inc., since 2001. A native of Portugal, he has more than 30 years of experience in the flooring industry. Before moving to Canada in 2001, Couto worked at Portugal's Amorim Revestimentos. He is an active member of the North American Laminate Flooring Association (NALFA), where he has been a part of both the Education and Technical Committees. Couto can be reached at tino.couto@torlys.com.

Control the content you see on ConstructionCanada.net!
Learn More.