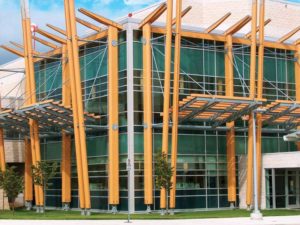 When it comes to Other Fenestration Assemblies, NBC 2020 Section 5.9.3. provides minimal requirements for air leakage tested at an air pressure difference of 75 Pa (1.57 psf) that is not greater than 0.2L/(s•m²) [0.30 cfm/sf] as per ASTM E283-04 (refer to Sidebar 3, page 4).
Water penetration compliance for NBC 2020 is achieved with either ASTM E331-00 or ASTM E547-00. The penetration resistance of the Other Fenestration Assemblies products must be capable of resisting driving rain pressure as determinate using the protocol and the climate design data defined in CSA A440S1-19.
ASTM E330/330M-14 is the acceptable protocol for structural and environment loads by reference in the NBC 2020 notes. Regarding loads, consult the NBC 2020 "Part 5 – Environmental Separation, Section 5.2 Loads and Procedures," to review all loads affecting the Other Fenestration Assemblies due to a project's specific conditions, location, and design. Even if these are not part of mandatory testing protocols, various loads can affect the fenestration components, and may require either project-specific testing or calculations.
Additional testing methods listed in the NBC 2020 notes include AAMA 501-05, AAMA 501.1-05, AAMA 501.4-09, AAMA 501.5-07, and AAMA 501.6-09 (refer to Sidebar 1 on previous page). These are not mandatory but offer helpful guidance for the specifications professional.
What is in NAFS?
NAFS and other standards have been updated since 2020. These updates may be reflected in proposed changes to the 2020 National Model Codes and, if accepted, could be included in the 2025 edition.
NAFS-17 applies to fixed and operable windows, and patio and terrace doors, which also can be integrated into Other Fenestration Assemblies products (refer to Sidebar 2 below). The purpose of NAFS is to evaluate windows products for comparable performances and to define performance levels. Aspects evaluated by NAFS include resistance to air leakage, water penetration, and structural environmental loads. In addition, evaluate for quality and durability through auxiliary testing such as operating force, ensuring ease of operation for occupants.
Minimal performance levels, relevant tests, and the test type depends on the product's performance classes (PC). PC definitions describe a project's typical characteristics and suggest differences in the testing protocols and the minimal dimensions required to undergo these tests as per NAFS.
Sidebar 2 – Fenestration product type deifinitions
• North American Fenestration Standard (NAFS) is for windows, doors, secondary storm products (SSPs), tubular daylight devices (TDDs), roof windows, and unit skylights.
• Out of scope are interior products, garage doors, roof-mounted smoke, and heat-relief vents, sloped glazing, curtain walls, window wall, storefronts, commercial entrance systems, sunrooms, revolving doors, and commercial steel doors.
• As per the National Building Code of Canada (NBC) 2020, "Other Fenestration Assemblies" includes curtain wall, window wall, storefront, and glazed architectural structures

Control the content you see on ConstructionCanada.net!
Learn More.