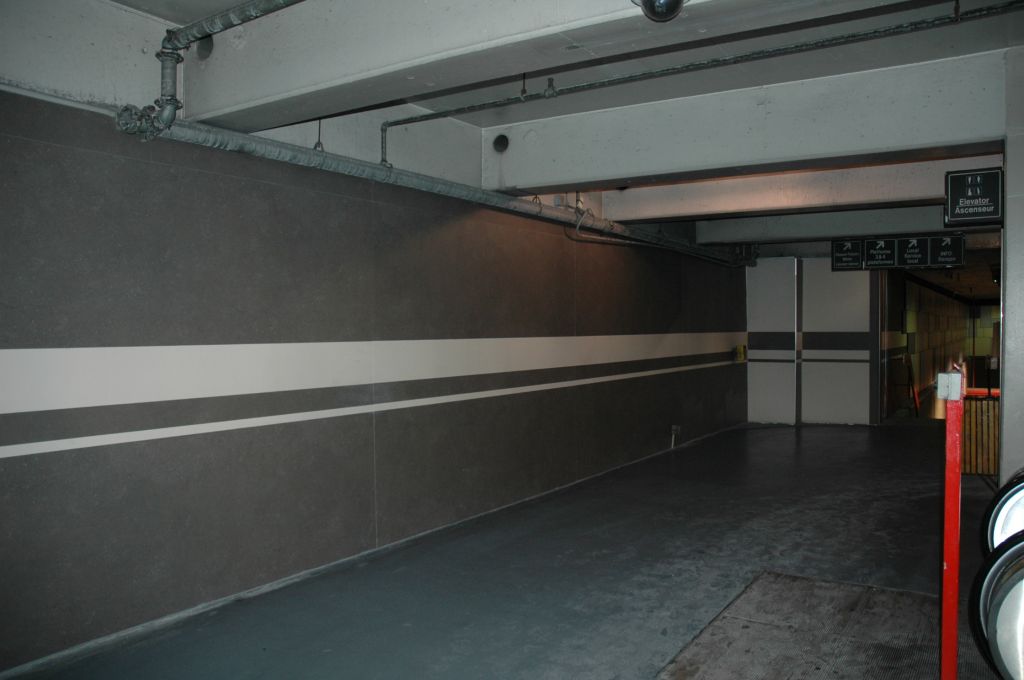 By Bill Wright
Porcelain tile is a manufactured, kiln-fired product. A popular cladding for walls or floors in commercial projects, the material is suitable for both interior and exterior applications. Many of porcelain's benefits comes from the combination of special clays (kaolin) and high kiln temperatures 1200 to 1400 C (2192 to 2552 F) employed during the manufacturing process that produce a tile with a low absorption rate (0.5 per cent) and an extremely durable, wear-resistant surface. Current manufacturing technology has evolved to the point where porcelain tiles can essentially re-create the appearance of natural materials like wood planking, marble, granite, limestone, and travertine.1
Porcelain cladding assemblies are well-suited for use on both new construction and for retrofitting existing buildings. There are many advantages in using the material in panels for the enclosure. In comparison with many traditional materials, such as natural stone and cement and glass panels, they are lighter in weight and easier to handle.
Inherent qualities include being impervious and highly graffiti- and stain-resistant; they are also scratch- and deep-abrasion-resistant. As the panels are ultraviolet (UV)-stable, colours will not fade over time. An important esthetic benefit is panels provide for seamless transitions from interior to exterior installations.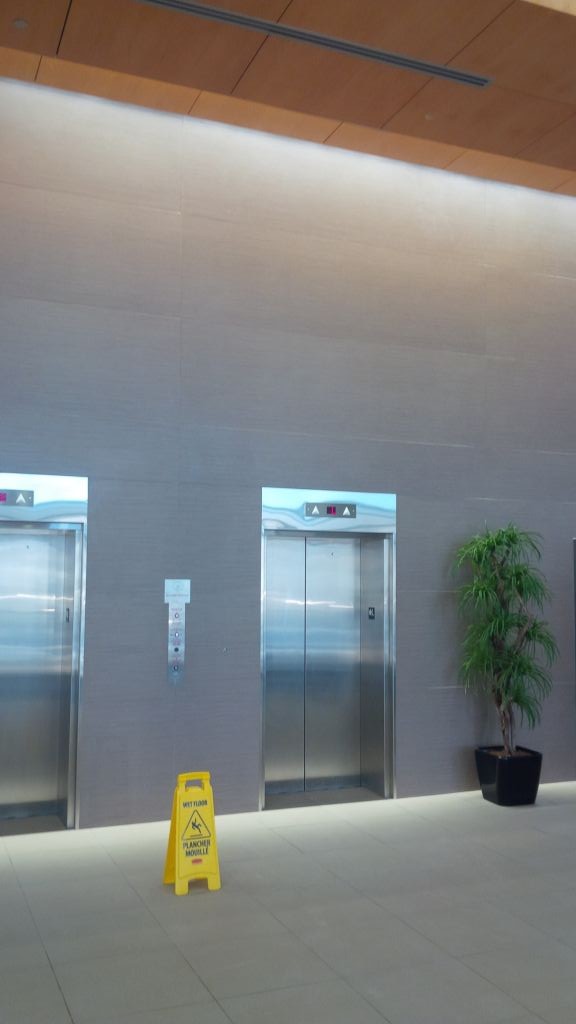 Porcelain is a less-expensive alternative to stone or zinc cladding materials, and can also have long-term cost benefits by helping a building lower its reliance on mechanical heating and cooling. These cladding systems improve energy efficiency by reducing the thermal bridge (i.e. the unproductive and inefficient transmission of cold or hot through the exterior walls).
Porcelain panel systems can be installed on standard vertical surfaces, as well as sloping and curved surfaces up to a 5-m (16-ft) radius. Installation can be successful no matter how vertical (level/plumb) the substrate is through use of standard subgirt systems, which ensure there will be perfect horizontal and vertical alignment between the panels. (Further, some porcelain systems have all panels/frames pre-produced offsite in factory-controlled settings. Therefore, installations onsite are fast and clean with no waste or site cutting.)
Rainscreen cassette systems offer the timeless benefits of a porcelain façade with superior building design. Rainscreen systems have been around globally for more than a century, but have grown in popularity in Canada over the last 25 years. The newest innovation has been the incorporation of these thin and large-format porcelain panels into the existing rainscreen technology.
Some panels are SB-10-compliant, meaning they meet the demands of Supplementary Standard 10, "Energy Efficiency Supplement," which is part of the new Ontario Building Code (OBC)—one of the most stringent in North America. Porcelain panel systems with thermal clips as part of their sub-girt packages can meet or exceed compliance with American Society of Heating, Refrigerating, and Air-conditioning Engineers (ASHRAE) 90.1-2010, Energy Standard for Buildings Except Low-rise Residential Buildings.
Large-format porcelain panels
The recent arrival of large-format pressed porcelain panels has opened many new avenues for tile suppliers and installers. Originally developed in Italy in 2001, unit sizes range from 500 x 500 mm (20 x 20 in.) and 1 x 1 m (3.3 x 3.3 ft), up to 1 x 3 m (3.3 x 10 ft) in the 3.5-, 5-, and 7-mm (0.14-, 0.2-, 0.3-in.) thicknesses, along with the 3+3-mm (1/8+1/8-in.) configuration (i.e. two sheets mounted back to back for partition walls). Usually, these lightweight panels are direct-bonded using thin-set mortar to both interior and exterior walls. Their popularity in commercial, residential, and healthcare projects is rapidly increasing.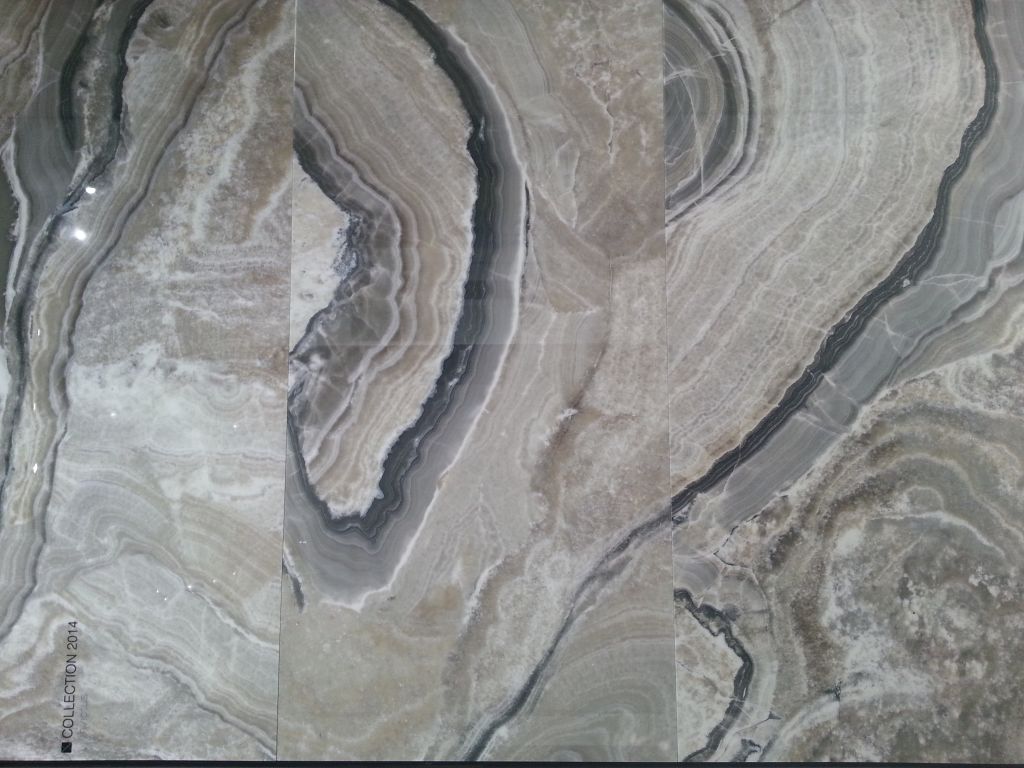 The thin 3.5-mm profile lends itself well to renovations as little demolition tends to be necessary when they are to be installed over existing solid substrates. This saves time and money, while providing a new durable, fresh appearance. With more than 100 colours in various finishes (e.g. structured, matt, polished, and honed), and ranging in styles from solid hues to metal tones, marble, limestone, and wood, the creative design opportunities are almost limitless. The healthcare segment is very attracted to the large-size format as it provides fewer grout joints and is highly chemical- and stain-resistant.
As is the case for most emerging technologies, these large-format porcelain panels require new installation methods. They need a rigid substrate with a minimum deflection of L/720, installed on drywall or cementitious backer units (CBUs) for interior applications. (When used in exterior applications, only cementitious substrate, as acceptable. TTMAC details should be followed as applicable.) The walls must be flat to a maximum tolerance of 3 mm over 3.6 m (12 ft). Preference should be given to new non-sag, self-curing lightweight mortars conforming to:
American National Standards Institute (ANSI) A118.4, Modified Dry-set Cement Mortar; and
ANSI A118.11, Dry-set Cement Mortar.
One option involves fibre-reinforced poly-modified mortars developed in Germany a decade ago to address the ever-increasing sizes in tiles. This type of mortar was recently supplied for the Bridgepoint Health hospital in Toronto, where 2323 m2 (25,000 sf) of porcelain panels were installed on the interior walls.2 A project manager who oversaw the onsite installation commented the highly sag-resistant mortars spread like "cream cheese."
Following the instructions from the supplier on the proper installation methods is key to the overall success of the installation. Using installation products from the same supplier eliminates the possibility of an overall system failure. Mixing materials from different suppliers is not advisable as it may compromise the installation's ability to perform as a complete system.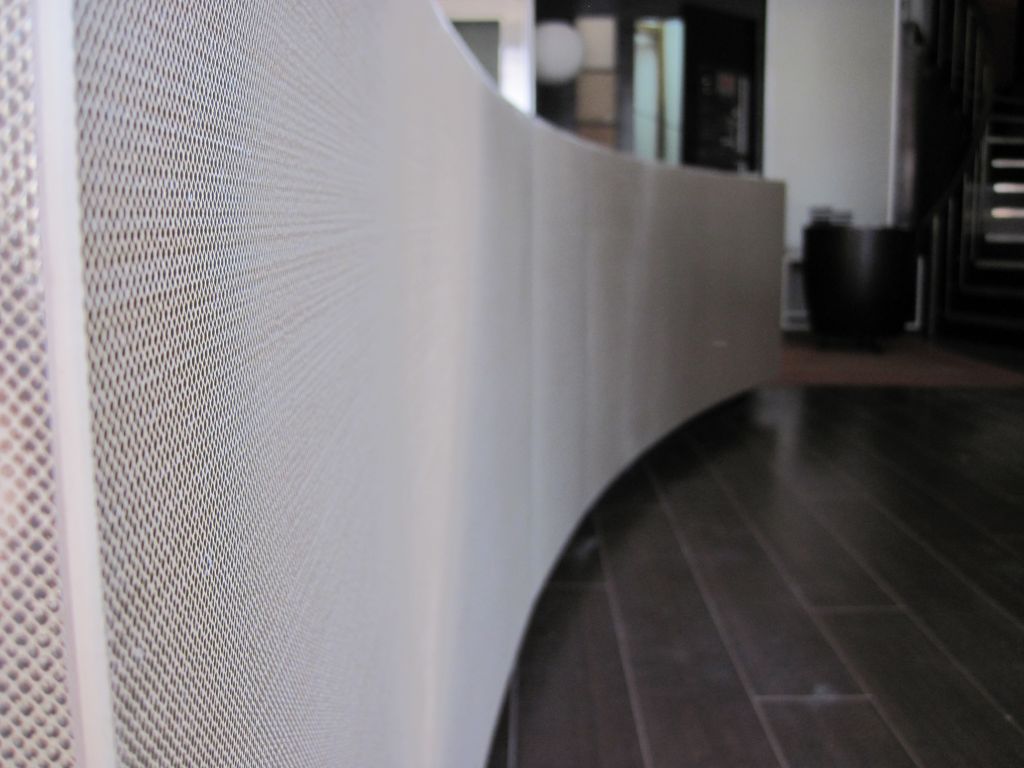 TTMAC requirements
The Terrazzo Tile and Marble Association of Canada (TTMAC) lists requirements for direct-bonded installations of large-format tile or thin stone over interior and exterior walls in its 09300 Installation Manual. As porcelain tile and thin stone tile become available in increasingly larger formats, the need for stronger, more rigid substrates becomes vitally important.
The TTMAC manual outlines the required tolerances for flatness based on the tile size and grout joint width. As well, the Marble Institute of America (MIA) has recently begun urging the use of the L/720 deflection criteria for all thin-stone installation assemblies. For example, the subfloor deflection across 4.6 m (15 ft) should not exceed 6 mm (¼ ft).
Many mortar suppliers are also urging use of L/720 for all large-format tile and natural stone installations. The reason for this limitation is bending or deflection beyond those limits can cause problems such as grout cracks, tile cracks, or bond failure (delaminating) of the tile or stone from the substrate.
With lightweight construction becoming more popular, the requirement for stiffer, more rigid substrates is necessary to avoid cracking caused by movement. Along with the proper substrate requirements, using an anti-fracture membrane and following all the required perimeter, expansion and control joint placement guidelines is necessary.
The placement and spacing of these are outlined in the current 2012−2014 edition of TTMAC's 09300 Installation Manual's Detail #301MJ-2012-2014. Aside from following these guidelines, recommendations for installation success include:
use CBU in place of drywall;
confirm the maximum substrate variation is within 3 mm over 3.6 m (1/8 in. over 12 ft) for flatness before proceeding with the installation;
properly level the substrate to be flat, plumb, and true;
specify only non-sag S1-compliant, self-curing mortars that meet both ANSI A118.4/A118.11;3
evenly back-butter the tile with mortar;
comb the mortar in a unidirectional manner;
use anti-fracture membranes as required; and
employ a tile-leveler system to help to minimize lippage.
All the mortar manufacturer's recommendations should be followed; when best practices are unclear, material suppliers should be consulted.
Disturbing trend: spot-mounting thin tiles
The recent influx of thin stones tiles (about10 mm [0.4 in.] thick) being installed with regular-set mortars has unleashed a mountain of new issues. This spot-mounting technique—which many have been imported from the Marble Institute of America's (MIA's) Dimensional Stone Design Manual—is the most common cause of many unsightly installations and failures.
Traditional dimensional stone installations (i.e. 19 to 32 mm [3/4 to 1 1/4 in.] thick) use quick-drying gypsum plaster spots (that set up within minutes), along with self-tapping screws or sleeve anchors and wire tie-backs. This is an effective and time-tested installation system for thick stones. Unfortunately, now some installers seem to be 'borrowing' only the spot portion from this slabs method and using regular-set mortars, rather than rapid-setting ones. As a result, installations are failing.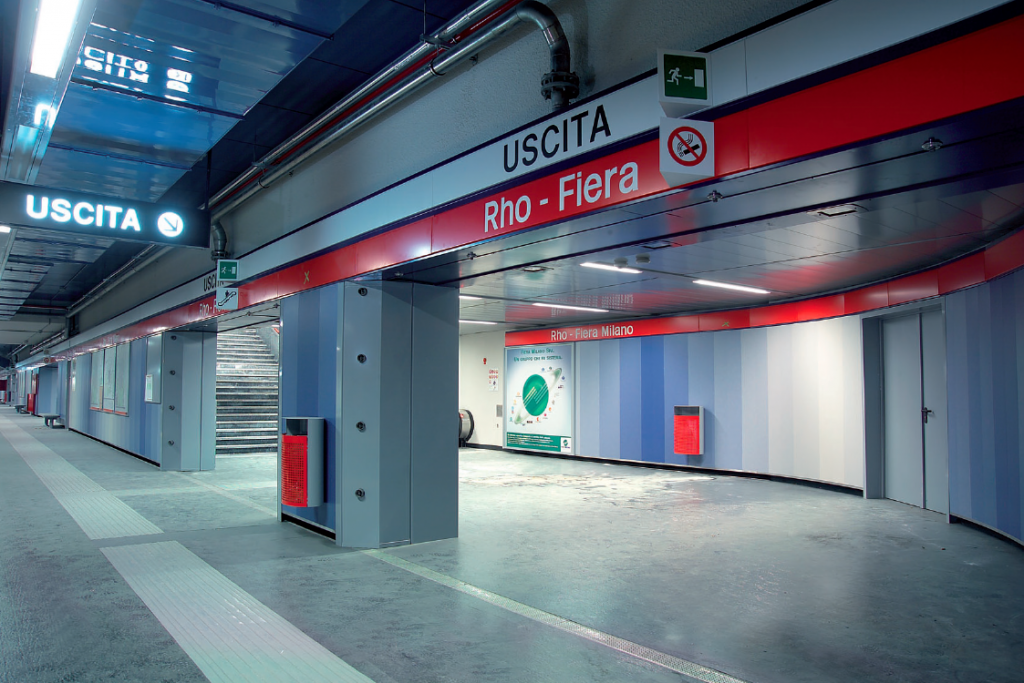 The extra water within the regular-set type mortar must dissipate somewhere. Due to the fact stone is often installed over a moisture barrier or anti-fracture membrane (both are required for exterior installations) the evaporating vapour often dissipates through the stone and out the face. As the vapour passes through the stone, it can pick up the soluble salts naturally found in the stone and carry these up to the surface. These salts can leave white patches and are often gritty. Trying to salvage the installation and clean this grit off after it has occurred is difficult. For this precise reason, the spot method is not an approved method for installing thin tiles or stones in Canada. This author strongly suggests 'stone mortar' systems be used for all natural stones.
Conclusion
Porcelain tiles will continue to grow not only in popularity, but also dimensions. Manufacturers have begun producing even larger-sized panels; currently, plans are underway to create thin panels that are 1.5 x 3.1 m (5 x 10 ft). To keep pace with product innovation, continuing education will become a focal point of future success.
Better education is required by installers and specifiers from both the suppliers/manufacturers and the TTMAC on how to best achieve successful installations of both thin stones and porcelains. This includes setting and prep materials, proper mortar selection and specifications, and industry best practices for installation.
Notes
1 This author gratefully acknowledges the help of Al Rocheleau (regional sales manager, Ardex Eastern Canada), Glen Pestrin (York Marble), and Collette Hart (business development, Northern Facades Ltd.) in preparing this article. (back to top)
2 For more on this project, see Construction Canada 'web-exclusive' article, "Bridgepoint healthcare expands with new digs." (back to top)
3 This S1 class designation indicates the mortar has double the sag-resistance and double the open time. (back to top)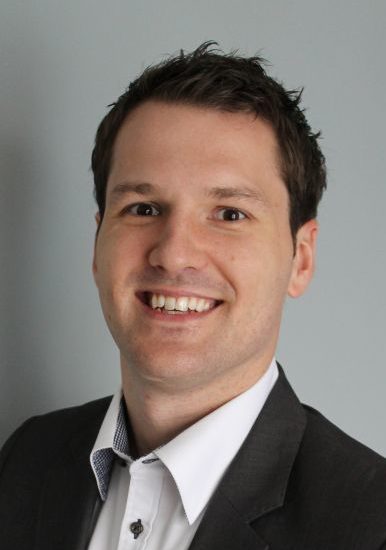 Bill Wright is a technical specialist with Stone Tile International, currently heading its training and education department. He brings three decades of experience in all aspects of the tile and stone industry, from installation and manufacturing to architectural/contractor sales and management. For the past decade, Wright has served as a director of the Terrazzo, Tile, and Marble Association of Canada (TTMAC), where he was a regular contributor to the last three editions of the TTMAC Installation Manual. He can be reached at bwright@stone-tile.com.

Control the content you see on ConstructionCanada.net!
Learn More.