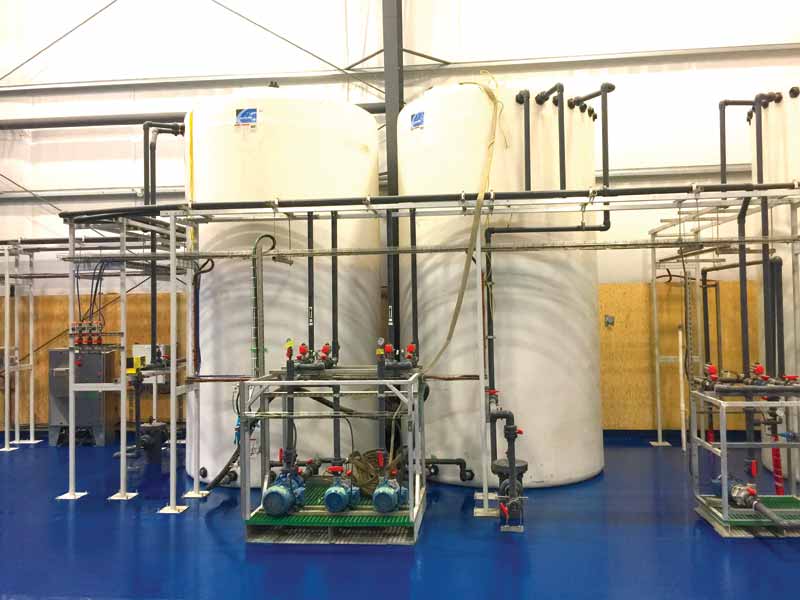 Substrate preparation
Getting the concrete slab or underlying substrate right is also critical to an effective chemical-resistant floor finish. Poor substrate preparation is one of the leading causes of delamination, which will occur if the concrete is too smooth, the laitance has not been removed, or there is a substance or reason for the resin coating to not effectively bond to the substrate. Delamination can cause a long list of problems for a site handling dangerous chemicals, as it will pose a safety risk and make the underlying concrete and soil vulnerable.
Similarly, the substrate's pH levels and moisture content can wreak havoc on the floor if not addressed at the material specification stage. Concrete is, to some degree, permeable and will absorb moisture from the ground, particularly if it is low grade or located close to a high water table. Additionally, new concrete typically has a high moisture content until it fully dries out. This means the substrate's moisture level should be thoroughly analyzed during the specification stage, and if the cyclical moisture levels are too high, then a damp proof membrane (DPM) should be applied.
Specifying the flooring system
When deciding which floor is right for the facility, it is important to discuss all the relevant factors with both a supplier and applicator with experience in creating floors in similar situations. It is also advisable to visit other facilities to see how different types of floors have stood up to comparable conditions, and if possible, install a sample within the facility to put it through its paces before committing to a complete coating. Normally, there will be a warranty for the product in question. This should always be verified with the manufacturer.
The sensitivity of resin flooring to application conditions can be considered a disadvantage. This is why it is very important to ensure the applicators are well trained in the system they are applying.
The performance of resin flooring can vary widely depending on the type of system. If one employs a thin epoxy coating in a busy industrial environment, then it will probably fail quite quickly. On the other hand, if one chooses a thick cementitious urethane, it might be fine for a long time.
It can take several days or even a week for some resin systems to fully cure, especially if the environment is cold and damp. However, it again depends on the specific system and some versions can cure in as little as two hours.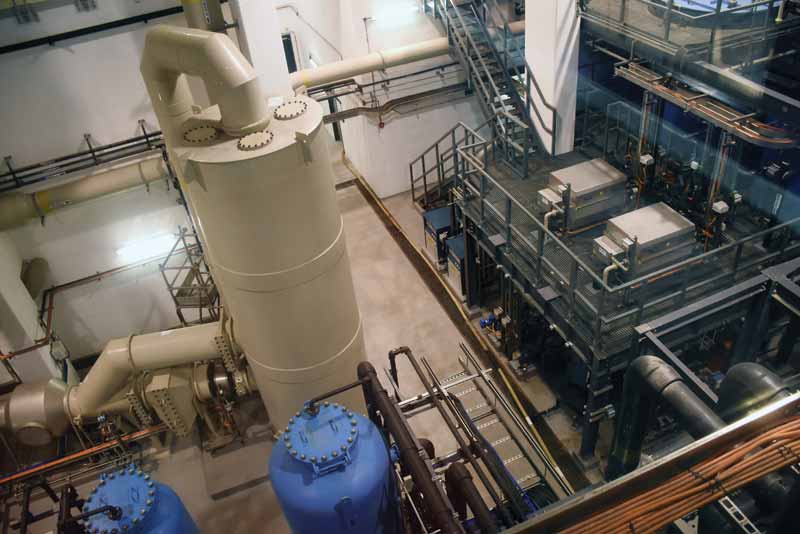 Applicable standards
Much of the regulation of resin flooring systems is based on International Organization for Standardization (ISO) standards—such as ISO 14486:2012, Laminate Floor Coverings, and ISO 22196, Measurement of Antibacterial Activity on Plastics and Other Non-porous Surfaces—as well as sector specific international guidelines such as Hazard Analysis and Critical Control Points (HACCP) for the food and beverage (F&B) industry.
This sludge treatment facility in Hong Kong employs a vinyl ester resin-based glass-fibre-reinforced lining system for its chemical-, thermal- and mechanical-resistance properties as well as its durability.
Epoxy novolac (EPN) resin flooring systems can withstand exposure to concentrated leachate, sulphuric acid, sodium hydroxide, and biocides, making them an attractive option for wastewater and chemical treatment plants.
An epoxy novolac system has been employed at the Cache Creek landfill site in rural British Columbia as the floor has to withstand potential long-term contact with a corrosive substances.
Anti-corrosion vinyl ester resin flooring systems are a hybrid of polyester resin that have been strengthened by the addition of epoxy resin, which provides superior protection against highly concentrated and aggressive acids, alkalis, and solvents.
Ben Smith is the managing director of Flowcrete Americas. Prior to that, he was the company's national manager for Canada for five years. During this time, Smith increased Flowcrete's market share, sales, and infrastructure in the region. He has more than 25 years of experience in the polymer floor and wall coatings industry. Smith has a bachelor of engineering and a master of engineering from Deakin University. He can be reached at amerweb@flowcrete.com.

Control the content you see on ConstructionCanada.net!
Learn More.