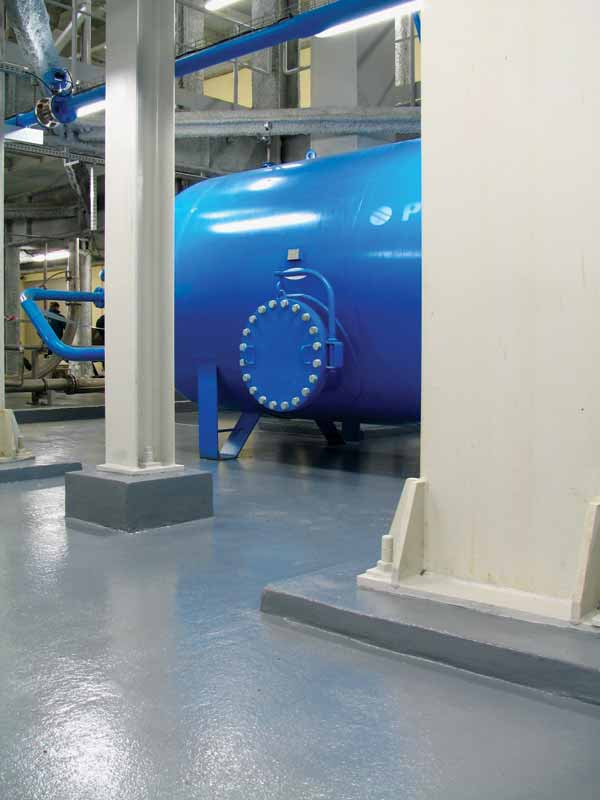 EPN flooring system in action
The requirement for this type of floor was exemplified recently at the Cache Creek landfill site in rural British Columbia where 790 m2 (8500 sf) of a high-performance, 100 per cent solids epoxy novolac resin flooring system was installed.
For more than 20 years, the Cache Creek landfill site has been serving as a large transfer station for the City of Vancouver. The onsite wastewater treatment plant treats groundwater effluent as part of the ongoing post-closure care and maintenance process, which facilitates the discharge of treated water to a sanitary sewer or water body.
An epoxy novolac system was specified for use in this facility, which collects and treats effluent generated through precipitation entering the landfill as well as moisture secreted from decomposing waste material.
The aggressive chemical processes the onsite wastewater treatment plant entails meant the floor would have to withstand potential long-term contact with a number of highly corrosive substances. For example, daily operations could expose the floor to spillages of concentrated leachate, sulfuric acid, sodium hydroxide, and biocides.
Even an intermittent spillage of the highly concentrated chemicals employed onsite could lead to severe corrosion of the surface over time. Concentrated sulfuric acid, in particular, is extremely potent; this chemical is capable of corroding skin, paper, metals, and even stone in some cases.
As such, only epoxy novolac offered the chemical-resistance profile required to hold up in punishing operational conditions.
Despite the durability of resin flooring, it is important for specifiers to take a number of factors into account to ensure a long-lasting, high-performance finish.
Exposure to chemicals
Chemical abuse can come from a variety of substances, including contaminated water, grease, fuels, sanitizers, acids, lubricants, and, in certain industries, byproducts from foodstuffs such as sugars, hot oils, blood, and grease. If left unchecked, chemical attack can degrade not only the finish but can eat into the concrete substrate and affect the soil underneath.
The temperature of the chemical contaminants or harmful substances must also be considered. For example, grease is fairly inert at room temperature but highly corrosive when heated to high temperatures.
On top of this, the nature of exposure to which the floor will be subjected is also important. This is typically categorized into three degrees:
immersion;
intermittent spillage; or
infrequent contact.
A full risk audit should provide an idea as to how many chemicals or corrosive substances a floor is likely to come into contact with throughout its lifetime. This information proves useful when it comes to specifying the flooring system for a specific location.
Additionally, chemical plants and demanding industrial facilities often have to undergo punishing clean and wash down processes involving very hot water or even steam to remove fuels, grease, and other contaminants. However, the majority of plants operate at ambient room temperatures and, therefore, during cleaning and wash down processes, floors and surfaces become subject to thermal shock as they are suddenly exposed to temperatures in excess of 180 C (356 F).
Hard floors based on epoxy, vinyl ester, or MMA chemistry are not equipped to deal with thermal shock conditions and, therefore, crack or delaminate when exposed to extreme temperature swings. This weakens the surface and invariably leads to the early onset of floor failure. Cementitious urethanes and epoxy novolac systems, however, are better equipped to survive extreme heat levels.

Control the content you see on ConstructionCanada.net!
Learn More.