DIALOG's plan for the River Valley Outdoor Activity Centre in Edmonton reveals reliance on heavy-timber construction to minimize its infrastructural embodied carbon, allowing the project to pursue Zero Carbon Building (ZCB) certification.
Another way to bring down the carbon footprint of the project will be the dependence on renewable energy and thermal efficiency. Providing ample views from the second-floor balconies of Muttart Conservatory, Downtown Edmonton, and the River Valley, the centre's wood-heavy aesthetic will blend with the surrounding Rocky Mountains. It will be conveniently accessible from Edmonton's Valley Line LRT and the trail system of one of Canada's largest urban park network.
Led by the Edmonton Ski Club, the centre will enable community partners, including the Edmonton Folk Festival, Free Play for Kids, KidSport Edmonton, and the Indigenous Sport Council of Alberta, to offer sports and cultural programming.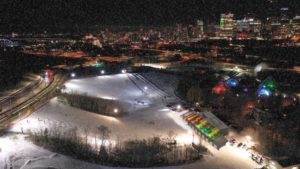 The construction of the project will be fueled by the $6.6 million funding it received from the Canadian government as part of Green and Inclusive Community Buildings (GICB) program.
"The Edmonton Ski Club is passionately committed to providing affordable outdoor recreation opportunities to families and individuals of all abilities. With support from the Green and Inclusive Community Buildings program, we will build on our 111-year legacy to offer high quality, inclusive programming in collaboration with our many community partners, in a modern, inclusive and environmentally responsible facility," said Sandy Fleming, Edmonton Ski Club board president
Construction is slated to begin in Spring 2023 with a target open date of Winter 2023.