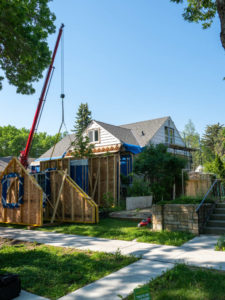 A single-family home in Edmonton is one of the first of its kind to undergo a deep energy retrofit using pre-built, 3D-modelled wall panels.
Local construction company Butterwick Projects Ltd. is part of the team behind the retrofit.
Gaming software developer Logan Gilmour digitally captured the dimensions of the 181.2-m2 (1950-sf) 1940s home using a drone and custom photogrammetry software. Butterwick partner Peter Amerongen then used Gilmour's 3D models to design the airtight pre-built panels. The process, inspired by a technique from the Netherlands called "Energiesprong," is accurate up to 3 to 5 mm (0.12 to 0.2 in.).
For the homeowners, the deep retrofit is about reducing their family's carbon footprint, serving as climate action role models for their kids, and reducing their energy costs as they prepare for retirement.
Once the retrofit is complete, the home will use 70 to 80 per cent less energy, making it net-zero ready.
The project is one of three single-family home deep retrofits Butterwick has taken on this year. They have been funded in part by the Smart Sustainable Resilient Infrastructure Association (SSRIA), a federally incorporated non-profit association.