Dynamic spaces allow creativity to flourish at Emily Carr University's new campus
September 13, 2017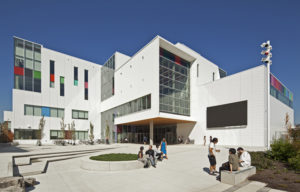 Vancouver's Emily Carr University of Art + Design[2] opened its new campus earlier this month, relocating from Granville Island to Downtown Eastside. This 26,700-m2 (290,000-sf) building anchors the regeneration of an industrial zone and is a catalyst for the area's redevelopment and connection with the city. To engage the community, the campus has an open and accessible design that welcomes the public into the creative processes on display.
Designed as a sequence of interconnected program areas, the building is linked by light-filled atria, creating nodes of visual connection, transparency, and social interaction. Dedicated wall spaces for art displays and exclusive areas for impromptu performances and artistic experimentations create an ever-changing canvas, enabling a high degree of collaboration between students, faculty, and staff of the 92-year-old cultural institution.
The campus also has studios for advanced digital media and virtual reality (VR) design, 3D production, robotics, data visualization and media, and communication, health, and industrial design, as well as the traditional arts of painting, sculpture, photography, illustration, drawing, print media, and ceramics.
"Communal space facilitates a dialogue between these digital and analogue disciplines. The multistorey Learning Commons serves as a crossroads for exchange that connects with the full-length Concourse and the outdoors," said project architect Ana Maria Llanos, who heads the Vancouver office of Diamond Schmitt[3], which designed the building.
The terraces and fully glazed, north-facing studios on the building's fourth floor offer many vantage points to view the Vancouver skyline and coastal mountains. At ground level, a transparent façade reveals sightlines into the building and highlights galleries and other public elements of the campus. A colour palette drawn from the works of the namesake B.C. artist Emily Carr punctuates the white metal cladding.
The flexible nature of the space makes the building easily adaptable to the evolving nature of arts disciplines. The team for this public-private partnership (P3) also includes Chernoff Thompson Architects[4], the Government of British Columbia[5], and EllisDon Construction Company[6].
Endnotes:
[Image]: https://www.constructioncanada.net/wp-content/uploads/2017/09/Wilson-Arts-Plaza1.jpg
Emily Carr University of Art + Design: http://www.ecuad.ca/
Diamond Schmitt: http://dsai.ca/
Chernoff Thompson Architects: http://www.cta.bc.ca/
the Government of British Columbia: http://www2.gov.bc.ca/
EllisDon Construction Company: http://www.ellisdon.com/
Source URL: https://www.constructioncanada.net/dynamic-spaces-allow-creativity-to-flourish-at-emily-carr-universitys-new-campus/
---