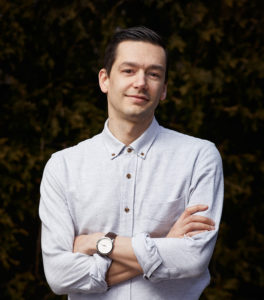 Drew Adams, MRAIC, a Toronto-based architect who integrates a passion for sustainability with excellence in the built environment, is the recipient of the 2020 Emerging Architect Award from the Royal Architectural Institute of Canada (RAIC).
This prize was previously known as the Young Architect Award, and Adams is the inaugural recipient following the renaming last year.
The award recognizes an emerging architect for excellence in design, leadership, and/or service to the profession. This award is intended to inspire others to become licensed and to strive for excellence in their work.
An associate at LGA Architectural Partners, Adams has made instrumental contributions to a distinguished portfolio of aspirational community-building projects demonstrating alternatives to the status quo and better futures for those who use them. Adams inspires others with his genuine curiosity, his sense of responsibility, his optimism, and practicality, and his multi-disciplinary problem-solving strategies—paving the way for a new activist approach to architectural practice.
"Drew's work displayed an impressive commitment to the benefits of material research, technical explorations of building systems, energy modelling, and daylight studies all in the service of designing and building a more inclusive living environment for those most in need in our communities," said the 2020 jury in a collective statement. "Drew's commitment to the design office collaborative as a social tool to advance our knowledge in regeneration projects such as Evergreen Brickworks also supports and promotes the notion of self-advancement within a greater group."
Drew began studying urban planning, with a specialty in urban design and a minor in geography, at the University of Waterloo. Following this, Adams completed his Master of Architecture at the University of Toronto.
His work extends to a wide range of projects, including nearly a dozen housing projects focused on affordability, a diverse array of projects with indigenous communities, numerous heritage and adaptive reuse projects, and other works that are united by community impact.