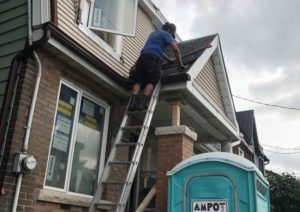 Raising the Roof recently completed its latest Reside project in downtown Toronto. Reside provides affordable housing and construction career opportunities for vulnerable people.
The Reside program renovates vacant properties into affordable homes for people who are experiencing or are at risk of experiencing homelessness. The goal is to connect affordable housing creation with people who need the opportunity for employment, preventing homelessness through both housing and employment training.
Raising the Roof acquired a vacant single-family house from the City of Toronto's Tenants First program and renovated it into a safe, affordable home for a refugee family. Through Raising the Roof's social enterprise partner, Building Up, 38 people with barriers to employment received hands-on trades training through this project.
The completed Reside homes have been very successful training centres. Eighty-five percent of past trainees obtained permanent full-time employment in the trades after completing the program. Reside trainees are prepared for full-time, high-paying jobs with advancement opportunities, often as unionized apprentices.
Buildforce Canada has estimated over the next decade, nearly 100,000 construction workers will be needed across the province to keep pace with the rate of retirement in the industry.